This Pumpkin Puke {aka Pimento Cheese Dip} with Wheat Thins is a Southern favorite turned into a fun (and gross!) Halloween snack idea! Perfect year round – Serve with crackers, celery sticks or as a spread on bread. Add a spoonful atop a grilled burger. Pimento Cheese makes a mean grilled cheese sandwich too! #SpookySnacks #CollectiveBias
Halloween Snacks: Pumpkin Puke {aka Pimento Cheese Dip} with Wheat Thins
This shop has been compensated by Collective Bias, Inc. and its advertiser. All opinions are mine alone.
Are you ready for Halloween?! To be honest, I'm not! This month has flown by and I'm in scramble mode to get some things done! You may remember, our neighborhood has a block party of sorts for Halloween. I have tons of ideas of what to take for the potluck – but I haven't quite nailed it down yet.
While shopping at my local Walmart this past weekend, I saw the Oreo, Fanta and Wheat Thins In-Store Demo at the end of the cookie and cracker aisle. If you follow me on social media, you probably saw this picture of the demo that I share on Instagram. I usually skip the food carts at the store but since I was looking for some Halloween inspiration, I stopped by!
With Halloween only days away, it seems everyone is making plans for trick-or-treating and fun parties. I saw people buying last minutes bags of candy and people scouring the costume aisle for the perfect costume! In preparation for a busy night, the ghosts, pirates and princesses in your life will love snacking on Wheat Thins and Oreo before heading out for some Halloween fun! They are the perfect Halloween snack!
Although I don't share too many gross and gory recipes, my boys LOVE gross and gory. It must be a "boy thing." I thought it would be fun to take my favorite Pimento Cheese and turn it into Pumpkin Puke …. and I got exactly the reaction I thought I would! My kids thought it was cool! They were more than happy to help set up my table for a family party. When they saw what I was doing with the Pimento Cheese, I scored some major "cool mom points." They eagerly devoured the Pumpkin Puke. I have to say, that is a statement I never thought I would say! 😉
Wheat Thins
Of course, Wheat Thins and Pimento Cheese go together year round. Tailgating anyone? This recipe is super versatile. You can use this Pimento Cheese on crackers, celery sticks or eat it spread on bread. It's great on top of a grilled burger and Pimento Cheese makes a mean grilled cheese sandwich! So don't limit yourself to just Halloween! 🙂
No Halloween party would be complete without dessert! I made a quick and easy pudding pie using a pre-made Oreo crust. I piped some circles on the top of the pie using melted chocolate chips, then quickly drug a knife through from the middle to the outside – making it look like a spider web! An Oreo cookie on top with more melted chocolate chips for the legs and 2 orange sprinkle eyes made an easy dessert everyone loved!
As an afterthought, I should have picked up some of the mini Oreo cookies and put some baby spiders on there! I'll definitely do that next time! 🙂
This Pimento Cheese recipe with Wheat Thins and the Oreo Spider Pie were quick and easy to make … maybe I'll take these to the Halloween Block Party?! I'm dying to try the Spicy Buffalo Wheat Thins – maybe I can take those with a Buffalo Chicken Dip?!
I would love to know what your favorite Halloween snacks are! Do you have a dip that goes perfect with Wheat Thins? Feel free to share your ideas in the comments!
Other recipes you may enjoy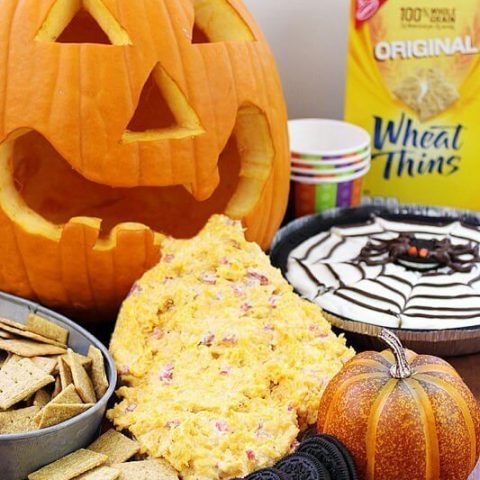 Pimento Cheese
This Pimento Cheese recipe is a Southern favorite, perfect year-round. Serve with crackers, celery sticks, or as a spread on bread. Add a spoonful atop a grilled burger. Pimento Cheese makes a mean grilled cheese sandwich too!
Ingredients
1-1/2 cups mayonnaise
1 jar (4 ounces) of diced pimiento, drained
1 teaspoon Worcestershire sauce
1 teaspoon finely grated onion
1/4 teaspoon ground cayenne pepper (optional)
1 block (8 ounces) extra-sharp Cheddar cheese, finely shredded
1 block (8 ounces) sharp Cheddar cheese, finely shredded
Instructions
Combine all ingredients in a medium bowl.
Store covered in the refrigerator and use within one week.
Serving suggestions:
Serve with crackers, celery sticks, or as a spread on bread. Add a spoonful atop a grilled burger. Pimiento Cheese makes a mean grilled cheese sandwich too!
For a fun and gross treat during Halloween, carve a pumpkin with a face (jack-o-lantern) and make it look like he is puking up the pimento cheese. I used plastic wrap to form the layer underneath the "puke" for the pumpkin. I made a small ball on one end of the saran wrap and attached it to the inside of the pumpkin with a toothpick. I then formed and filled in the plastic wrap with the Pimiento Cheese. Any parts of the saran wrap that were showing were easy to tuck behind so as not to be seen.
Notes
For a spicier version, add some chopped jalapeno peppers to the mixture.
You can use mild Cheddar in place of the sharp and extra-sharp varieties.
You can buy pre-shredded cheese to save time.
Recommended Products
As an Amazon Associate and member of other affiliate programs, I earn from qualifying purchases.
Nutrition Information:
Yield:

16
Serving Size:

1/4 cup
Amount Per Serving:
Calories:

202
Total Fat:

22g
Saturated Fat:

4g
Trans Fat:

0g
Unsaturated Fat:

17g
Cholesterol:

15mg
Sodium:

201mg
Carbohydrates:

0g
Fiber:

0g
Sugar:

0g
Protein:

1g
Please note that the nutritional information listed on this page is an estimation based on the products I used. Ingredients and nutritional information can vary significantly between brands. Always be sure to read labels. Please verify that a recipe fits your needs before using it. Nutrition info may contain errors, so please verify it independently. Likewise, recipes may contain errors, so please use your common sense when following them.