Keep from falling into the lunch rut with these Pizza Pinwheels! Your kiddos will be begging you to make them all school year long!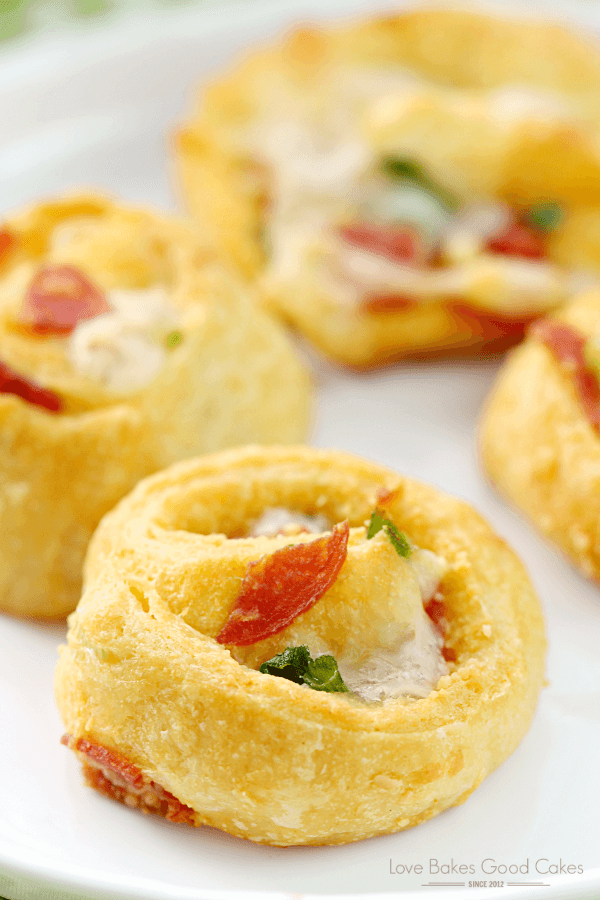 This is a sponsored post written by me on behalf of Shamrock Farms. All opinions and text are entirely my own.
Pizza Pinwheels
Goodness …. it's been quite the week! We had some severe storms here in the Phoenix area which caused us to lose power for just over 24 hours. That was fun. <sarcasm>.
I was in the process of shopping for back-to-school stuff when Isaac said the storm was moving in and we would probably lose power because it looked that bad. Would you believe it, it wasn't even 15 minutes later and the power went out.
I figured it would come back on anytime … and we waited, and waited …. and waited. We checked the website with our phones (hoping we had enough battery power!!) for our local power company and we were optimistic when we saw our expected time for power to return – only to be crushed when that time came and went with no power. We would check the website again, get the new estimated time, wait again …. only to have our hopes crushed for over and over for more than 24 hours.
Over 100-degree temperatures with no air conditioning stinks. Let's be honest. It was brutal.
From what I understand, we had over 40 power poles blown over in the storm! Driving down the road, there were trees and power poles all over the place! Thank goodness for the linemen and their great job getting everything back up and running!
So we have power (and air conditioning!!) again!! This past Monday, I had to finish up my online back-to-school shopping. I think, I hope, I have everything we need for this school year!
Back to school lunch
My biggest thing now is not falling into the lunch rut. I hate it … the kids hate it. One of my kids' favorite lunch options is these Pizza Pinwheels! They are so easy to make and you can totally customize them with ingredients your family loves! Abby was a bit bummed that I didn't add black olives – but I promised her I would add them next week when we make them again! 🙂
Since we're talking about back-to-school, I have to mention these Pizza Pinwheels would be perfect in a lunchbox! Don't forget the pizza sauce for dipping! I like to pair these tasty little bites with fresh fruit (we had grapes on hand), fresh veggies (the kids love baby carrots and grape tomatoes) – along with their favorite Shamrock Farms 12 oz. milk! Gabriel loves the vanilla milk and Abby is a fan of the "pink" milk! Thomas and Isaac prefer chocolate! I always have an array of Shamrock Farms 12 oz. milk jugs in the fridge!
I love that Shamrock Farms milk is pure and fresh, with no added growth hormones and the milk is tested to the highest standards, to ensure only the purest milk goes into every bottle! For more than 90 years, Shamrock Farms has been sourcing its milk from its own family farm in Arizona, as well as other hand-selected farms that exceed the company's high standards of quality and care. The 12 oz. size is perfect for lunchboxes!
For the latest news and special offers, be sure to follow Shamrock Farms on social media:
Facebook – Twitter – Pinterest – Instagram

Here's to a great school year, friends!!
Other recipes you may enjoy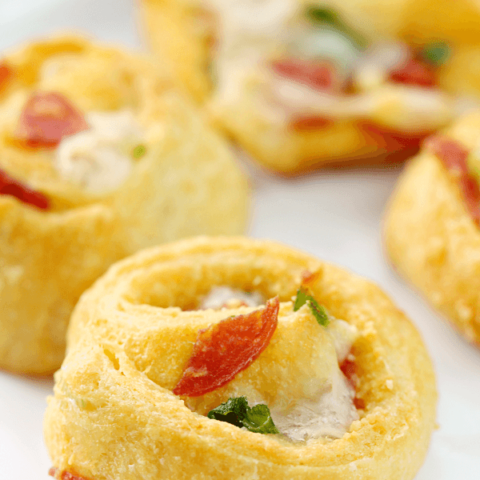 Pizza Pinwheels
Keep from falling into the lunch rut with these Pizza Pinwheels! Your kiddos will be begging you to make them all school year long!
Ingredients
1 tube (8 oz.) refrigerated crescent dough sheet
2 tablespoons grated Parmesan cheese
1/3 cup finely chopped pepperoni (about 22 slices)
1 green onion, finely chopped
1/2 cup shredded Mozzarella cheese
1/2 cup pizza sauce
Instructions
Preheat oven to 350°F. Spray a cookie sheet with cooking spray or line with parchment paper. Set aside.
On a large cutting board, unroll dough. Cut in half lengthwise.
Sprinkle Parmesan cheese, pepperoni, green onion, and Mozzarella cheese over each rectangle.
Starting with one long side, roll up each rectangle; press edge to seal. With a serrated knife, cut each roll into 12-16 slices. Place cut side down on cookie sheet.
Bake 13-17 minutes or until edges are golden brown. Meanwhile, heat pizza sauce, if desired.
Immediately remove pinwheels from cookie sheet. Serve with pizza sauce for dipping.
Nutrition Information:
Amount Per Serving:
Calories:

299
Total Fat:

12g
Saturated Fat:

6g
Cholesterol:

29mg
Sodium:

848mg
Fiber:

2g
Sugar:

2g
Protein:

14g