Cute, delicious, and simple to make, these Blueberry Pie Pinwheels are a fun way to use pie crust. Plus, they're amazing for getting the kids involved in baking!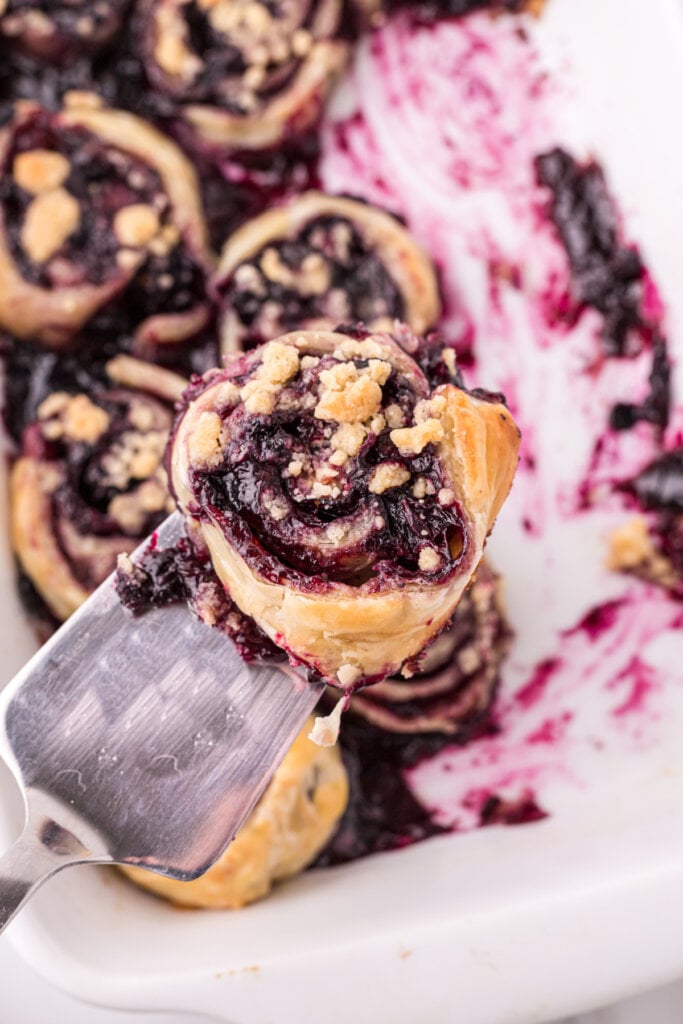 Dessert Pinwheels
Summer, to me, means that certain flavors have to appear in the kitchen. Just like Christmas brings gingerbread and Halloween brings pumpkin spice, when the kids are out of school, I want fresh berries!
Sometimes, though, I don't want to eat them raw out of the fridge as much as I'd like to. 😅 For that reason, I have a load of creative recipes that use every kind of summer berry you can imagine. Like, for example, dessert pinwheels, which are like mini-pies.
And, y'all …
These Blueberry Pie Pinwheels are just GOOD!! Grab basic ingredients, like fresh blueberries and puff pastry crush or pie crust, and get these gorgeous mini-blueberry pastry pies.
They're perfect for summer and even more perfect if you need something to help keep the kids busy when they're home from school or camp! I have tons of fun memories of putting these together with my little ones.
Even though kids will be going back to school soon, there's still time to enjoy this recipe. There is no bad time to break out all those recipes that use fresh fruit! I hope you enjoy these Blueberry Pie Pinwheels!!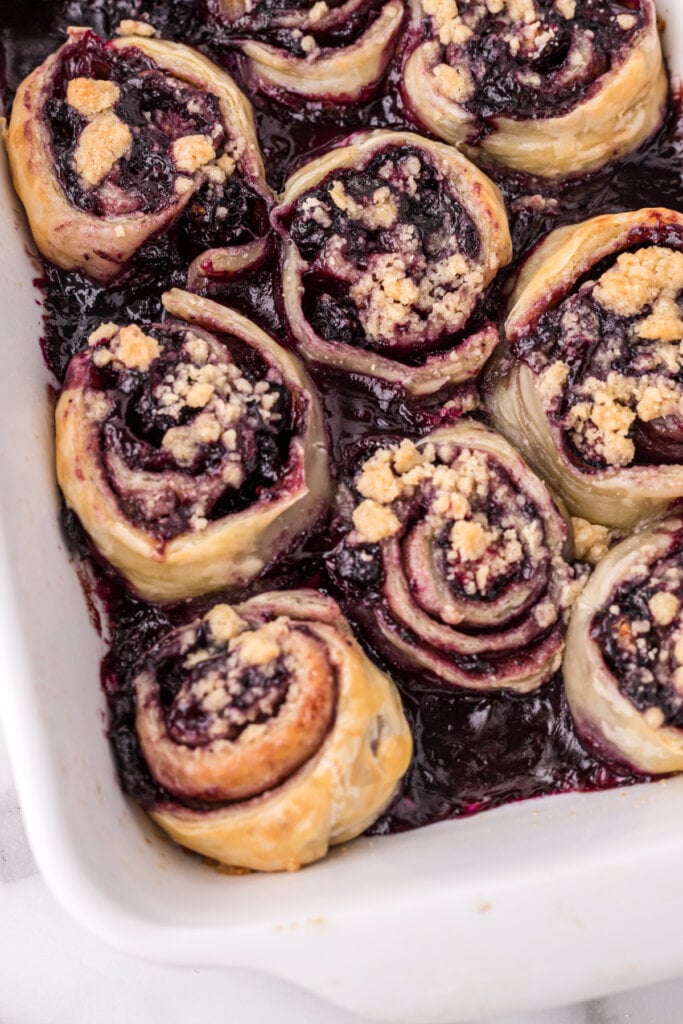 Blueberry Pie Pinwheels: Ingredients & Equipment
To make these dessert pinwheels, you'll need …
Ingredients
For the pinwheels
premade puff pastry or pie crust – you can use either store-bought or homemade puff pastry or pie crust, of course. I just like to do things the most efficient and quick way for me – and that's getting premade! I also prefer this with puff pastry for the extra flakiness!
fresh blueberries and blueberry pie filling – you'll need about 2 cups of fresh berries. The fresh berries combined with the pie filling provide all the yummy summer flavor!
butter – melted. You'll brush this onto your pre-made pastry dough.
sugar and cinnamon – these ingredients enhance the sweetness of the pinwheels while also giving you a slightly spiced, nutty flavor.
For the topping
butter and all-purpose flour – these form the base of your topping and help clump it together.
brown sugar, granulated sugar, ground cinnamon – the flavoring inside your pinwheel topping!!
Equipment
floured surface – to prep your pinwheels, of course!!
rolling pin – for rolling out the dough.
mixing bowl – for making your topping.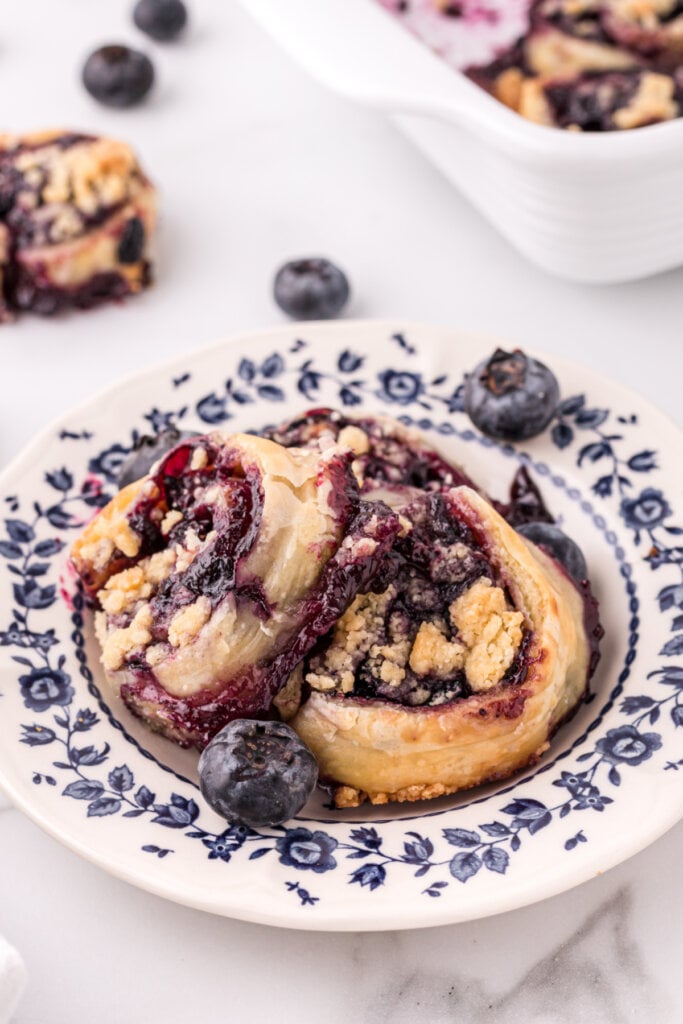 Blueberry Pie Pinwheels: FAQs
How long does it take to make these dessert pinwheels?
About 40 minutes! You'll want 15 minutes to prep the ingredients and 25 minutes to cook them. A sweet treat made in under an hour?! Don't mind if I do …
How many pie crust pinwheels does this recipe make?
Between 8 and 12, depending on how big you make them!
Is pre-made or homemade better for my Blueberry Pie Pinwheels?
You can honestly use either; as I said, each has pros and cons! The fresh pastry puff or pie crust will usually puff up better, but a frozen puff or crust from a supermarket is more convenient. (Especially for all of us busy folks, including parents.) You can also use leftover pie crust from another recipe for your dessert pinwheels. Economical!
What other fruits or toppings can I use for my pie crust pinwheels?
Any fruit will work just as well, and any time of year! (Though berries always do taste best in the summer …) I sometimes like to swirl different flavors of fruits together, like blueberry and raspberry, and it looks oh so pretty as well as tasting amazing. You can also try adding a drop of chocolate or caramel for a sinfully sweet addition! Adding nuts, dried fruits, or chopped candy bars are good ideas, too.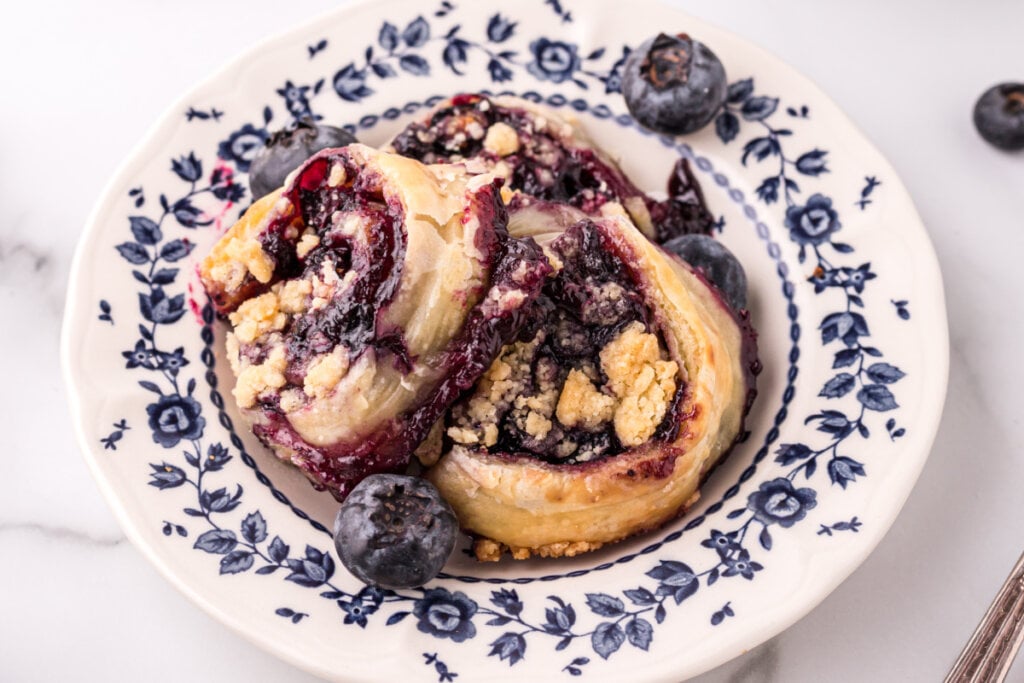 Other recipes you may enjoy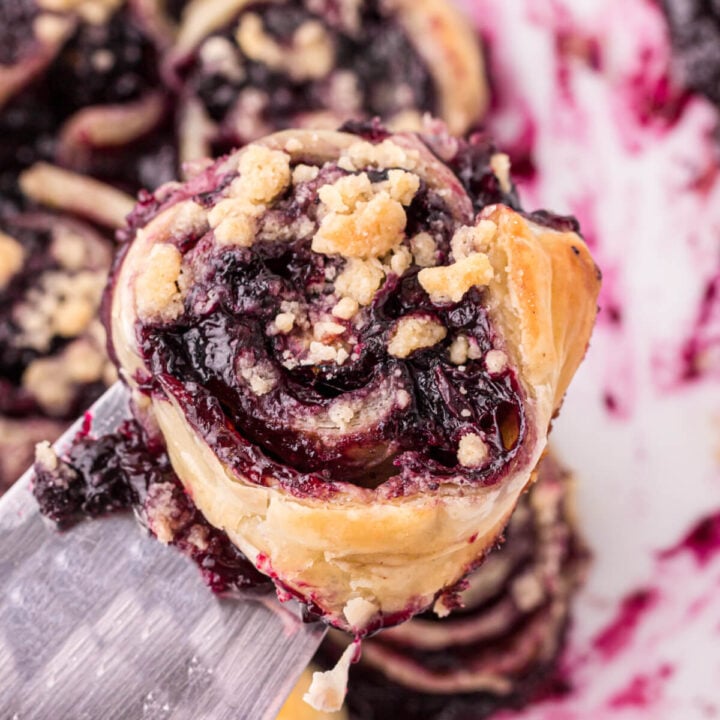 Blueberry Pie Pinwheels
Cute, delicious, and simple to make, these Blueberry Pie Pinwheels are a fun way to use pie crust. Plus, they're amazing for getting the kids involved in baking!
Ingredients
For the pinwheels
1 refrigerated pre-made puff pastry or pie crust
1 cup fresh blueberries
1/2 cup blueberry jam
2 tablespoons butter, melted
2 teaspoons granulated sugar
1 teaspoon ground cinnamon
For the topping
2 tablespoons all-purpose flour
1 tablespoon butter
1 tablespoon brown sugar
1 teaspoon granulated sugar
pinch ground cinnamon
Instructions
Preheat the oven to 375°F.
Flour your counter surface, get out the refrigerated puff pastry dough, and roll out the dough just to make sure it is even.
Brush melted butter all over the dough. Spoon blueberry jam over the dough and spread out evenly.
Top with fresh blueberries. Sprinkle the sugar and cinnamon over the blueberries.
Roll up the puff pastry dough like you would a cinnamon roll. Roll the dough tightly from the long end, pinching edges closed when completely rolled.
Slice the dough 1-2 inches thick and place the pinwheels on a baking sheet or small casserole dish.
Add all of the topping ingredients together in a small mixing bowl. Then, mix all ingredients together using a fork or a pastry blender. Add the crumble topping over the top of each slice.
Bake for 25-30 minutes.
Allow 5 minutes to cool before serving.
Notes
You can add lemon juice or zest to help make the flavors pop!
This recipe was originally submitted as a guest post by Dash of Sanity.
Recommended Products
As an Amazon Associate and member of other affiliate programs, I earn from qualifying purchases.
Nutrition Information:
Yield:

10
Serving Size:

1 pinwheel
Amount Per Serving:
Calories:

115
Total Fat:

5g
Saturated Fat:

2g
Trans Fat:

0g
Unsaturated Fat:

2g
Cholesterol:

9mg
Sodium:

40mg
Carbohydrates:

18g
Fiber:

1g
Sugar:

12g
Protein:

1g
Please note that the nutritional information listed on this page is an estimation based on the products I used. Ingredients and nutritional information can vary significantly between brands. Always be sure to read labels. Please verify that a recipe fits your needs before using it. Nutrition info may contain errors, so please verify it independently. Likewise, recipes may contain errors, so please use your common sense when following them.
Originally published on August 15, 2015. Updated on July 25, 2022.