This One Pot Goulash is comfort food that will remind you of Grandma's kitchen! A hearty and satisfying dish!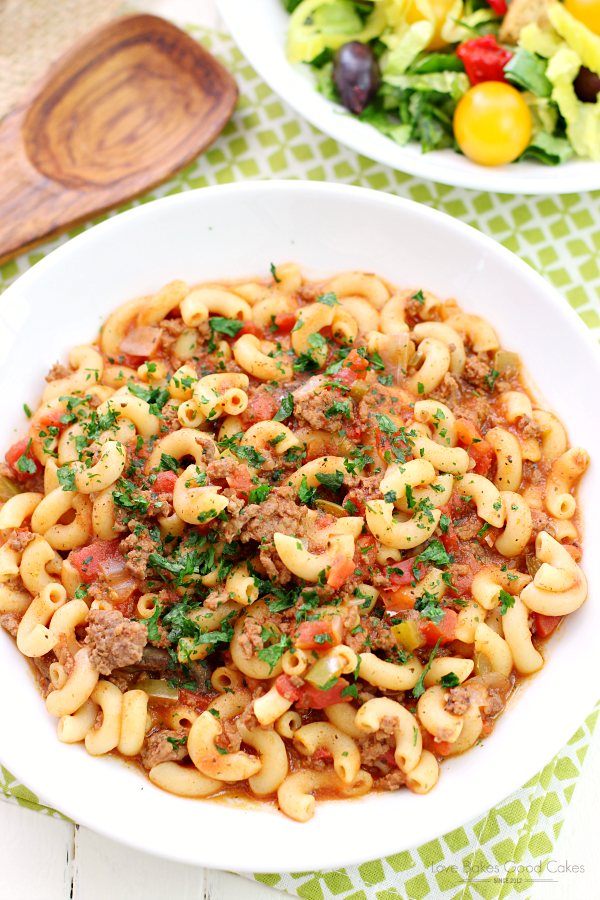 One Pot Goulash
When I think of Fall, I think of comfort food. How about you?! I am often reminded of my gramma's kitchen and all the wonderful things she made with love. I loved the food that came out of her kitchen. The many great memories – from the wonderful smells of the food, to watching the way my gramma cooked without measuring, to tasting dishes that were always seasoned to perfection … and many times, getting chased out of the kitchen because it became our playground while she was cooking! 😉 I can only hope that one of these days, my own children and grandchildren will look at me and my kitchen with those same fond memories. Do you have a favorite childhood food? One of my favorites would definitely be goulash!
Although I'm sure this is different from Gramma's version, it's still so comforting and delicious! My family really enjoys this One Pot Goulash – and I love that it's an easy, one pot meal! That means less dishes to clean later. What cook doesn't love that? Plus, this recipe makes a lot! It'll almost feed an army of hungry people!
We usually enjoy this dish with a side salad and garlic bread! I hope your family enjoys this One Pot Goulash as much as mine!
Oh, and one more thing before we get to the recipe … this One Pot Goulash makes an awesome Halloween dinner! Plus, it's kinda fun to call it "ghoul-ash" … I'm just saying.
Slightly adapted from the Food Network
There's nothing like good ol' comfort food! Simple and full of flavor. Those really are the best dishes aren't they?
Other recipes you may enjoy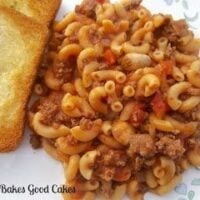 One Pot Goulash
This One Pot Goulash is comfort food that will remind you of Grandma's kitchen! A hearty and satisfying dish!
Ingredients
2 pounds ground beef
1 large onion, chopped
1 green pepper, chopped
8 ounces fresh mushrooms, sliced
4 cloves of garlic, minced
3 cups water
1 can (29 oz.) tomato sauce
1 can (28 oz.) diced tomatoes, undrained
1 tablespoon Italian seasoning
1 teaspoon paprika
1 teaspoon sugar
1 teaspoon crushed red pepper flakes
1-2 tablespoons Worcestershire sauce
Salt and pepper, to taste
2 1/2 cups uncooked elbow macaroni
Instructions
In a 5 quart pan, cook and crumble beef over medium-high heat until no longer pink.
Add the onion, green pepper, and mushrooms. Cook until tender, about 3-5 minutes. Drain if desired.
Add beef mixture back to the pot and add garlic, water, tomato sauce, tomatoes, Italian seasoning, paprika, sugar, crushed red pepper flakes, Worcestershire sauce, salt, and pepper.
Bring to a boil, cover and reduce heat to medium-low. Allow to simmer for 15-20 minutes.
Add the elbow macaroni and stir well. Return lid and continue to simmer for 15 minutes or until the noodles are done.
Allow to sit covered for 5-10 minutes and mix well before serving.
Nutrition Information:
Amount Per Serving:
Calories:

480
Total Fat:

24g
Saturated Fat:

9g
Cholesterol:

81mg
Sodium:

1177mg
Fiber:

6g
Sugar:

10g
Protein:

27g