This Pineapple Orange Smoothie is an easy breakfast to make on those hectic mornings. Throw everything in the blender for a few minutes – put it in your travel cup, and you're good to go!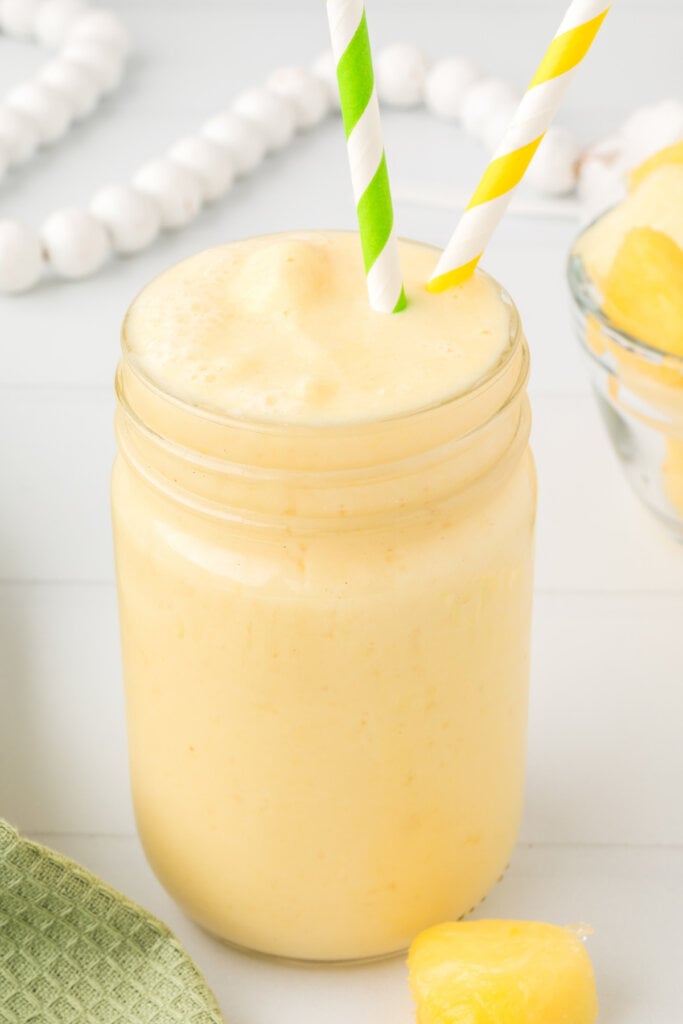 Orange Pineapple Smoothie
I'm not a huge breakfast person, but my family enjoys trying new smoothie recipes, especially when there's not enough time to make a huge meal in the morning!
Recently, I decided to make a few rounds of this Pineapple Orange Smoothie for everyone, and it was a huge hit, y'all.
Since our local store had fresh pineapple for $1.25 each this past week, we picked up a few. It's easy to go ahead and cut it into chunks then freeze it for pineapple orange smoothies on busy days. (And there are a lot of those in my house!) When you freeze the fruit, you don't need to add ice to the smoothie mixture. Simple as pie!
Like a lot of smoothies, by the way, this recipe is extremely customizable!! Add protein powder if you're health-conscious or looking to make this a meal. you can use dairy-free substitutes if you're lactose intolerant or looking to cut down on your milk consumption. Pineapple Orange Smoothies are a good snack for anyone.
This easy smoothie recipe is an energizing (and quick) way to start your day! Enjoy!!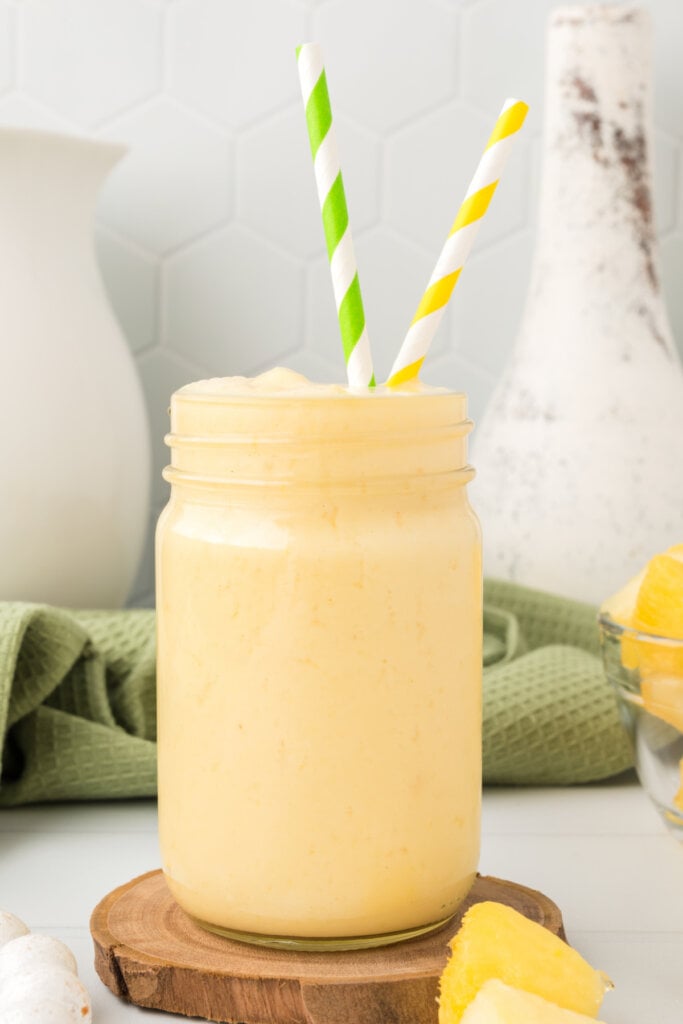 Pineapple Orange Smoothie: Ingredients & Equipment
To make this easy smoothie recipe, you'll need …
Ingredients
pineapple chunks – frozen! That way, you don't need to use ice.
orange juice – grab your favorite brand! I'd pick something high-quality if possible because trust me, you'll taste the difference.
milk or milk substitute – you can use dairy milk or dairy-free milk for this, like coconut milk, oat milk, almond milk. Either way!
pineapple-flavored Greek yogurt – this yogurt adds something delightful to the consistency, and of course, more yummy pineapple flavor. Can't get enough!! You can also use orange-flavored or plain.
NOTE: If you want to be super fancy, feel free to garnish this drink with orange slices or mint or something similar. Of course, in my house, we're usually too busy to do that in the morning! 😉
Equipment
blender – to, well, blend all your ingredients, of course! You'll want to set it to HIGH until everything's nice and smooth.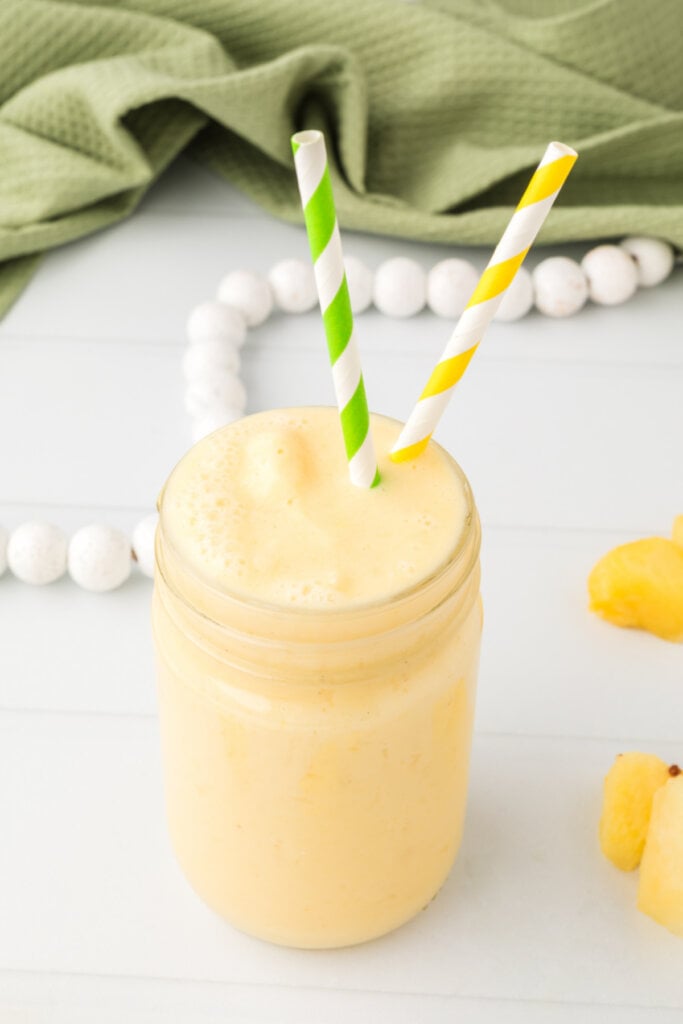 Pineapple Orange Smoothie: FAQs
Do I need to use milk at all?
Nope!! You can use fruit juice or some kind of water. I just like the consistency that the milk brings, plus it makes the smoothie SUPER filling.
Can I add protein powder?
Yes!! That'll make it a whole meal if you do. A perfect breakfast substitute for a busy day! Just make sure to get unflavored, unsweetened protein powder, or it'll affect the flavor too much.
Do I need vanilla extract?
Some people add vanilla extract to their smoothies to make them a little less sweet. This is optional here. If it's something you normally do, go for it!
Can you use fresh pineapple?
Absolutely, but you'll want to add some ice to the smoothie to make it cold if you do. (There's something very strange about a cool smoothie rather than a cold one …)
How long does it take to make this smoothie?
Just a few minutes! You just need to measure, blend, and enjoy!
How many smoothies does this recipe make?
About 2 large drinks, or 3-4 smaller ones if everyone in the family wants some!
Can I squeeze my orange juice?
Of course!! I just never have time in the morning. But feel free to do that! It'll probably taste awesomely fresh!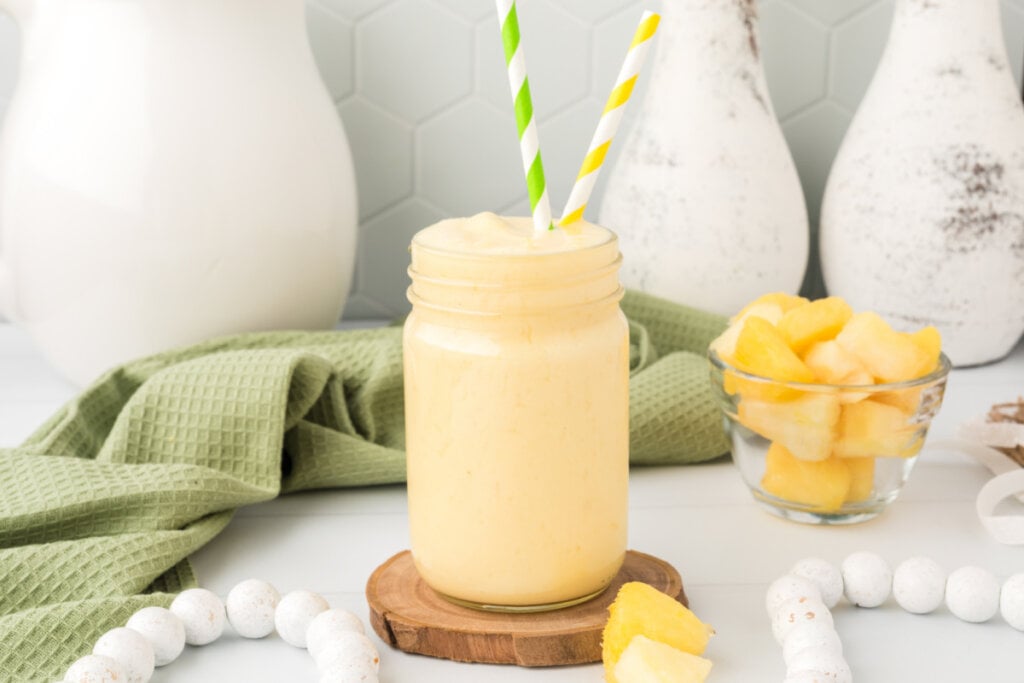 Other recipes you may enjoy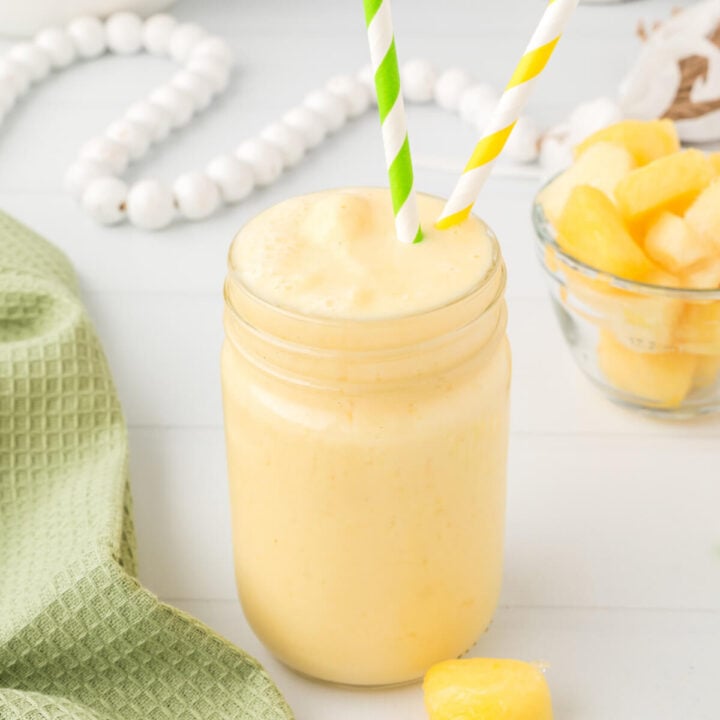 Pineapple Orange Smoothie
Yield:
3-4 small drinks or 2 large drinks
This Pineapple Orange Smoothie is an easy breakfast to make on those hectic mornings. Throw everything in the blender for a few minutes - put it in your travel cup, and you're good to go!
Ingredients
2 cups pineapple chunks, frozen
1/2 cup orange juice
1/2 cup milk, soy milk or almond milk
1 container (5.3 oz.) pineapple flavored Chobani Greek Yogurt
Instructions
Place all of the ingredients in a blender. Blend on HIGH speed until smooth.
Serve immediately.
Notes
Feel free to add a scoop of your favorite unflavored protein powder for a filling and still easy smoothie!
If I have a ripe banana that needs to be used, I like to throw that in for a new flavor!
Recommended Products
As an Amazon Associate and member of other affiliate programs, I earn from qualifying purchases.
Nutrition Information:
Yield:

4
Serving Size:

1 small glass
Amount Per Serving:
Calories:

173
Total Fat:

2g
Saturated Fat:

1g
Trans Fat:

0g
Unsaturated Fat:

1g
Cholesterol:

2mg
Sodium:

60mg
Carbohydrates:

33g
Fiber:

2g
Sugar:

30g
Protein:

7g
Please note that the nutritional information listed on this page is an estimation based on the products I used. Ingredients and nutritional information can vary significantly between brands. Always be sure to read labels. Please verify that a recipe fits your needs before using it. Nutrition info may contain errors, so please verify it independently. Likewise, recipes may contain errors, so please use your common sense when following them.
Originally published on March 8, 2014. Updated on April 29, 2022.