This Peanut Butter Granola is made using common pantry staples and is loaded with peanut butter flavor! Sprinkle it on top of Greek yogurt or enjoy it on its own for a snack or breakfast you'll love!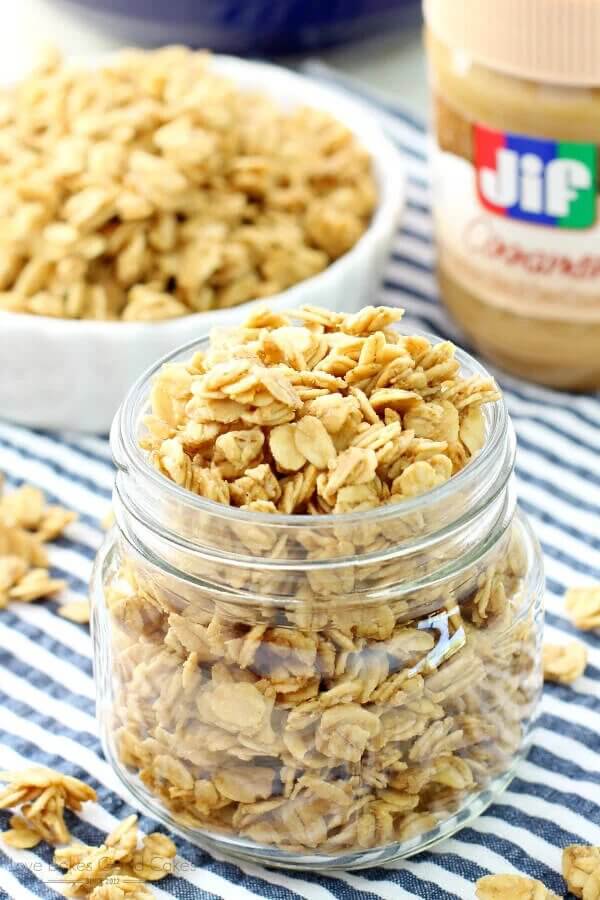 I received product samples for review purposes. Opinions are my own.
Peanut Butter Granola
We're rapidly approaching August …. Are you ready for back-to-school?! Some of the kiddos here in the Phoenix area are already back in class! Can you believe that?! When I was younger we almost always went back to school closer to Labor Day – but I think that must be a thing of the past?! It doesn't seem like very many schools start that late any more, do they?
As a homeschooling family, we have a little more flexibility! Thank goodness – because I am not willing to let summer go just yet! I just need a few more weeks before getting back into the swing of things! We are planning on hitting the books about mid-August which is about the time most other areas start back to school. That seems a little more reasonable than school in July. Agreed?
Although we homeschool, we still have some of the same challenges as other families. We have to re-establish routines. Things like sleeping in until 8 or 9 am becomes a weekend thing (if it's even allowed then). Planning breakfast and lunch becomes a real thing because we now have a schedule to follow and the kids can't just eat whenever. Even though we spend most of our time at home, my kiddos are not allowed to lounge around in pajamas all day – so getting up, getting dressed, eating, and being prepared for the day before school starts at 8 am are just as stressful in our home. Because in real life, that's what people have to do and I want my kids to be able to function in the real world.
One of our biggest obstacles is breakfast. Sadly.
Sad because breakfast is the most important meal of the day.
Up until recently, I have never been much of a breakfast eater. I'm usually not very hungry until after I've been up for awhile. I have to give my kiddos credit, they are much better about eating breakfast than I ever was. I recently started making homemade granola again – I forgot how much I used to love it! This Peanut Butter Granola has always been a favorite – not only do we eat if for breakfast, but the kiddos love it as a snack! Sometimes, we mix in nuts or dried fruit to change things up!
I decided to try the new Jif® Peanut Butter and Naturally Flavored Cinnamon Spread in my granola recipe in place of my regular creamy Jif (my favorite!). Have you seen it in your local market yet? I have to say that I loved the peanut buttery cinnamon taste of the granola! The cinnamon is the perfect compliment to the peanut butter and it gives the granola that little bit of extra flavor! I can't wait to try the Jif Peanut Butter and Naturally Flavored Maple Spread next!
For those mornings when I crave peanut butter toast (one of my favorite breakfasts!!), I can't wait to try these new Jif Flavored Spreads! They are gluten-free and NON-GMO. These naturally flavored spreads also provide 7g of protein per serving! You can find them in your local market with a suggested retail price of $2.99. Spread over a piece of toast or on pancakes, Jif Flavored Spreads are the perfect addition to your favorite breakfast staples!
With back to school on the horizon, I'm offering up 10 happy morning hacks to get your day off to a great start:
Choose outfits the night before. I don't know about you, but there are days where I waste entirely too much time trying to decide what to wear. Mornings go much more smoothly when I don't spend 30 minutes trying to figure out what to wear! The same goes for the kids – have them set out an outfit the night before to make morning time run more smoothly!
Prepare and pack lunch the night before. This is one of my favorite tips and it's one of the easiest! You can even have your kiddos help you with this one! It's hard to avoid the lunch rut, isn't it?! That's why I love recipes like this PB Apple Chicken Salad Wrap. It combines some of our favorite ingredients (like Jif Flavored Spreads and chicken salad) into a yummy new lunch option!
Have a set bedtime! Part of having a great morning is getting enough sleep, agreed?! I know it is so hard reverting back to a schedule after taking the summer off – I mean, it's still daylight when bedtime rolls around!! As you know, kids need enough sleep to be able to do their best in school. Also, start encouraging the proper time to wake-up. This is something to think about implementing a week or two before school starts to make the transition a little more smooth.
Preset the coffee maker. Ahhhhhh, is there anything better than the smell of freshly brewed coffee in the morning?! Let the coffee maker do it's thing while you finish up a few morning tasks!
Let the sunshine in! Pull back those curtains and get an energy boost! Greater exposure to light means less melatonin in the body, and therefore we feel more active.
Cold water splash. On mornings when I am feeling particularly groggy, a splash of cold water to the face helps wake me up! It gets the blood flowing to the head and helps you feel more alert!
Serve simple breakfast options. And whatever you do, don't skip breakfast!! An empty stomach does not give you the energy to get you through the morning! I have to admit that I used to be really bad about breakfast …. everything seemed to take too much time and I would rather spend that time sleeping. That's why I love recipes like this Peanut Butter Granola! I can make it in about 20 minutes on the weekend – giving me fuss free mornings all week long! My secret to yummy peanut butter granola? Jif Peanut Butter and Naturally Flavored Cinnamon Spread! Eat it on its own (it's great on the go, too!), top yogurt with granola or eat it with milk like cereal! For those mornings when I'm not in the mood for granola, I love to slather a piece of toast with the same Jif Peanut Butter and Naturally Flavored Cinnamon Spread (or Maple Spread!!).
Limit electronics and other distractions. This seems so obvious, but it's one of the hardest habits for many of us to break! Like so many, I log into Facebook to see what's going on – and before I know it, 30 minutes (or longer – eek!!) have passed! 30 minutes that I really needed to be using for something else!! Save yourself the stress and skip the electronics!
Keep keys and other necessities in a certain location so you don't have to hunt them down. How many times in a week do you have to find your keys? Ugh! And it's always the worst when you're in a hurry or already running late, isn't it?! Keep a basket or small hooks in a convenient spot and make it a habit to always put the things you need (purse, sunglasses, chapstick, keys, etc …. ) as you leave the house in the same spot!
Get into a routine. I cannot stress enough how much easier things are when you get into a routine – everything becomes second nature and you do things without even thinking about them! Note that routines are not only important for you – but if you have children, get them into a routine early! It makes mornings more manageable and less hectic!
For the latest news and special offers, be sure to follow Jif® on social media:
Facebook – Twitter – Pinterest – YouTube – Instagram
For more information about products, recipes, and all things Jif®, be sure to visit http://www.jif.com/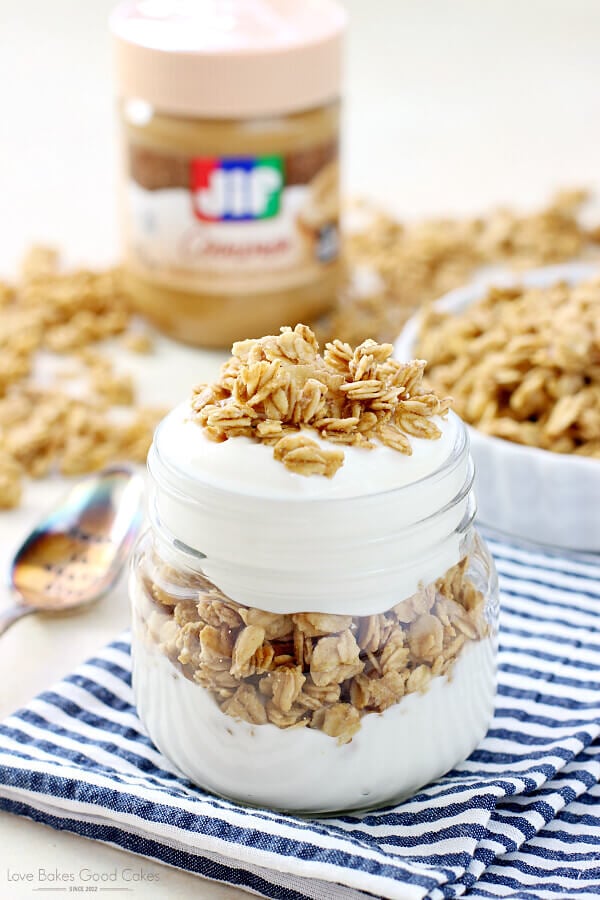 Other recipes you may enjoy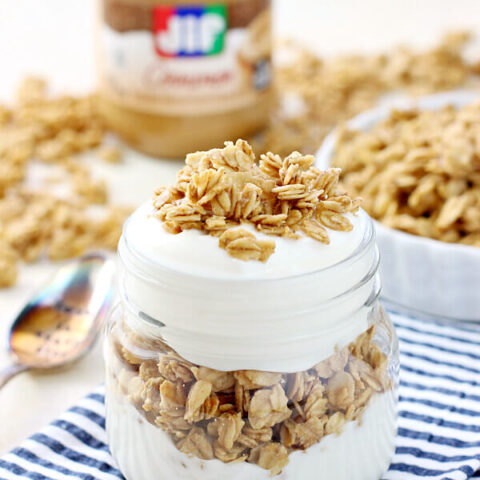 Peanut Butter Granola
This Peanut Butter Granola is made using common pantry staples and is loaded with peanut butter flavor! Sprinkle it on top of Greek yogurt or enjoy it on its own for a snack or breakfast you'll love!
Ingredients
1/2 cup peanut butter
1/2 cup honey
1 teaspoon vanilla extract
4 cups old-fashioned oats (do not use quick-cooking)
Instructions
Preheat oven to 325°F. Line a large rimmed baking sheet with parchment paper and set aside.
Place the oatmeal in a large bowl and set aside.
In a medium microwave-safe bowl, combine the Jif Peanut Butter and Naturally Flavored Cinnamon Spread and honey. Microwave on full power for about 45 seconds or until the mixture can easily be combined and smooth. Add the vanilla extract and mix well.
Pour the mixture over the oatmeal. Mix well until all of the oatmeal is coated. Spread the oatmeal out onto the baking sheet and bake for 15-20 minutes, stirring halfway through the baking process.
Allow the granola to cool completely before transferring to a covered container. Store at room temperature and use within 2 weeks.
Nutrition Information:
Amount Per Serving:
Calories:

467
Total Fat:

6g
Saturated Fat:

1g
Cholesterol:

0mg
Sodium:

6mg
Fiber:

16g
Sugar:

36g
Protein:

12g