Old-Fashioned Hummingbird Cake is an old-fashioned three-layer banana pineapple spice cake, popular in the Southern United States.
This post may contain affiliate links. As an amazon associate, I earn from qualifying purchases. See my full Disclosure Policy for details.
Old-Fashioned Hummingbird Cake
I have to confess that I'm not really a fan of cream cheese frosting. Don't hate me. It's just not "my thing" …. but that is traditionally what goes on Hummingbird Cake, so I went with it. I think this would be awesome with a pineapple frosting to accentuate the flavor of the cake! Maybe next time! Although this cake is hugely popular in the South, you don't have to be a Southerner to love it! 🙂
This will be one of the desserts we enjoy this Easter – and if you're looking for ideas, why don't you give this a try?!
Other recipes you may enjoy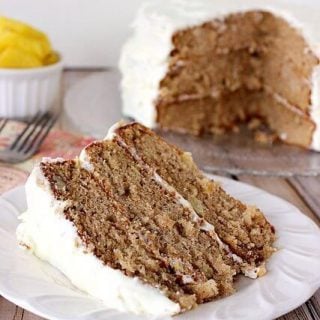 Old-Fashioned Hummingbird Cake
Hummingbird Cake is an old-fashioned three-layer banana pineapple spice cake, popular in the Southern United States.
Ingredients
For the cake
3 cups all-purpose flour
2 cups sugar
1 teaspoon salt
1 teaspoon baking soda
1 teaspoon ground cinnamon
3 eggs
2 cups mashed ripe bananas (about 3-4 medium)
1 1/2 cups vegetable oil
1 can (8 oz.) crushed pineapple, undrained
1 1/2 teaspoon vanilla extract
1 cup chopped pecans or walnuts
For the frosting
1 pound (16 oz.) cream cheese, softened
1 cup (2 sticks) butter, softened
2 pounds (32 oz.) powdered sugar
2 teaspoons vanilla extract
Additional toasted and chopped pecans for the top, if desired
Instructions
Preheat oven to 350°F. Grease and flour three 9-in. round cake pans. Set aside.

In a large mixing bowl, combine the flour, sugar, salt, baking soda and cinnamon. Add the eggs, bananas, oil, pineapple and vanilla. Beat until well combined. Stir in the nuts. Divide the batter evenly between the prepared pans.
Bake for 25-30 minutes or until a toothpick inserted near the center tests clean. Cool 10 minutes; then remove the cakes from the pans to wire racks to cool completely.
Combine all of the frosting ingredients in a large mixing bowl. Beat until the mixture is well combined. Spread the frosting between the layers and over the top and sides of the cake. Sprinkle with additional nuts, if desired.
Nutrition Information:
Amount Per Serving:
Calories:

1180
Total Fat:

64g
Saturated Fat:

20g
Cholesterol:

122mg
Sodium:

457mg
Fiber:

3g
Sugar:

117g
Protein:

8g
Originally published on March 26, 2014. Updated on April 26, 2021.