The Southern Doctor Cocktail is perfect for tailgating! By using Dr Pepper TEN, you have all of the flavors of this favorite drink, with less guilt and fewer calories! #drinkTEN #CollectiveBias #shop
The Southern Doctor Cocktail #drinkTEN
This shop has been compensated by Collective Bias, Inc. and its advertiser. All opinions are mine alone.
My family enjoys watching the occasional football game. I hate to admit that I'm not really loyal to any "team" …. but, I'm a huge fan of Peyton Manning – so I enjoy catching a Broncos game every now and then. Otherwise, I root for the team opposite of my family members just because I like to be ornery like that. I'm pretty sure that's in my job description as a mom.
Last weekend, the Cardinals were playing the Redskins and my boys wanted to watch the game. It gave me the perfect excuse to make some finger foods and grab some soda. What's a game without the food after all? The Cardinals won that game, by the way!
I headed out to my local Fry's (a Kroger banner store) since they had soda for a great, low price. I also picked up a few game day eats. I'm a huge fan of Dr. Pepper TEN since I can enjoy all the delicious flavor I love in my regular Dr. Pepper, but with fewer calories! It's easy to use TEN where you would regularly use soda with sugar and calories, but with the same great flavors you know and love!
Another one of my favorite Dr. Pepper TEN recipes is pulled pork with a Dr. Pepper BBQ sauce … which also just happens to be perfect for game day! Maybe I need to get that recipe posted soon, huh?!
While we're getting our grub on, the kiddos had an assortment of sodas to choose from – Dr. Pepper TEN, A&W TEN and 7Up TEN. The TEN product line is our go to beverage for tailgating. From cocktails to mocktails, it's easy to enjoy all the delicious flavors, but with fewer calories! I made myself an adult beverage! 😉 Southern Comfort is the perfect pairing with Dr. Pepper TEN.
Enjoy one of these, The Southern Doctor Cocktail, on the next game day – actually "watching" the game is completely optional, of course! 😉
Other Posts You May Enjoy: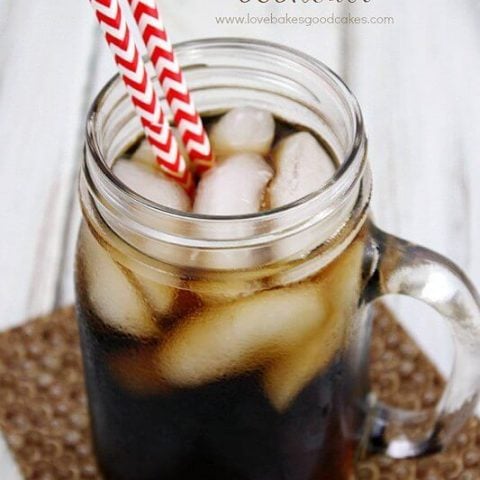 Southern Doctor
The Southern Doctor Cocktail is perfect for tailgating!
;By using Dr Pepper TEN, you have all of the flavors of this favorite drink, with less guilt and fewer calories!
Ingredients
Ice
1/3 cup Southern Comfort
1 can (12 oz.) Dr. Pepper soft drink
Instructions
Add Southern Comfort to a mason jar filled with ice. Fill with Dr. Pepper.
Stir and serve.
Nutrition Information:
Amount Per Serving:
Calories:

286
Total Fat:

0g
Saturated Fat:

0g
Cholesterol:

0mg
Sodium:

7mg
Fiber:

0g
Sugar:

30g
Protein:

0g