All of the flavor of Elote in a delicious and easy Mexican Street Corn Salad! This is sure to become a favorite side dish with any Mexican meal! Great for summer fresh corn!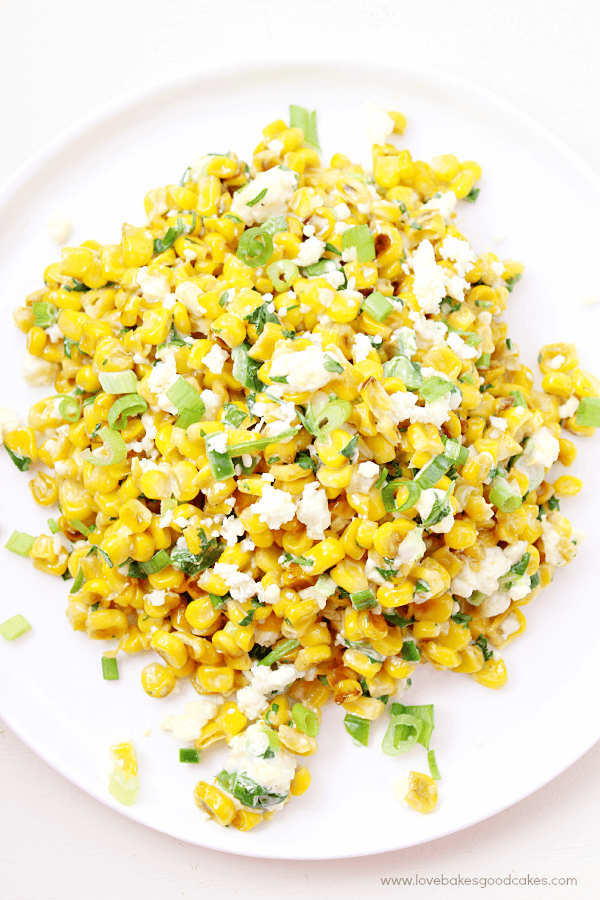 This post may contain affiliate links. As an amazon associate, I earn from qualifying purchases. See my full Disclosure Policy for details.
Mexican Street Corn Salad
I hope everyone had a safe and happy 4th of July weekend! We took it easy this year. Since I turned another year older Saturday (ugh!), I needed to take it easy this year. I just wasn't up to a big celebration. Do you ever have years like that? Of course, we did grill burgers and had all the fixings … and I even got Isaac to make my cake for me this year! The neighbors down the street put on an awesome fireworks show, so we just took the lawn chairs out in front of the house to watch! No crowds = the best way to celebrate any holiday or birthday!
Having a 4th of July birthday, I grew up thinking that the parades and fireworks were just for me …. as in, for my birthday. Yes, I really thought I was that special! Haha! Normally, I would be the first person to want to do the parades and fireworks. I have always had to deal with tons of other people out celebrating. Normally, I am okay with that, just not this year. I was not feeling the "all of the other people thing" …. and I'm not even sure why other than I just did not feel like dealing with crowds.
Maybe I'm becoming that grumpy old person that yells at the kids to get off of their lawn?! Maybe it's just a funk?! Let's hope it's just a funk!
Birthday cake
Since Isaac is 14 and he volunteered to bake my birthday cake, and it being his first cake to bake by himself (I was taking it easy, remember?!), I got him a boxed cake mix and canned frosting to make. I realized how sheltered my kids are when Gabriel (who is 6 yr old) asked Isaac what was in the can – referring to the frosting! In his 6 years, Gabriel has never seen canned frosting!! Oh boy!!
Although it was a boxed cake mix and canned frosting, Isaac did a great job – and it was even better since I didn't have to make it myself! Along with our cake and burgers, we had some of the typical cookout sides – baked beans, potato salad, and a fruit salad. Nothing super fancy. But I figured since it was my birthday, I was going to make this awesome Mexican Street Corn Salad too. Our family loves it and although we usually have it with tacos, I thought it would be great for our 4th of July cookout! My kids actually fight over who gets any leftovers or seconds of this salad! Yep, it's that good!
I've shared one of my family's favorite summer recipes using corn – what is one of your favorite ways to enjoy fresh summer sweet corn?
Other Posts You May Enjoy:
Spicy Jalapeno Chicken Taquitos with Cilantro Lime Cream Sauce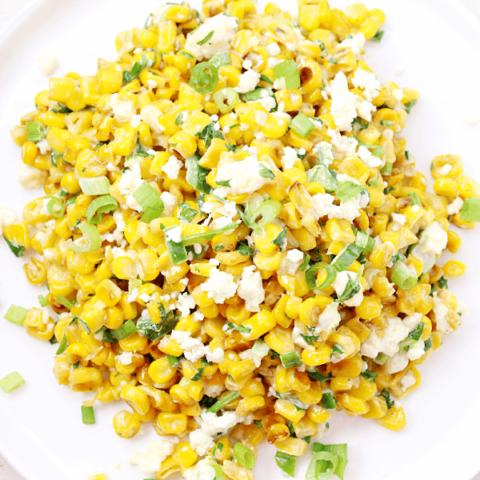 Mexican Street Corn Salad
All of the flavor of Elote in a delicious and easy Mexican Street Corn Salad! This is sure to become a favorite side dish with any Mexican meal! Great for summer fresh corn!
Ingredients
2 tbsp. vegetable oil
4-6 ears fresh corn, shucked, kernels removed (about 3-4 cups fresh corn kernels)
Salt
2 tbsp. mayonnaise
2 oz. cotija cheese, finely crumbled
1/2 cup green onion, finely sliced
1/2 cup cilantro leaves, finely chopped
1 jalapeño pepper, seeded and membranes removed, finely chopped
2 medium cloves. minced
1 tbsp. fresh lime juice
Chili powder, to taste
Instructions
In a large non-stick skillet, heat oil over high heat until shimmering. Add corn kernels, season to taste with salt. Stir once and let cook without moving the corn until charred on one side, about 2-3 minutes. Stir corn and repeat until charred on second side, about 2 minutes longer. Continue stirring and charring until well charred all over, about 10-12 minutes total. Transfer corn to a large bowl.
Add mayonnaise, cotija cheese, green onions, cilantro, jalapeño, garlic, lime juice, and chili powder and stir to combine. Taste and adjust seasoning with salt and more chili powder to taste.
Serve immediately.
Nutrition Information:
Amount Per Serving:
Calories:

187
Total Fat:

12g
Saturated Fat:

3g
Cholesterol:

11mg
Sodium:

276mg
Fiber:

2g
Sugar:

6g
Protein:

5g