This post is sponsored by Iowa Corn. I have been compensated for my work, but all opinions are my own. #IACornQuest
Elote Pizza is everything you love about elote piled onto a freshly baked pizza! Charred corn, chili powder, chipotle mayo, cilantro, and lots of cheese!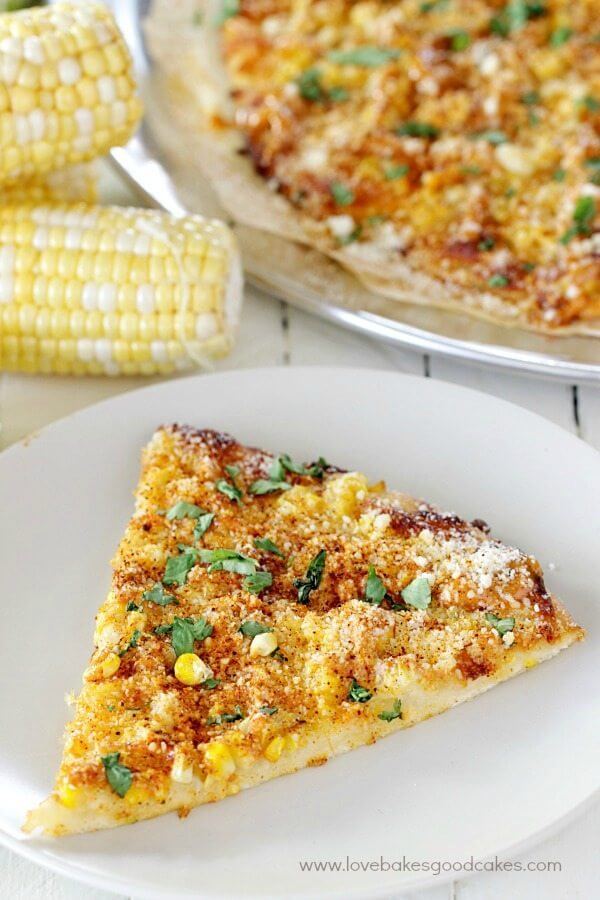 Hey friends! We'll get to the Elote Pizza (aka Mexican Street Corn Pizza) in just a sec. You may notice a different look here at Love Bakes Good Cakes. I'm so excited for the change and I hope you are too! Please bear with me as I work to fix any kinks and get everything switched over to the new look. This change has been something that I've wanted to do for awhile and I'm thrilled that it's all finally coming together!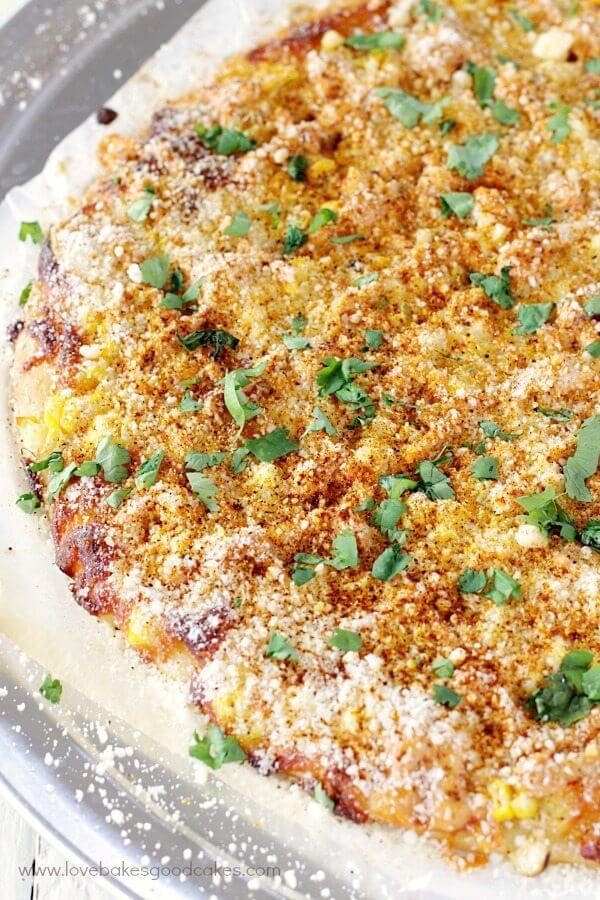 As you may remember from my Mexican Chicken and Corn Chowder recipe post, I attended Iowa Corn Quest a few weeks ago. I am still so inspired by that trip and I can't thank everyone who hosted us enough for the information and lasting memories. Because of the close-up experience with the farmers and hearing their passion for what they do, that has been what really stuck with me the most. I had no idea how much really goes into farming and agriculture. Even though I had a concept of how hard farmers work, I never really realized what all it entailed.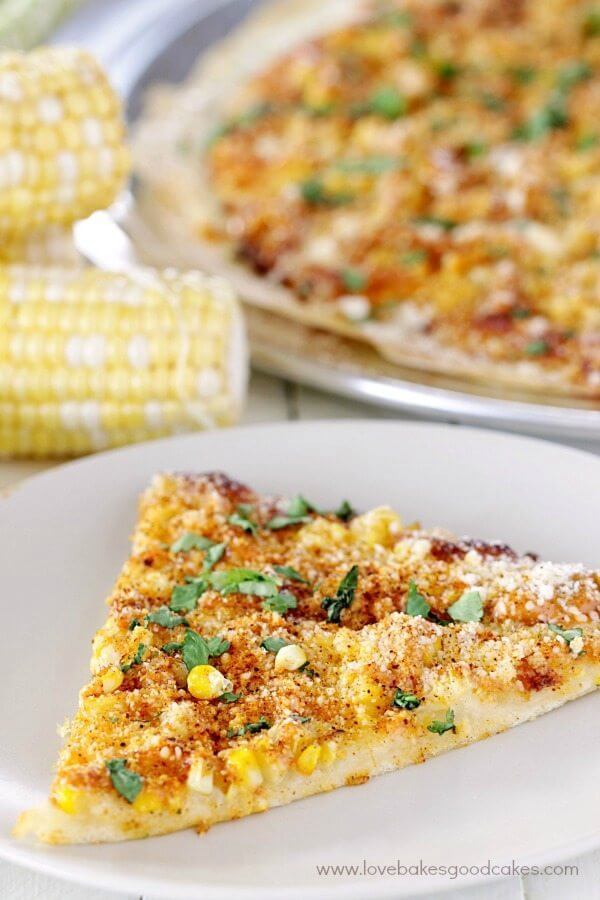 Also, I have a different appreciation for American farmers today. Because of the Iowa Corn Quest opportunity, I realized that I'm thankful that not only do they plant and harvest crops and care for livestock, they also truly care about the environment and the impact they have on it. Therefore, they are constantly seeking ways to do things better. Due to their very livelihood depending on what they do to the soil and environment, it seems like common sense that farmers would be innovative with ways to protect it. It was very enlightening to see just how farmers are able to use crops with very little waste while taking consideration of the community.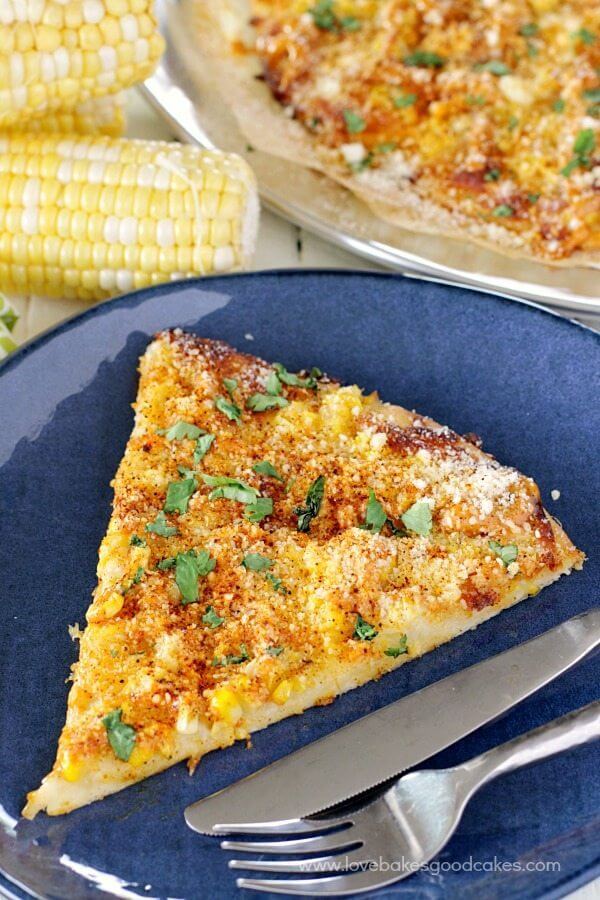 Today I want to focus on corn as food. We love to eat it in so many things from the cornmeal used in cornbread to fresh off the cob. We love it as a side dish, in main dishes, and yes, even dessert!
Since one of my favorite things to make with corn is Mexican Street Corn (aka Elote), I was inspired to create a pizza with those flavors! My kids go crazy over my Mexican Street Corn Salad. Last week, we had pizza night on Friday night. As much as we love pizza night, it needed a shake-up. I told the kids I wanted to try something different so this Elote Pizza was born! So, so yummy! Hence, this will definitely be something we'll be making again and again!
In addition, I will note that to speed things up, I used a refrigerated pizza crust. While premade dough makes this recipe quick and easy, feel free to use your favorite homemade pizza dough if that's your preference. You'll need to follow the directions with your specific dough for baking. Actual elote uses cotija cheese – and please use this for the authentic flavor if you can find it. If you can't find it, substitute Parmesan cheese in a pinch. It won't be quite the same, but it'll still be delicious!
Furthermore, I've made a short video to show you just how easy this Elote Pizza is! Enjoy!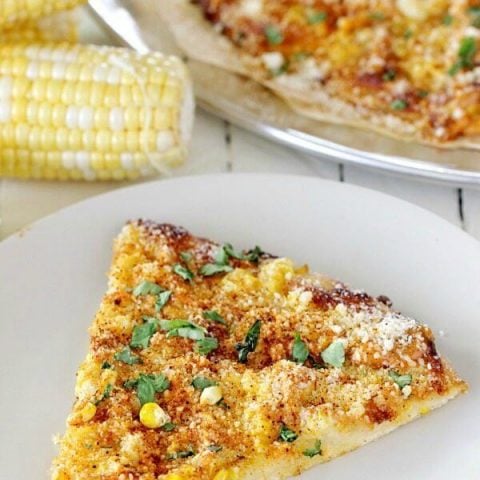 Elote Pizza (aka Mexican Street Corn Pizza)
Elote Pizza is everything you love about elote piled onto a freshly baked pizza! Charred corn, chili powder, chipotle mayo, cilantro, and lots of cheese! YUM!
Ingredients
For the Chipotle Mayo
1/2 cup mayo
1 tbsp. lime juice
2 tsp. adobo sauce, from can of chipotle peppers in adobo
1 tsp. paprika
1/2 tsp. chili powder
Salt, to taste
For the pizza
1 refrigerated pizza crust
1 tbsp. olive oil
2 ears fresh corn, shucked
3 tbsp. melted butter
1 1/2 cups shredded Mozzarella cheese
Crumbled cojita cheese or grated Parmesan cheese
Chili powder
Cilantro, chopped
Instructions
Preheat oven according to pizza dough package directions.
In a small bowl, combine all Chipotle Mayo ingredients until well combined. Refrigerate until serving.
Drizzle olive oil over corn. Rub the oil all over the corn. Cook in a pan on a stovetop or grill over high heat until the corn is charred, about 8-10 minutes. Remove from heat and allow corn to cool slightly. Cut the corn kernels from the cob. Set aside.
Place pizza crust on the baking sheet. Brush with melted butter. Top with Mozzarella cheese. Sprinkle to corn over the top.
Bake according to pizza dough package directions.
Remove pizza from over and immediately sprinkle with crumbled cojita cheese or grated Parmesan cheese, chili powder, and chopped cilantro.
Cut into slices. Serve immediately with Chipotle Mayo.
Nutrition Information:
Amount Per Serving:
Calories:

428
Total Fat:

32g
Saturated Fat:

11g
Cholesterol:

48mg
Sodium:

574mg
Fiber:

2g
Sugar:

3g
Protein:

11g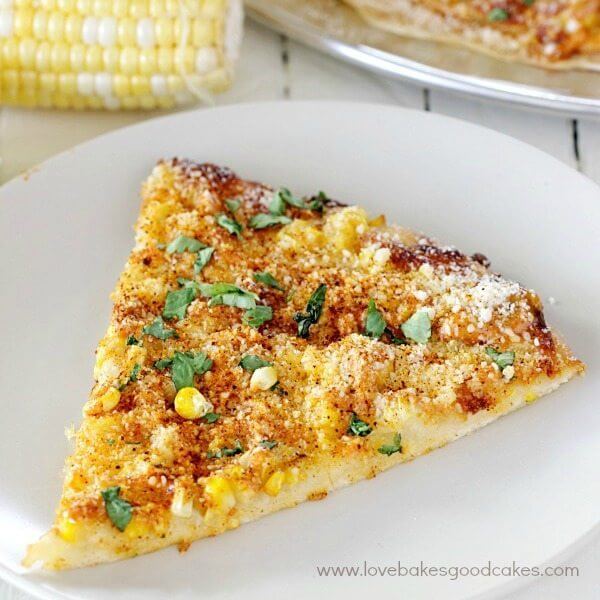 Don't forget to pin it!

OTHER POSTS YOU MAY ENJOY: