Oozing with wonderful salty-sweet flavor, this Maple Bacon Brie Cheese is the perfect way to make a fancy and impressive appetizer in a flash!
Baked Brie
Sometimes, y'all, you gotta make something real special … something a bit chic! Elegant, even!! My Maple Bacon Brie Cheese recipe is perfect for that. It adds class to any party and doesn't even take that long to make!
If you've never had something like this before, you'll fall in love with this baked brie. Between the mild buttery taste of the cheese and the sweet-salty combo of bacon and caramelized maple syrup, every bite is guaranteed to explode in your mouth.
Remember to bring the crostini or crackers of your choice to give it a crunchy little handhold!!
Aren't you totally in love with this gooey, caramel-y appetizer? You know that the appetizer is usually just as delicious as the main course! It HAS to be in my house!
Bring on the parties and game day get-togethers, then serve up this amazing and simple appetizer recipe. Soft and gooey baked brie is topped with crispy bacon & sweet maple syrup to make the best warm topping for crostinis and crackers. Enjoy!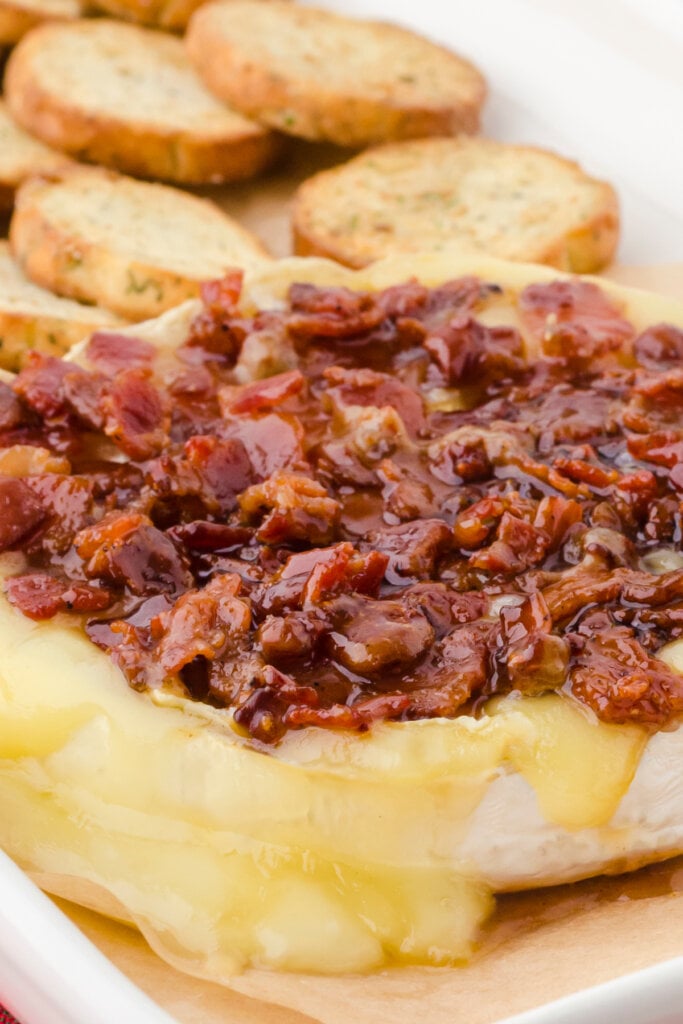 How to Make Baked Brie: Ingredients & Equipment
For this Maple Bacon Brie Cheese recipe, you'll need …
Ingredients
bacon strips – whatever your bacon preference is, grab it for this recipe!
maple syrup – use your favorite, whether that's homemade or store-bought!
brie cheese – a wheel, about 8 ounces or so. I'd freeze the brie to get rid of the rind, then shave off the top rind layer while it's thawing!
Equipment
parchment-lined pan – to bake your brie.
skillet – for cooking your bacon, of course!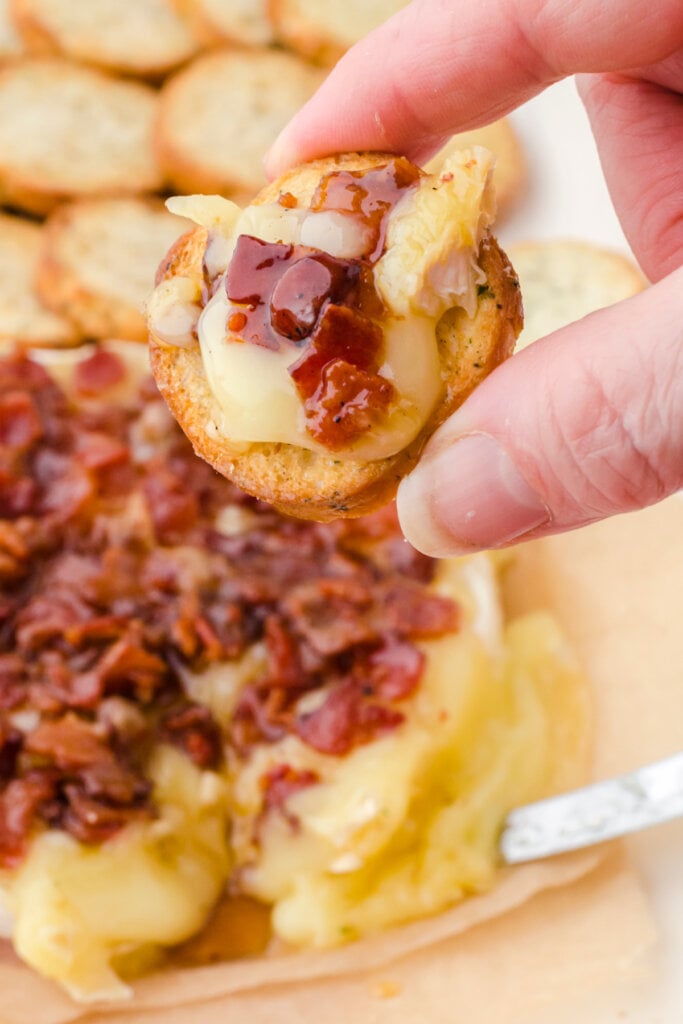 Recipe Baked Brie: FAQs
How long does it take to make this bacon and Brie dish?
About 20ish minutes, half for prep and half to bake the Brie!
How many servings does this Maple Bacon Baked Brie make?
8 servings, more or less!
What variations do you recommend for this recipe?
– Adding dried fruits like raisins or dried figs is an excellent complement to all the salty flavors in this bacon and cheese dish, as is shredded dried apricot or peach slices! Yum!
– Adding nuts like almonds and cashews gives both texture and a matching flavor profile, while sprinkling some brown sugar on top right after cooking can offer a sweet crunch with a hint of bitter caramelization.
– You can even replace the bacon with a mix of nuts like almonds and pecans for a vegetarian (but not vegan!) friendly dish. Bless versatile recipes!

How long can I store Maple Bacon Brie Cheese?
Do you have leftovers?! OMG. (Kidding!) Simply place it in an airtight container, as always! It'll only last about 2-3 days in the fridge, but let's face it, y'all, this is a snack no one will let go for that long!
How do I reheat this dish?
When you want to reheat your bacon and Brie again, just place it on top of a parchment-lined baking sheet. Then warm it in an oven preheated to 325F until the brie starts to look melty again. Easy!
Can I still bake my Brie wheel after I've already cut it?
Of course!! Don't go out buying a whole wheel if you don't need one! If you already have some sliced Brie around and want to use it for this dish, I recommend baking it in a shallow, oven-proof dish with parchment-lined at the bottom instead of a baking sheet. (Just in case it runs more than a complete, sealed brie might!!)

The rest of the recipe can be followed as usual, but instead of sliding the parchment onto a serving platter, you can just serve your Brie in the dish you baked it in!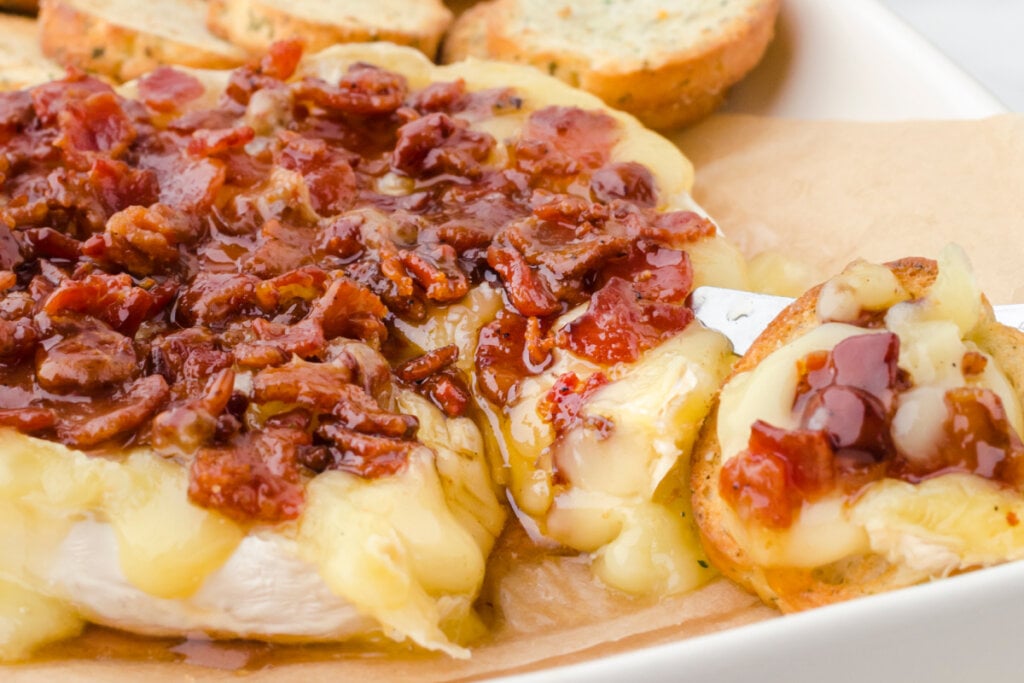 Other recipes you may enjoy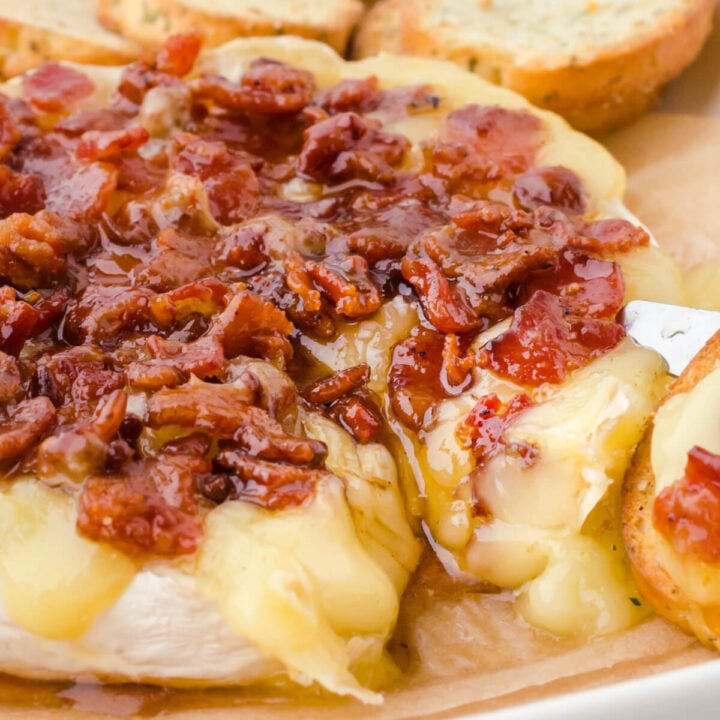 Maple Bacon Brie Cheese
Oozing with wonderful salty-sweet flavor, this Maple Bacon Brie Cheese is the perfect way to make a fancy and impressive appetizer in a flash!
Ingredients
3 strips bacon, diced
3 tablespoons real maple syrup
1 wheel (8 ounces) brie cheese
crostini or crackers, for serving
Instructions
Preheat the oven to 325°F.
Cut off the top rind of brie cheese and place the brie cheese on a parchment-lined baking sheet.
Once the oven is preheated, bake the cheese for 8-10 minutes, or until it is soft and just starting to melt.
Meanwhile, cook the bacon pieces in a skillet over medium heat until cooked to your desired crispiness. Remove the bacon bits to a paper towel to drain. Remove the pan from the burner and drain off the fat from the pan.
Right before serving, return the bacon bits to the pan, and stir in the maple syrup. Heat over medium-low heat just until the maple syrup is warmed through.
To serve, slide the parchment paper directly onto a serving platter. Top with the warm maple-bacon mixture. Serve immediately with crostinis or crackers.
Notes
I found that if you add the maple syrup to the hot pan and let it sit for too long, it carmelizes and gets SUPER sticky - making it hard to get out of the pan! To prevent that from happening, warm up the maple syrup right before serving and then immediately put it on the hot brie. You could also just warm up the maple syrup in the microwave and drizzle it over the bacon after it's on the brie.
Recommended Products
As an Amazon Associate and member of other affiliate programs, I earn from qualifying purchases.
Nutrition Information:
Yield:

8
Serving Size:

1
Amount Per Serving:
Calories:

61
Total Fat:

3g
Saturated Fat:

1g
Trans Fat:

0g
Unsaturated Fat:

2g
Cholesterol:

8mg
Sodium:

105mg
Carbohydrates:

6g
Fiber:

0g
Sugar:

5g
Protein:

2g
Please note that the nutritional information listed on this page is an estimation based on the products I used. Ingredients and nutritional information can vary significantly between brands. Always be sure to read labels. Please verify that a recipe fits your needs before using it. Nutrition info may contain errors, so please verify it independently. Likewise, recipes may contain errors, so please use your common sense when following them.