This Cookie Mix is perfect for movie night! Gather up the kids, put in a favorite movie and enjoy this easy snack! #cookie #snackideas
Cookie Mix
*The backdrop used in these photos is courtesy of Ink & Elm.*
My family has movie night on Friday nights. Does your family do "movie night?" We usually have pizza for dinner because the kiddos love it – and it's something they can help with! Actually, now that my kids are getting older, they can do the entire process – from making the dough to baking – all by themselves. I have to admit, I may be a food blogger, but it's nice having a night off from cooking once in awhile! 🙂
Although we typically enjoy copious amounts of popcorn for movie night … because what's a movie without popcorn … sometimes, we like to change things up a bit. If you've read my blog for any length of time, you know how I roll! My personal hashtag should be #neverthesametwice …. oops!
I decided to make a Cookie Mix and although I've had the idea for the longest time, I have had the hardest time finding the cookie dough bites that I wanted to use! Thankfully, I finally found them at Walgreens!! Woot woot for finding the unfindable!
Of course, you can totally customize this to your family's tastes and preferences. If you find other cookie-themed food, feel free to add them to the mix – they say, "the more, the merrier," right? I am so down with more cookies!
I found some cute little fry boxes that we used to hold our snacks – somehow, cute packaging makes things better, doesn't it?
So easy and so delicious! You've got the snack, now go grab a movie!
Other Posts You May Enjoy: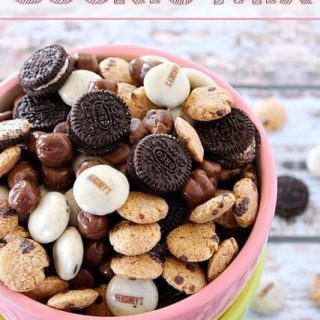 Cookie Mix
This Cookie Mix is perfect for movie night! Gather up the kids, put in a favorite movie and enjoy this easy snack!
Ingredients
4 cups (from an 11.25 oz. box) Cookie Crisp cereal
2 cups (about 6 1-oz. packages - from a 12 pack box) mini Oreo's
1 bag (8 oz.) Hershey's Cookies 'n' Creme Drops candy
2 boxes (4 oz each) Cookie Dough Bites
Instructions
Add all of the ingredients in a large bowl. Gently mix with a large spoon or clean hands.
Nutrition Information:
Amount Per Serving:
Calories:

275
Total Fat:

13g
Saturated Fat:

6g
Cholesterol:

2mg
Sodium:

148mg
Fiber:

2g
Sugar:

27g
Protein:

3g
Originally published on July 22, 2014. Updated on April 30, 2021.