No Bake Key Lime Cheesecake Bars are easy to prepare, They are also full of flavor, and not overly sweet. This dessert is delicious!
No Bake Key Lime Cheesecake Bars
Welcome back to Foodie
Friday!
Where every 2nd
Friday of the month I, Sandra from A Dash of Sanity, will be sharing one of my
favorite recipes with the friends of Love Bakes Good Cakes.
Spring is here,
and I am so ready to welcome back backyard barbeques, swim parties, flip flops,
and shorts!
I adore a quick
and easy recipe to serve for dessert – the part of the meal I love to simplify
and can't live without.
With dessert,
there are so many things you can easily make in advance, let chill, and serve
when ready – just like these fabulous cheesecake bars. You can make them in less than 20 minutes, let
them chill (about 1-2 hours), then serve.
They're perfect
for a barbeque or summer potluck.
My kids already
know to ask when they get home from school, "What's for dessert." I love a
sweet ending! Don't you?
Not only are these
cheesecake bars easy to prepare, they are also full of flavor. Not overly
sweet, this dessert is well balanced using ingredients like cream cheese and
white chocolate on top a macadamia nut coconut crust.
Want to make it
low-fat? Great, use fat-free cream cheese and cool whip, an easy-to-substitute calorie
saver.
I'm so happy to share
this with you today, and I'm looking forward to our next Foodie Friday!
Enjoy A Dash of
Sanity original, shared especially for my friend Jamie!
XOXO San
Like what you see?
Come and follow me!
No Bake Key Lime Cheesecake Bars with Macadamia Nut Coconut Crust
gluten-free recipe
Other recipes you may enjoy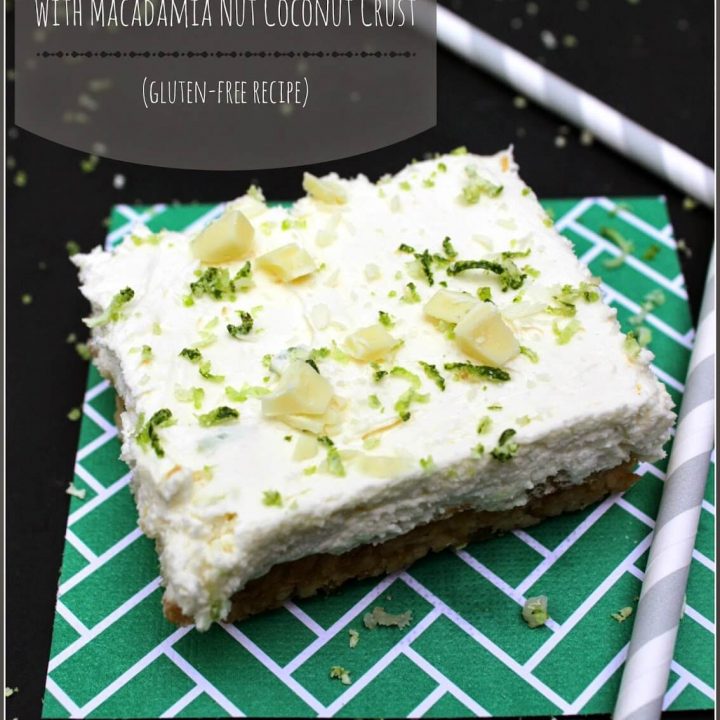 No Bake Key Lime Cheesecake Bars
Inactive Time:
1 hour
50 minutes
Total Time:
2 hours
20 minutes
Try these No Bake Key Lime Cheesecake Bars
Ingredients
Macadamia Nut Coconut Crust
3 cups macadamia nuts
1/2 cup coconut oil, melted
2 tablespoons white chocolate, melted (use part of the chocolate from the cheesecake bars below)
1 cup unsweetened coconut
Key Lime Cheesecake Bars
11 ounces Ghirardelli white chocolate chips, melted
1 container of Cool Whip
2 8-ounce package cream cheese, room temperature
6 tablespoons sugar
6 tablespoons key lime juice
2 tablespoons finely-grated lime peel, more for garnish (optional)
Instructions
Macadamia Nut Coconut Crust:
Line 9x13-inch square baking pan with parchment paper (wax paper), extending over all sides.
In a food processor, add all of the macadamia nuts and finely grind until they are broken and chopped into small pieces - make sure not to over process, you don't want to get a paste.
Place a small bowl over barely simmering water and add white chocolate chips. Stir until completely melted. Remove and set aside.

In a small mixing bowl, add ground macadamia nuts and oil or butter, and mix until well combined. Add coconut and melted white chocolate. It should be wet, but not runny. At this point, if you used coconut oil, press it into prepared 9x13 pan and put in the refrigerator to chill. If you used butter, bake in preheated oven at 350 for 10-12 minutes or until crust is light golden. Allow to cool completely before adding cheesecake.
Key Lime Cheesecake Bars:
Beat cream cheese, sugar, key lime juice, and lime zest peel in large bowl until smooth. Beat in remaining melted white chocolate.
If chocolate has started to harden, place back on simmering water until melted and there are no chunks. Allow to cool, and then mix into cream cheese mixture.
Fold in Cool Whip; spread over prepared crust. Chill until filling is slightly firm. I like it between 1-2 hours.
Using the parchment to help, lift cheesecake out of pan. Cut into 18 bars. Garnish with chocolate curls, and if desired, lime zest.
Store in the refrigerator until ready to serve.
Notes
*If you don't have coconut oil, substitute the exact amount with butter. If you use the oil, you don't have to bake it. If you use butter, you'll need to bake the crust at 350 for 10-12 minutes.
Nutrition Information:
Amount Per Serving:
Calories:

475
Total Fat:

43g
Saturated Fat:

21g
Cholesterol:

39mg
Sodium:

113mg
Fiber:

3g
Sugar:

18g
Protein:

5g
Originally published on May 10, 2014. Updated on April 27, 2021.