Enjoy the flavors of Louisiana with this one-pan Jambalaya! Perfectly seasoned rice pairs with sausage, chicken, and the Cajun Holy Trinity.
This post may contain affiliate links. As an amazon associate, I earn from qualifying purchases. See my full Disclosure Policy for details.
Jambalaya
I'm not sure what it is about rainy or cold weather, but it kinda makes me want to eat spicy food. Spicy food that I can have cornbread with. Two particular meals come to mind for me – Chili …. or Jambalaya. MmmmMmmm. This time, Jambalaya won! Obviously. ? It needs to be on your menu soon, too!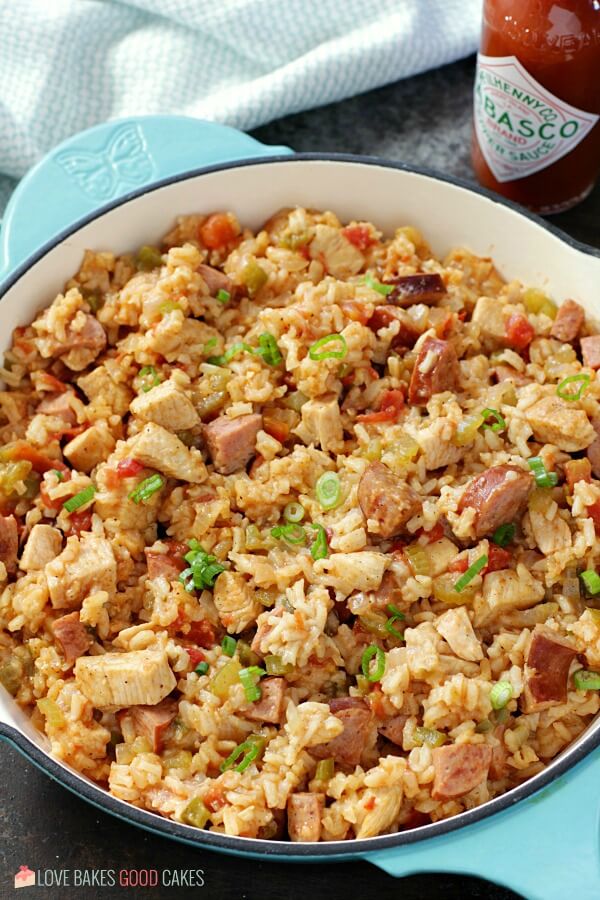 Why is my Jambalaya rice crunchy?
Not using enough liquid causes crunchy rice – or cooking it over too high of heat. Remember to use the correct ratio of rice to liquid as stated in the recipe. Also, be sure to bring the liquid just to a boil, cover the pan, then reduce the heat to low.
Why is my Jambalaya rice mushy?
Too much stirring can cause mushy rice as it releases the starch. Don't be tempted to stir too much. Also, overcooking rice can lead to mushy rice. You want the water to be mostly absorbed, then remove it from the heat and let it steam to make the perfectly sauced rice.
Can Jambalaya be made ahead?
I firmly believe that this is one of those dishes that is best made when you're going to eat it. Sure, you could make it ahead if you *really* want to … but you risk eating dried out or mushy rice. I'm personally not a fan. My kids don't mind eating the leftovers, but I think Jambalaya is best when it's first made. I don't think I would try a big batch and then saving it for later. Truly, this recipe is so easy, take the time to enjoy it at its freshest and best.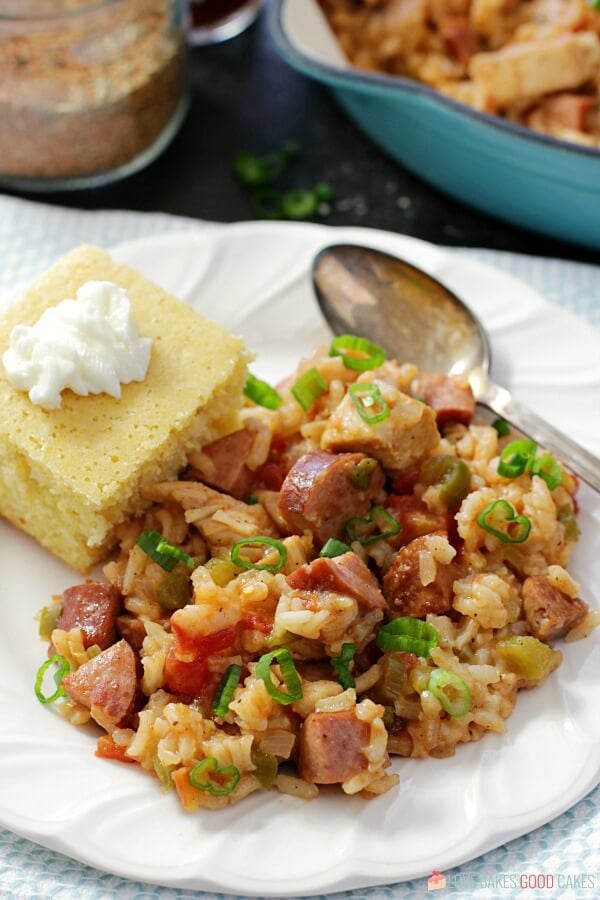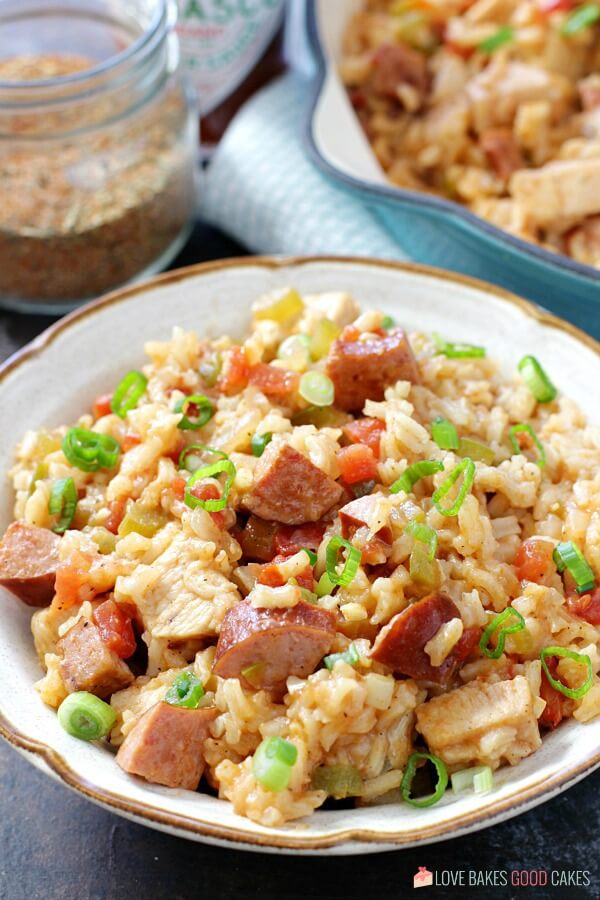 If you would love a peek behind-the-scenes … check out my Instagram.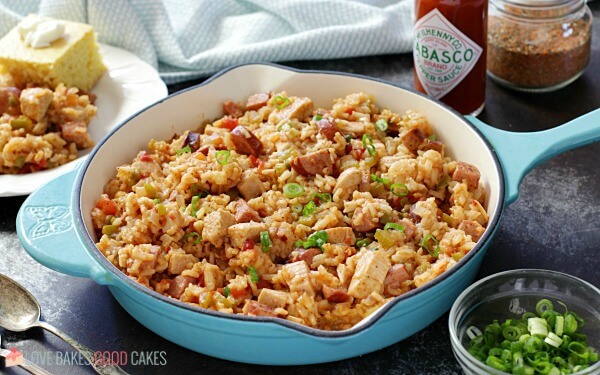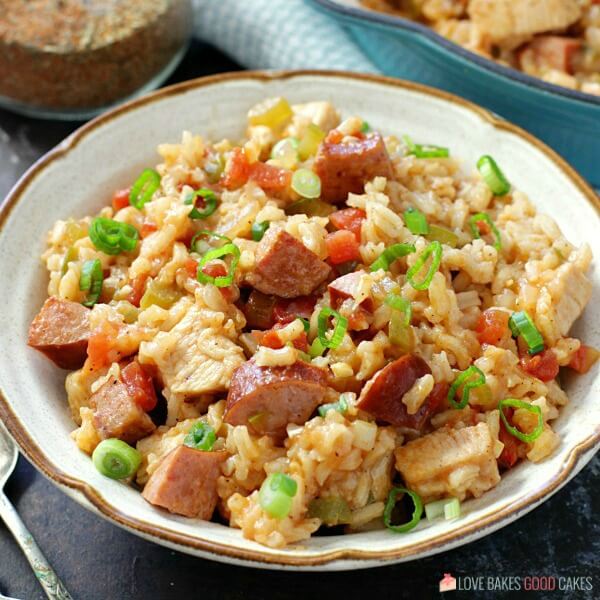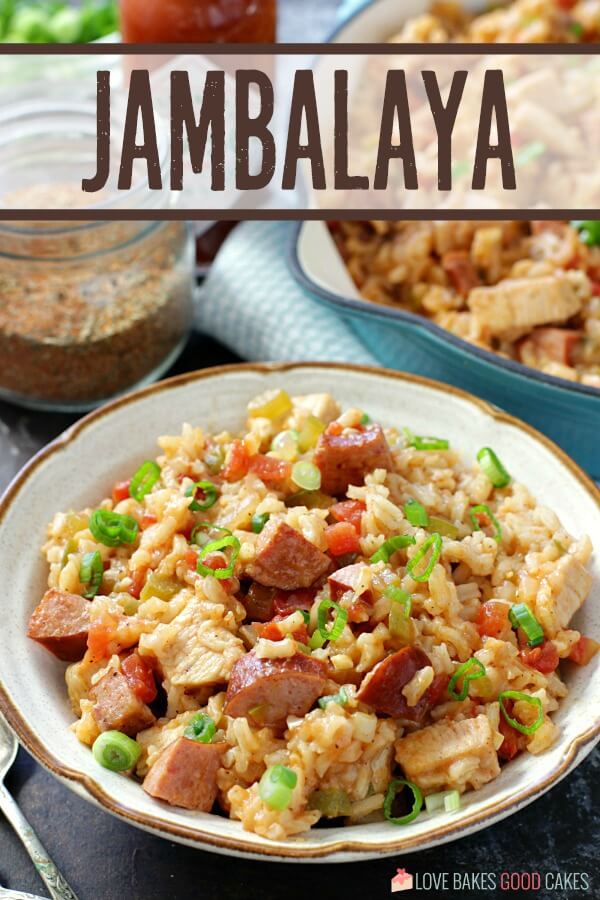 NOTE: This post was updated with new pictures and an updated post in February 2019.
Other recipes you may enjoy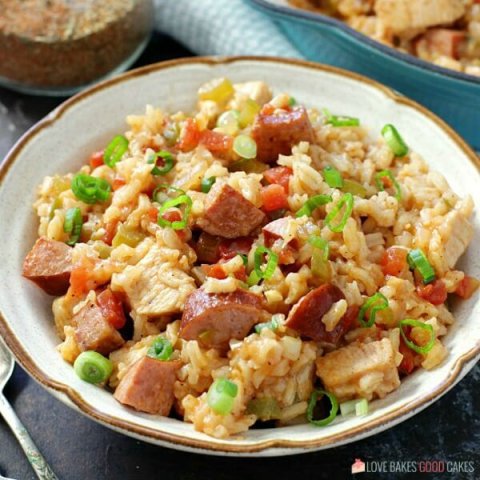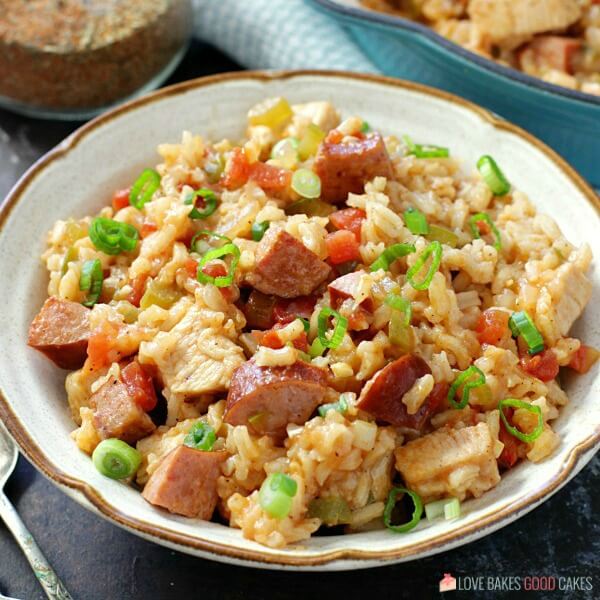 Jambalaya
Additional Time:
10 minutes
Total Time:
1 hour
10 minutes
Enjoy the flavors of Louisiana with this one-pan Jambalaya! Perfectly seasoned rice pairs with sausage, chicken, and the Cajun Holy Trinity.
Ingredients
2 tablespoons vegetable oil
1 pound smoked sausage, chopped
1 pound boneless, skinless chicken breasts, cut into 1-inch cubes
1 tablespoon Cajun seasoning
1 medium onion, chopped
1 small green bell pepper, seeded and chopped
2-3 stalks of celery, chopped
4 cloves garlic, minced
1 can (14.5 oz.) petite-diced tomatoes
2 teaspoons Worcestershire sauce
1 teaspoon salt
1/2 teaspoon crushed red pepper flakes
1/2 teaspoon pepper
1/2 teaspoon Tabasco sauce
1-1/4 cups uncooked long-grain white rice
2-1/2 cups chicken broth
Instructions
Heat the oil in a large deep skillet or Dutch oven over medium-high heat.

Place sausage in the skillet and sprinkle with half of the Cajun seasoning. Cook the sausage until browned. Remove the sausage from the pan with a slotted spoon and set aside.

Add the chicken to the same pan and sprinkle the remaining Cajun seasoning over the top. Cook chicken until slightly browned on all sides. Remove the chicken from the pan with a slotted spoon and set aside.

Add the onion, bell pepper, and celery to the same pan and cook for 3-5 minutes or until tender. Stir in the garlic, tomatoes, Worcestershire sauce, salt, pepper flakes, pepper, and Tabasco sauce. Stir the cooked sausage, cooked chicken, and rice into the pan. Bring to a boil, reduce heat and cook for 20-25 minutes or until the liquid is absorbed.

Remove from the heat and allow the rice to continue to steam for an additional 5-10 minutes before fluffing it with a fork.
Notes
Jambalaya is traditionally made with sausage and some sort of other meat. Feel free to substitute an equal amount of seafood, pork, crawfish, or shrimp in place of (or in addition to) the chicken in this recipe.
Recommended Products
As an Amazon Associate and member of other affiliate programs, I earn from qualifying purchases.
Nutrition Information:
Yield:

8
Serving Size:

1
Amount Per Serving:
Calories:

436
Total Fat:

22g
Saturated Fat:

6g
Trans Fat:

0g
Unsaturated Fat:

13g
Cholesterol:

84mg
Sodium:

1562mg
Carbohydrates:

30g
Fiber:

1g
Sugar:

3g
Protein:

28g
Originally published on September 10, 2013. Updated on April 24, 2021.