This Cream Cheese Fruit Dip is a necessity for any potluck or party! Serve it with tasty fresh fruit (of course!) or your favorite sweets.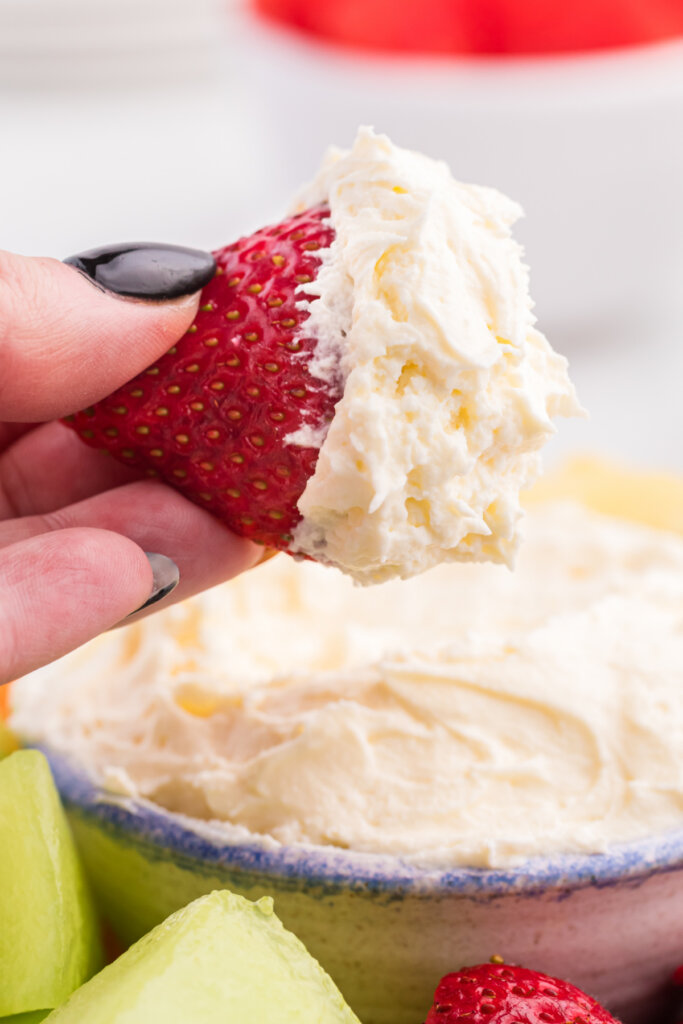 Fruit Dip Recipe
Are you having a potluck or party soon? Then, this Cream Cheese Fruit Dip is a necessity! Serve it with tasty fresh fruit (of course!) or your favorite sweets.
Now that warmer weather's coming along, I've been gearing up to get together with all my girlfriends again. Nothing special – although isn't time with your friends always special? – just having them over for chatter, snacks, and maybe a cocktail or two!!
I'm also planning a lot of family stopping by over the summer holidays this year, which makes this cream cheese fruit dip a necessity!
This is like the fruit dip you'd get at the store, except, honestly? It tastes so much better because everything homemade does. It only requires a few ingredients, and if you have a mixer, it's super easy to put together.
Pair it with apples, grapes, or even cookies while catching up with all your favorite people!
If you've got little ones, by the way, this fruit dip is an excellent way of sneaking something healthy into their diet – it's that tasty. Plus, if they're still avoiding all things fruit, you can put a bit of cocoa powder into it and turn the dip a little chocolatey.
It's a fantastic base for other flavored dips! Enjoy!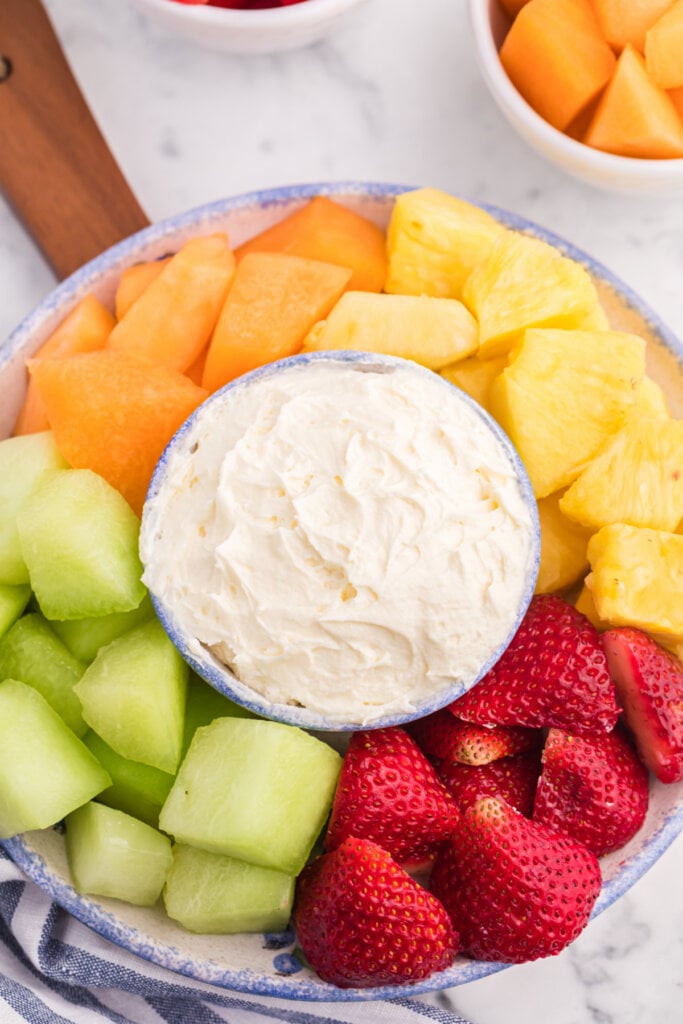 Cream Cheese Fruit Dip: Ingredients & Equipment
To make this fruit dip recipe, you'll need …
Ingredients
packaged cream cheese – you'll want to let it soften to room temperature. Use your favorite brand!
marshmallow fluff, frozen whipped topping – these provide texture and sweetness to your dip! Again, feel free to use your favorite brands.
lemon extract – this gives your fruit dip just a tiny bit of citrus zing and rounds out the flavor. Yum!!
NOTE: If you're not serving this dip immediately, put it in the fridge in a covered bowl/container. (It's great for making ahead the night before a party.) Don't leave it out!
Equipment
large mixing bowl and mixer – you'll want these to beat together your cream cheese, fluff, and extract. Make sure to scrape the bowl as often as possible!!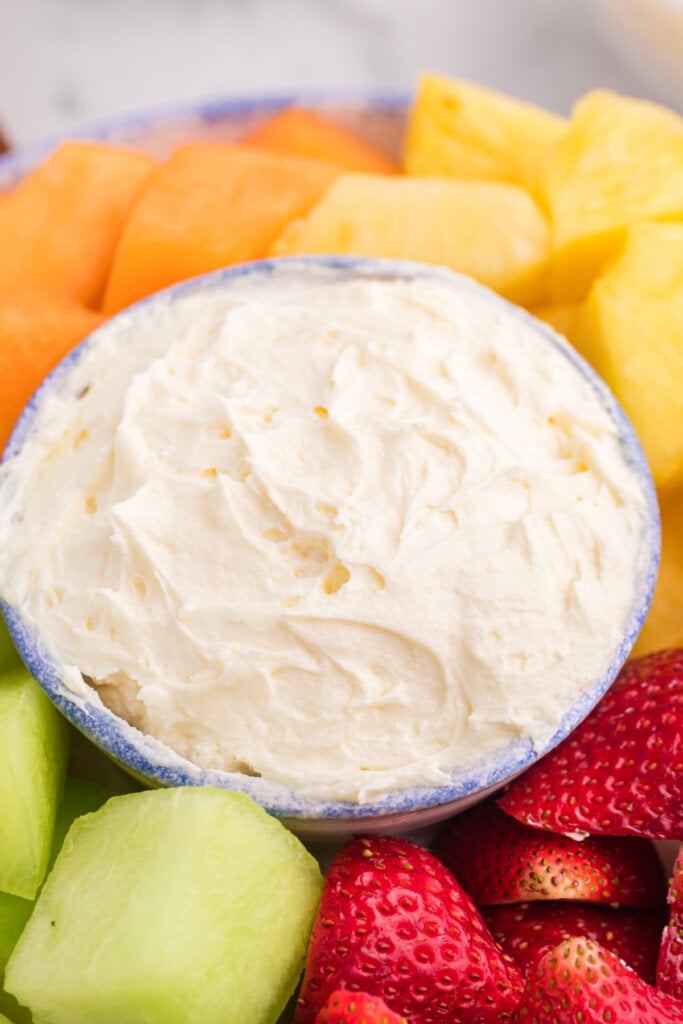 Cream Cheese Fruit Dip: FAQs
How should I store leftover fruit dip?
Put it in a covered container and it should be good to go for about 3-4 days in the fridge!! (Just bring it to room temperature and stir it when you're ready to serve!) I wouldn't freeze this dip, however, since it gets all watery afterward.
Do I need to use lemon extract?
You can use lemon zest as well. Alternatively, you can leave it out entirely! However, I think it balances how sweet the dip is!
How much cream cheese fruit dip does this recipe produce?
About 8 servings, or 3 cups!!
How long does it make to take this cream cheese fruit dip?
Only about 10 minutes!! Super easy.
Why is my fruit dip lumpy? Can I fix this?
Let your cream cheese soften before mixing it in with the other ingredients! If it's too cold and hard when you add the marshmallow fluff, you'll get lumpy fruit dip. It may also be too lumpy if you don't mix it long enough – but usually, it's that first thing.
What should I serve with this fruit dip?
Try any of your favorite fruits, like …
– bananas
– grapes
– apples
– cantaloupe
– pineapple
-strawberries
– honeydew melon
… or even other sweets, like graham crackers, vanilla wafers, cake, and cookies! A friend of mine loves pretzels with this dip, too!

I'm on a diet … can I use "light" versions of the ingredients?
I don't see why not! It should still blend perfectly.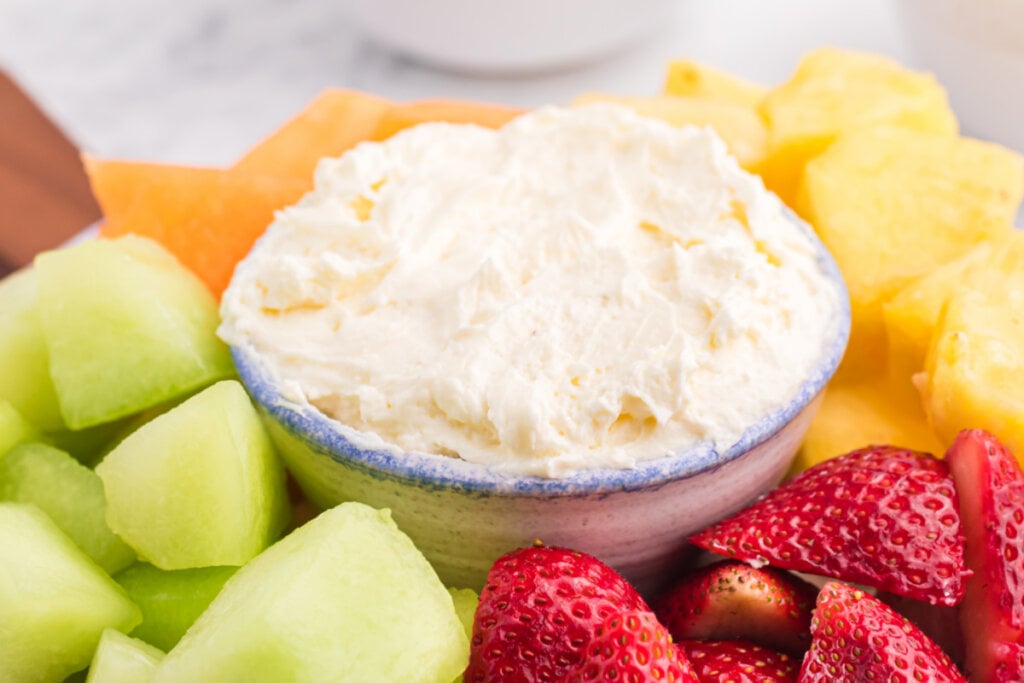 Other recipes you may enjoy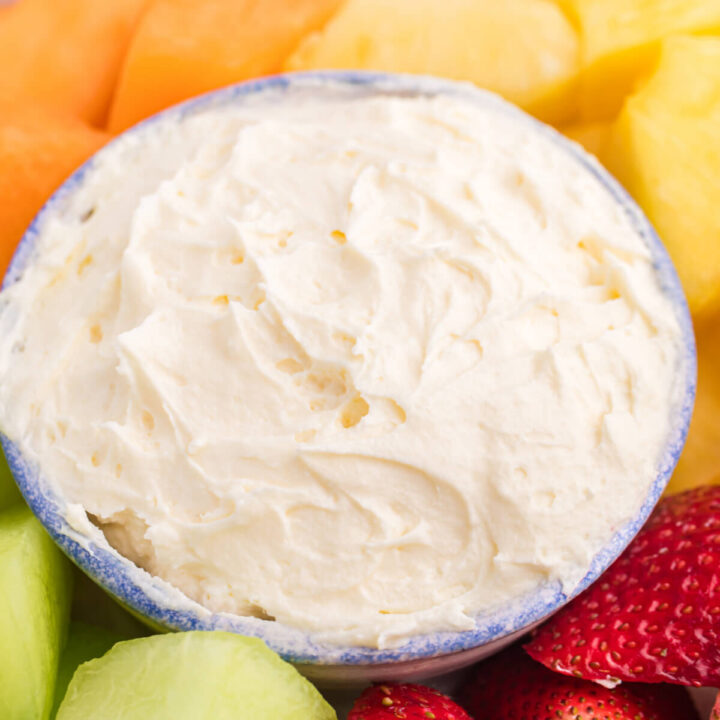 Cream Cheese Fruit Dip
Yield:
8 servings (3 cups)
This Cream Cheese Fruit Dip is a necessity for any potluck or party! Serve it with tasty fresh fruit (of course!) or your favorite sweets.
Ingredients
1 package (8 oz.) cream cheese, softened
1 cup marshmallow fluff
1 cup frozen whipped topping, thawed
1/2 teaspoon lemon extract
assorted fruit, for serving
Instructions
Add cream cheese, marshmallow fluff, and lemon extract to a large mixing bowl. Beat with a hand-held mixer on medium speed until smooth (about 2 to 3 minutes).
Gently fold in frozen whipped topping.
Transfer the mixture to a serving dish and serve with fresh fruit.
Notes
Make sure to scrape the mixing bowl when beating the cream cheese and marshmallow fluff.
If you aren't serving this dip right away, cover it and store it in the fridge until ready to serve.
Recommended Products
As an Amazon Associate and member of other affiliate programs, I earn from qualifying purchases.
Nutrition Information:
Yield:

8
Serving Size:

1
Amount Per Serving:
Calories:

95
Total Fat:

4g
Saturated Fat:

3g
Trans Fat:

0g
Unsaturated Fat:

1g
Cholesterol:

3mg
Sodium:

35mg
Carbohydrates:

15g
Fiber:

0g
Sugar:

11g
Protein:

1g
Please note that the nutritional information listed on this page is an estimation based on the products I used. Ingredients and nutritional information can vary significantly between brands. Always be sure to read labels. Please verify that a recipe fits your needs before using it. Nutrition info may contain errors, so please verify it independently. Likewise, recipes may contain errors, so please use your common sense when following them.