Ditch the canned stuff for this awesome Homemade Enchilada Sauce! It has tons of flavor and it is so easy to prepare!
This post may contain affiliate links. As an amazon associate, I earn from qualifying purchases. See my full Disclosure Policy for details.
Homemade Enchilada Sauce
When I was (much) younger, my mom had a friend named Sharon. I don't remember too much about her specifically, except that one time we went to her house and we ate some really awesome enchiladas. Oh, and her kiddos taught my brother and I how to say all of the bad words in Spanish ….
I'm not sure if it's a rite of passage in childhood, but it seems we all have that one friend who teaches us those words … don't we? What's even worse is when you think you're outsmarting your parents and you try using one of your new vocabulary words. To which your mom immediately looks at you in shock – wanting to know where you learned that from. No bueno … trust me. You will get in just as much trouble for saying bad words in Spanish as you do in English! 😉
About those enchiladas Sharon made … I honestly can't remember if I ever had enchiladas prior to that day. If we had, Sharon's enchiladas made enough of an impression on me that I still remember them thirty-something many years later. It was also the first time I had refried beans that weren't from a can. It was one of the best meals I have ever had in my life.
I had forgotten about Sharon and that meal (and what her kids taught us lol) until a few years ago. I'm not even sure what sparked that memory. I asked my mom if she remembered that lady … to which I could see it visibly upset her. Just a few days prior, Sharon had passed away …. and I had no idea. I felt horrible for asking and the timing of my question suddenly felt very inappropriate.
This enchilada sauce reminds me of the enchiladas Sharon shared that day, so many years ago. I am sharing my version of Sharon's enchilada recipe in this Beef Enchiladas post if you would like to check it out too! 🙂 I hope you enjoy!
Other Posts You May Enjoy:
Mexican Chocolate Churros with Dipping Sauce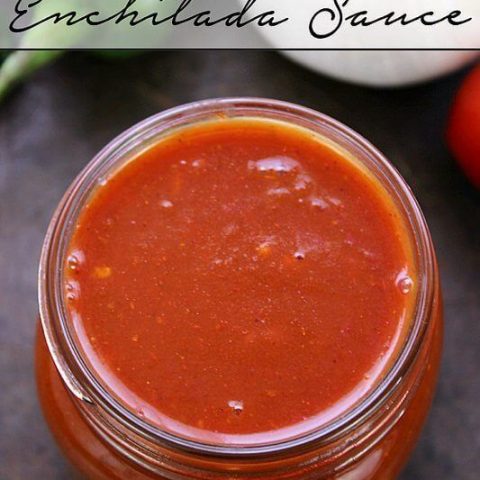 Homemade Enchilada Sauce
Ditch the canned stuff for this awesome Homemade Enchilada Sauce! It has tons of flavor and it is so easy to prepare!
Ingredients
1/3 cup finely chopped green bell pepper
2/3 cup water
1 tbsp. chili powder
1/2 tsp. dried oregano
1/4 tsp. ground cumin
1-2 jalapenos, finely chopped, if desired
1 clove garlic, minced
1 can (15 oz.) tomato sauce
Instructions
In a medium saucepan, combine all of the enchilada sauce ingredients. Bring the mixture to a boil over medium-high heat, stirring occasionally. Once the mixture comes to a boil, reduce the heat to low and simmer uncovered for 5 minutes or until slightly thickened.
Use this enchilada sauce in your favorite enchilada recipe or anywhere enchilada sauce is listed in the recipe!
Nutrition Information:
Amount Per Serving:
Calories:

37
Total Fat:

1g
Saturated Fat:

0g
Cholesterol:

0mg
Sodium:

564mg
Fiber:

3g
Sugar:

4g
Protein:

2g