These Enchilada Stuffed Shells are easy and kid-friendly! They're a tasty dinner filled with plenty of Mexican flavors we all know and love.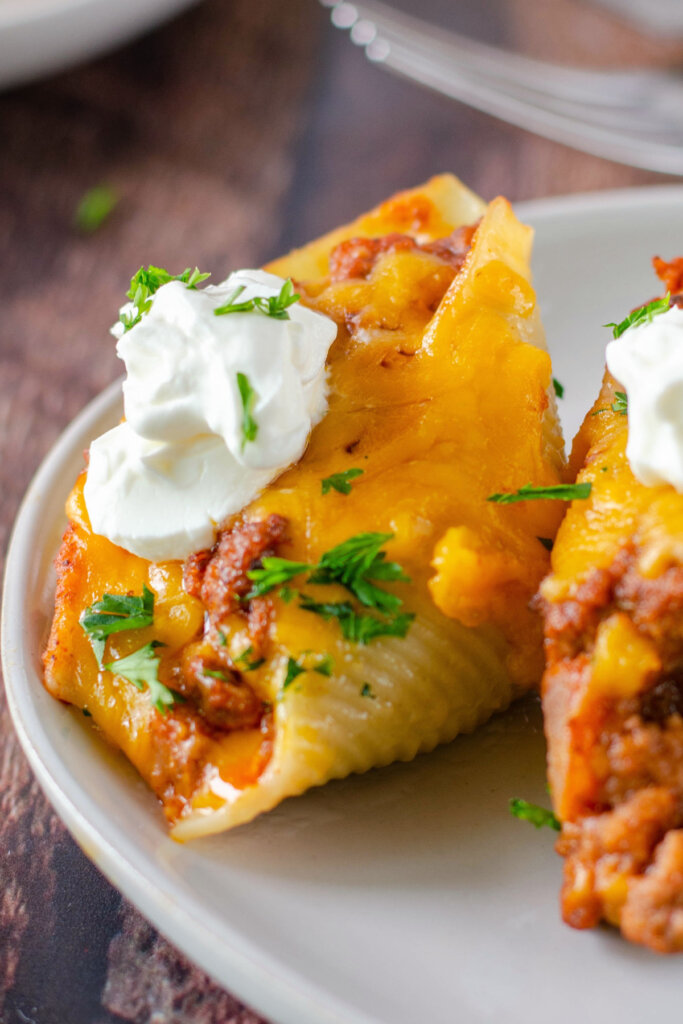 Mexican Stuffed Shells
With those long school days (we homeschool), I've grabbed my list of "simple recipes for when Mom is too tired to cook much." Every family should have one, believe me! Don't resort to cereal for dinner if you can!
I will say, though … easy shouldn't mean sacrificing flavor! These enchilada stuffed shells are one of the top "simple recipes" on my list for that reason.
Not only is this recipe no-fuss, no-drama, but they're delicious. When I say mouth-watering, I really mean it. We're talking typical stuffed shells, except the filling is full of all those Mexican ingredients you and your loved ones likely adore. The perfect combo!
What's that one commercial say … "kid-friendly, Mom-approved"? Something like that? (Or maybe I'm just making that up?) Either way, enchilada stuffed shells are just that – wonderful for families or for anyone else, honestly! Enjoy!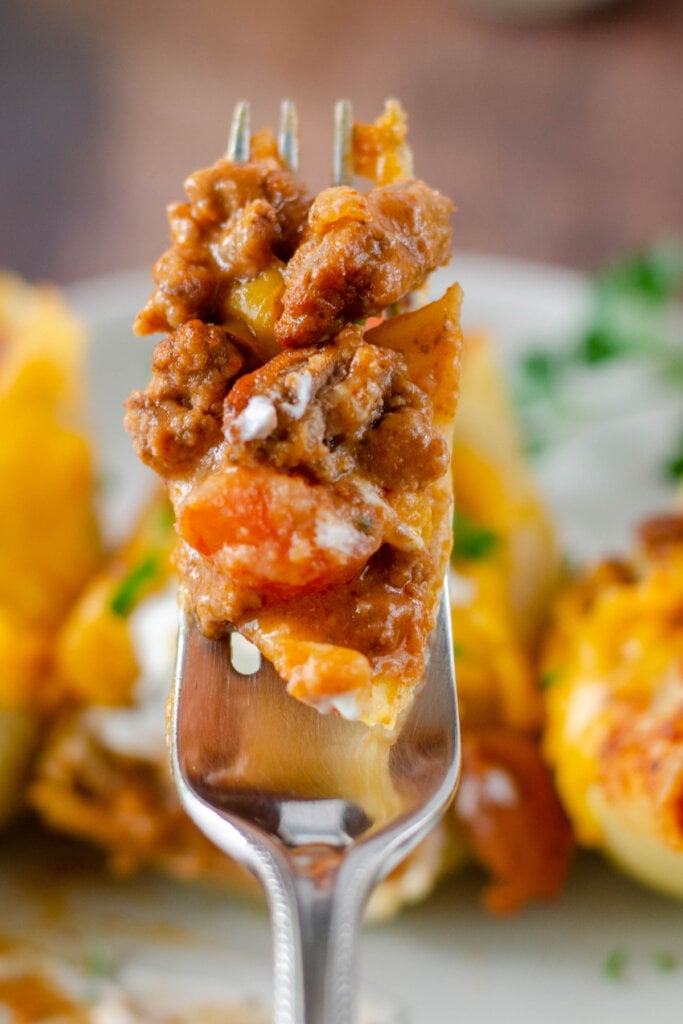 Enchilada Stuffed Shells: Ingredients & Equipment
To make Mexican Stuffed Shells, you'll need …
Ingredients
jumbo pasta shells – these are the "shells" in your stuffed shells! If you've made more Italian-style stuffed shells before, you'll use the same ones you typically would buy.
ground beef – lean. This will be the "stuffing" in your shells.
onions – chopped. Provides flavor and adds to the stuffing!
enchilada sauce – grab your favorite brand, or make your own Enchilada Sauce at home. Either way, this is one of your key ingredients. It isn't quite an enchilada-flavored dish without the sauce, you know?!
chili powder, cumin, oregano, basil – your spices. It just doesn't taste like Mexican cuisine without these!
refried beans, Roma tomato – and it doesn't feel like Mexican without refried beans and chopped tomatoes, either.
Equipment
9×13 baking dish – to bake your stuffed shells.
nonstick skillet – to cook your beef, add the spices, etc.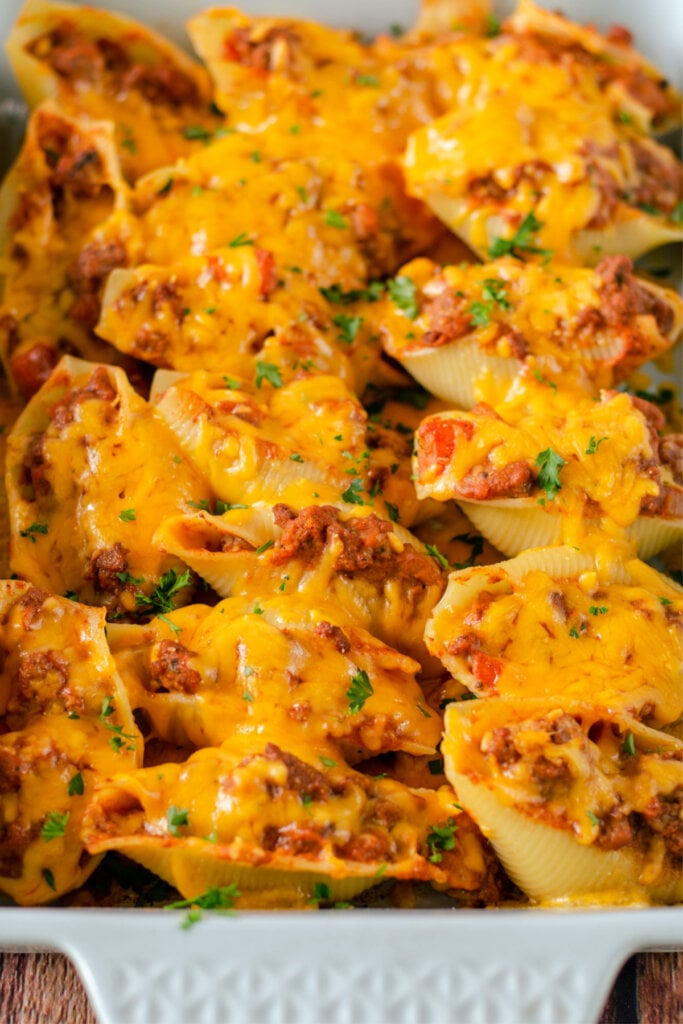 Enchilada Stuffed Shells: FAQs
My shells keep breaking when I stuff them – is there something I can do to prevent this?
I'd only cook them partially before baking! That way you won't have weak shells while stuffing them, and they'll cook the rest of the way in the oven.
Can I use taco seasoning instead of the seasoning mix you used here?
Go for it! Although I've heard it may tip the scales towards "too salty." Make sure you taste-test everything!
How many servings does this yield?
I'd say about 6 servings. The whole family can enjoy a plate!
How long does it take to make these enchilada stuffed shells?
A little over an hour! About 20 minutes for prep and 50 minutes to cook.
Can I switch out the beef for chicken?
Absolutely! It'll taste just as awesome.
Could you make this vegetarian or vegan (i.e. without the meat entirely)?
Go for it – honestly, I think it'd be just as good to replace the beef with more beans or some kind of bean/corn mixture. Please please PLEASE let me know down in the comments how it turns out for you because I love hearing about dietary substitutions – I always file them away mentally for later, just in case!
Should I use green or red enchilada sauce?
Either one. Whichever you think would taste better (or that your loved ones enjoy more)!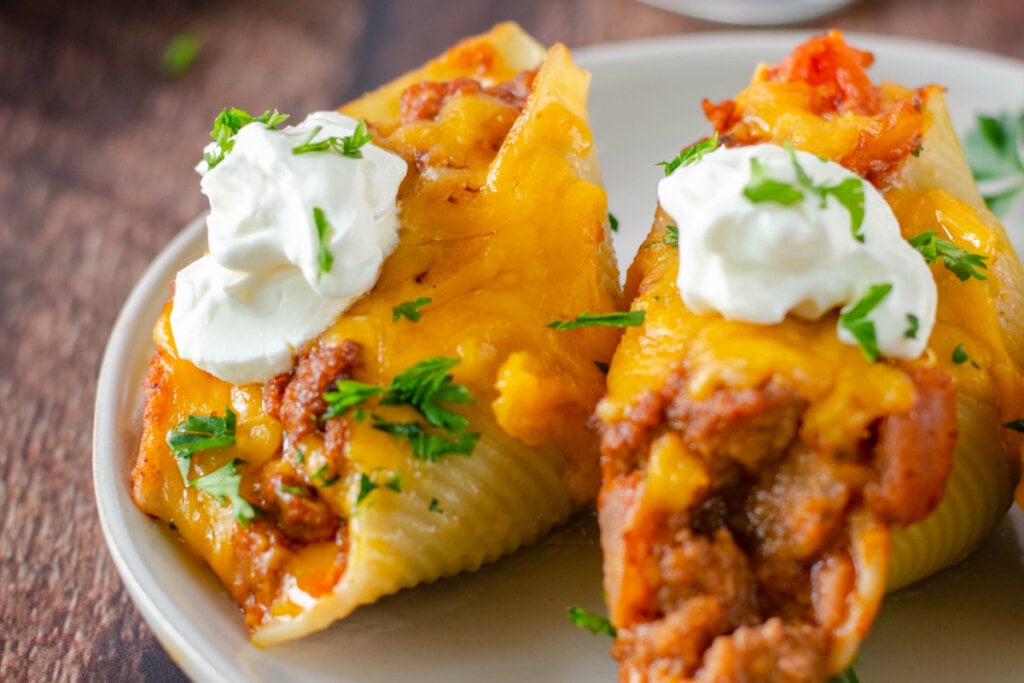 Other recipes you may enjoy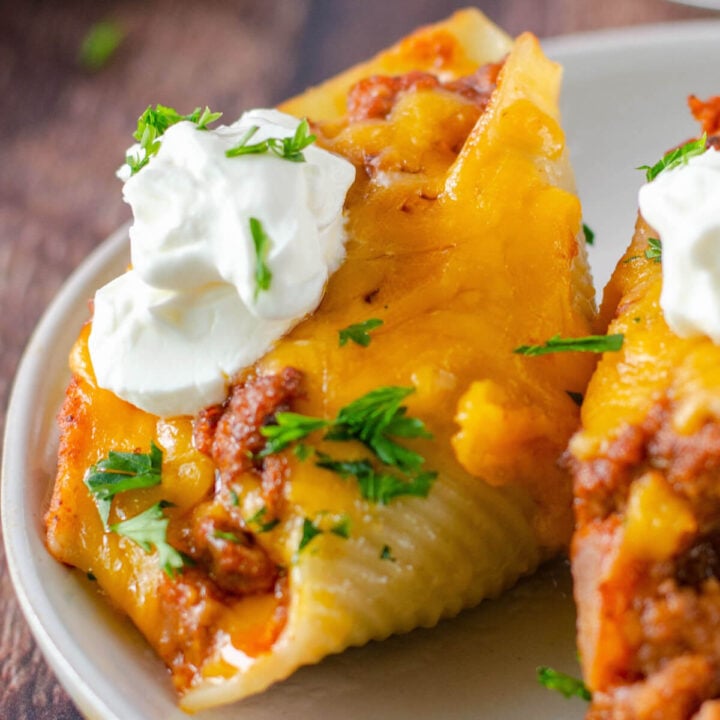 Enchilada Stuffed Shells
These Enchilada Stuffed Shells are easy and kid-friendly! They're a tasty dinner filled with plenty of Mexican flavors we all know and love.
Ingredients
1 box (12 oz.) uncooked jumbo pasta shells
1 pound lean ground beef
1/2 cup onion, chopped
1 can (10 oz.) enchilada sauce
1/4 teaspoon chili powder
1/4 teaspoon dried basil
1/4 teaspoon dried oregano
1/4 teaspoon ground cumin
1 cup refried beans
1 roma tomato, chopped
1-1/2 cups (6 oz.) Cheddar cheese, shredded
Instructions
Cook pasta according to package directions; drain and set aside.
Preheat oven to 350°F.
Meanwhile, in a nonstick skillet, cook the beef and onions over medium-high heat until the meat is no longer pink; drain. Return the meat to the pan and stir in the enchilada sauce, seasonings, refried beans, and tomatoes. Fill each pasta shell with some of the mixture. Place the filled shells in a 13x9-inch baking dish coated with non-stick cooking spray.
Cover and bake for 25-30 minutes. Uncover and sprinkle with cheese and bake an additional 5 minutes or until the cheese is melted.
Notes
You can switch out the ground beef for ground or shredded chicken.
Recommended Products
As an Amazon Associate and member of other affiliate programs, I earn from qualifying purchases.
Nutrition Information:
Yield:

6
Serving Size:

about 4-6 shells
Amount Per Serving:
Calories:

275
Total Fat:

14g
Saturated Fat:

6g
Trans Fat:

0g
Unsaturated Fat:

6g
Cholesterol:

77mg
Sodium:

375mg
Carbohydrates:

11g
Fiber:

2g
Sugar:

3g
Protein:

27g
Please note that the nutritional information listed on this page is an estimation based on the products I used. Ingredients and nutritional information can vary significantly between brands. Always be sure to read labels. Please verify that a recipe fits your needs before using it. Nutrition info may contain errors, so please verify it independently. Likewise, recipes may contain errors, so please use your common sense when following them.
Originally published on July 29, 2013. Updated on April 10, 2022.