This easy recipe for Pineapple Upside-Down Cake just screams warm weather and fun! This quick and tasty cake is a classic for a reason!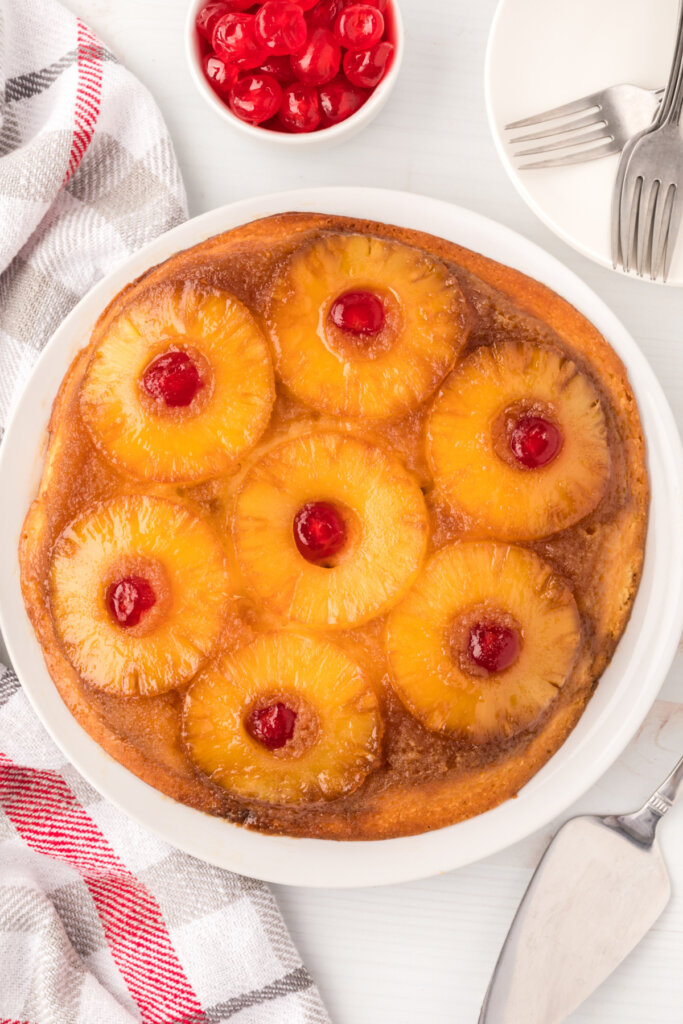 Pineapple Upside Down Cake
I don't know about you, but for me, Pineapple Upside-Down Cake just screams warm weather and fun! If I had to pick an easy dessert that wasn't chocolate, it would probably be this easy Pineapple Upside-Down Cake – it's the best one I've ever had and it's a classic for a reason!
As of writing, we're about halfway through spring already. I can hardly believe it!!
The weather has been totally up and down with everything from highs in the 80s to lows in the 30s!! I'm over the colder temperatures and I'm ready for warmer weather!
This is a tropical dessert that goes back decades and decades. You can probably find recipes for it in your older relatives' cookbooks!
But it's stuck around for a reason: pineapple upside-down cake is a comfort food and instant mood-lifter. Plus, it's really good for picky eaters, since if you like fruit, you're bound to like this cake.
Also, a little secret: pineapple upside-down cake is really easy to make, and only takes about an hour. It may sound complicated since you have to flip the finished cake at the end (hence the "upside down" part), but it's simple for anyone with a few extra minutes to whip up the best dessert ever.
Sometimes you just need a little tropical flavor in your life, regardless of the weather!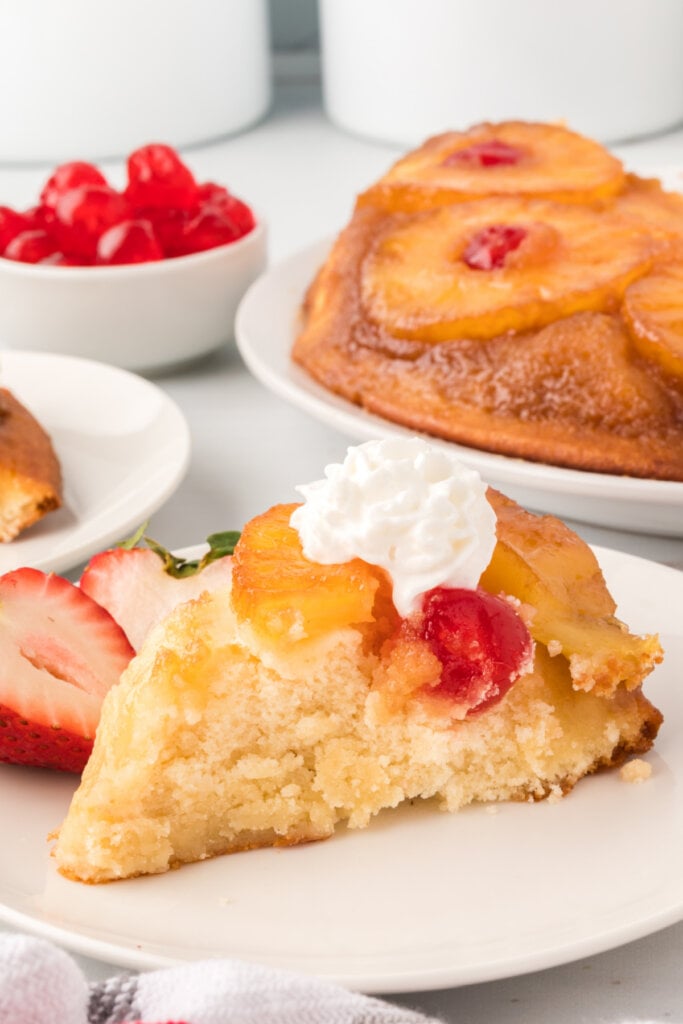 Pineapple Upside-Down Cake: Ingredients & Equipment
To make this Pineapple Upside-Down Cake recipe, you'll need …
Ingredients
baking powder, butter, flour, brown sugar, white sugar, egg, milk – I grouped all these together because they're standard baking items. Nothing much to say about them! If you've made a cake before, all these ingredients should be familiar!
shortening – this is a fat often used in cooking to give foods a slightly crumbly texture, and you can find it at the grocery store. Shortening is also somewhat standard when baking a cake from scratch, but I wanted to separate it out just in case!
pineapple slices – get a can of these that includes the juice. You'll be draining that liquid out, but the juice provides more flavor to the slices in the can.
cherries – use maraschino cherries here. You'll put these in the middle of your pineapple slices for an extra hint of tropical fruit flavor.
Equipment
oven-proof skillet (10") or 9"x9"x2" baking dish – you'll bake your cake in this. I usually prefer to use my cast iron skillet for this recipe, but, the recipe works in either kind of pan – no need to make any changes.
electric mixer – for beating the ingredients.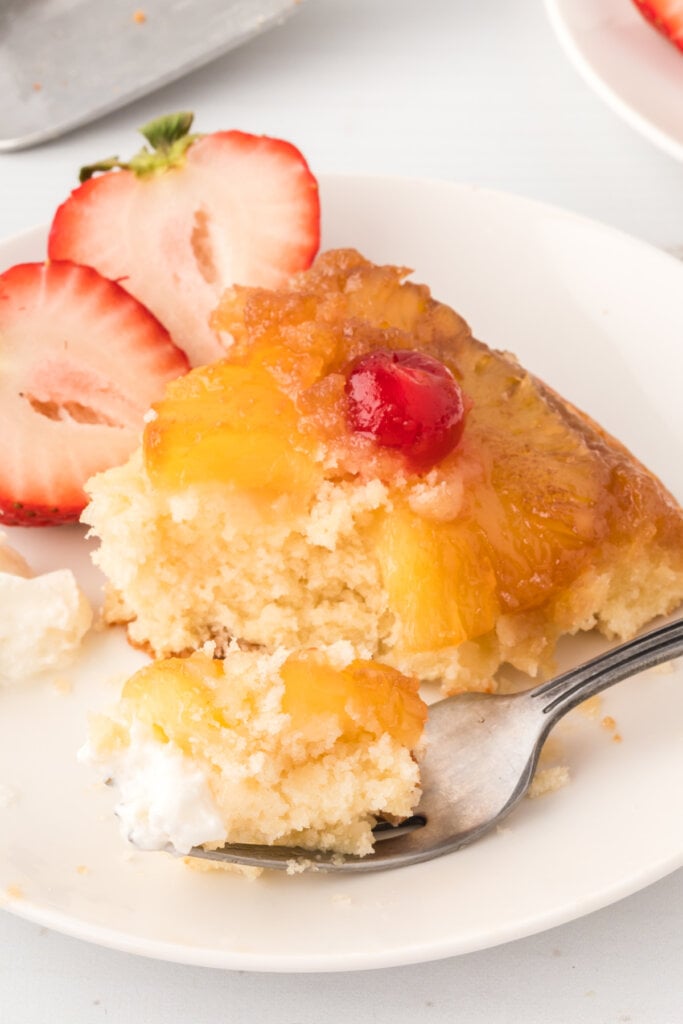 Pineapple Upside-Down Cake: FAQs
How many servings does this recipe for pineapple upside-down cake make?
One 9"x9"x2" or 10" cake, which divides up into about nine slices/squares. (It depends on which pan you used to bake it.)
How long does this recipe take?
15 minutes for prep and 45 minutes for cooking, so about an hour!
Are there any additions you recommend?
Honestly, this cake is super good when you follow the recipe exactly, BUUUT … I understand if you want to change it up a bit! You can try adding:
– Chopped nuts (like pecans) in the batter, for extra crunch
– More smaller fruits, like berries
– A scoop of ice cream (after the cake is done, of course)
Delicious!! 😍

Can you store this cake in the freezer?
Yes! Any leftovers, wrapped in foil, freeze well for about a month. You can reheat it in the oven.
How long can leftovers last in the fridge?
I would leave leftovers in the fridge no longer than 3-4 days. Be sure to cover the cake with plastic film! As above, you can reheat your leftovers in the oven or even in the microwave.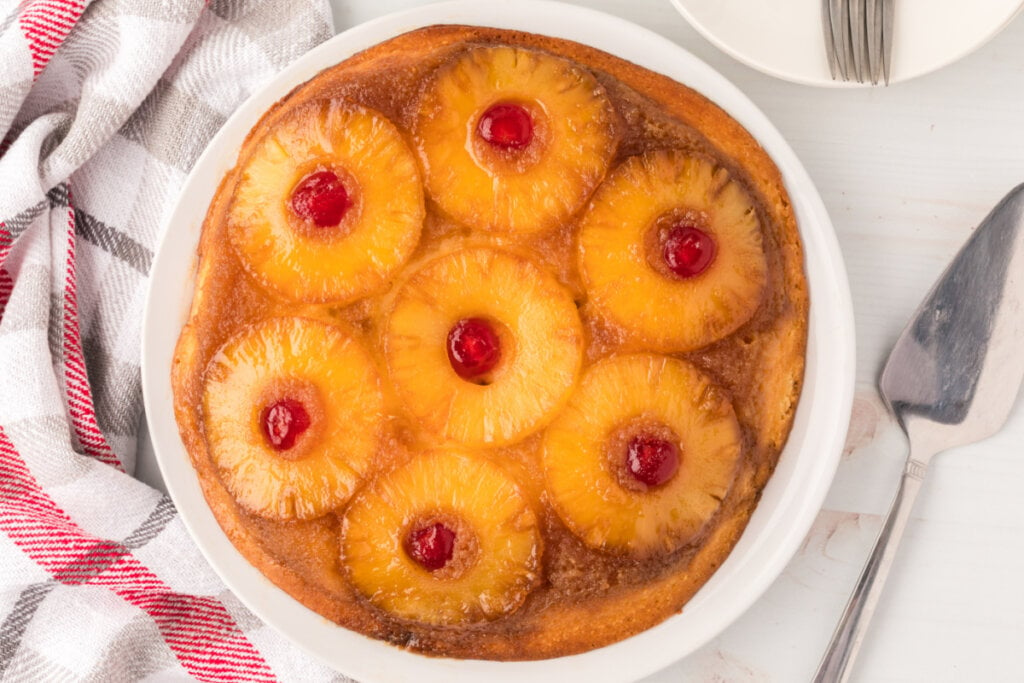 Other recipes you may enjoy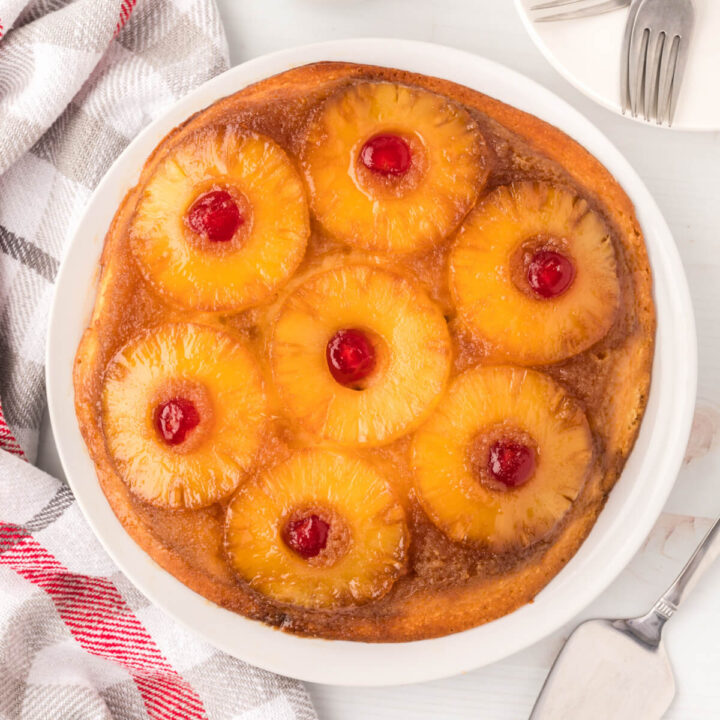 Pineapple Upside Down Cake
This easy recipe for Pineapple Upside-Down Cake just screams warm weather and fun! This quick and tasty cake is a classic for a reason!
Ingredients
1/4 cup (4 tablespoons) stick butter
2/3 cup packed brown sugar
1 can (20 oz.) sliced pineapple in juice, drained
maraschino cherries, if desired (no stems)
1-1/3 cup all-purpose flour
1 cup granulated sugar
1/3 cup shortening
3/4 cup milk
1-1/2 teaspoons baking powder
1/2 teaspoon salt
1 large egg
Instructions
Preheat oven to 350°F.
Melt butter in a 10-in. oven-proof skillet or in a 9x9x2-in. baking dish. Remove the skillet from the oven and sprinkle the brown sugar over the melted butter. Arrange the pineapple slices over the brown sugar. Place a cherry in the center of each pineapple slice.
Beat the remaining ingredients with an electric mixer on low speed for 30-45 seconds. Stop the mixer and scrape down the sides of the bowl. Beat on HIGH speed for 3 minutes, scraping the bowl occasionally. Pour the cake batter over the pineapple.
Bake the skillet for 45-50 minutes or the 9x9x2-in pan for 50-55 minutes, or until a toothpick inserted near the center tests clean.
Immediately turn the skillet or baking dish upside down over a heat-proof plate. Let the skillet or pan remain over the cake for 3-4 minutes. Remove the skillet or baking dish. Serve warm.
Notes
This cake is best served with a scoop of vanilla ice cream!
Recommended Products
As an Amazon Associate and member of other affiliate programs, I earn from qualifying purchases.
Nutrition Information:
Yield:

9
Serving Size:

1
Amount Per Serving:
Calories:

403
Total Fat:

9g
Saturated Fat:

4g
Trans Fat:

0g
Unsaturated Fat:

5g
Cholesterol:

27mg
Sodium:

267mg
Carbohydrates:

75g
Fiber:

1g
Sugar:

42g
Protein:

6g
Please note that the nutritional information listed on this page is an estimation based on the products I used. Ingredients and nutritional information can vary greatly between brands. Always be sure to read labels.
Originally published on February 17, 2014. Updated on April 21, 2022.