This Greek Chicken Salad makes an easy and quick recipe idea that tastes wonderful! Serve it with bread or rolls for a complete meal!
Greek Chicken Salad
I like an occasional salad as a main dish meal – especially on busy nights! With chicken, Feta cheese, spinach and tomatoes being some of my favorite ingredients – it only seemed natural to incorporate them into this salad.
When you need a quick and easy meal idea, this salad is a hit – just serve it with some bread or rolls!
Other recipes you may enjoy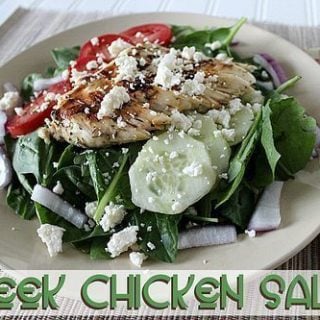 Greek Chicken Salad
When you need a quick and easy meal idea, this Greek Chicken Salad is a hit - just serve it with some bread or rolls!
Ingredients
For the marinade
1/2 cup olive oil
3-4 cloves garlic, minced
1 teaspoon dried rosemary, crushed
1 teaspoon dried thyme
1 teaspoon dried oregano
2 lemons, juiced
6 boneless, skinless chicken breasts
For the salad
1 bag (16 oz.) fresh spinach leaves
3 roma tomatoes, sliced
1 medium cucumber, peeled and sliced
1/2 cup chopped red onion
Crumbled Feta cheese
For the salad dressing
1/3 cup olive oil
1 teaspoon garlic powder
1 teaspoon dried oregano
1 teaspoon dried basil
1/2 teaspoon pepper
1/2 teaspoon salt
1/2 teaspoon onion powder
1 teaspoon Dijon-style mustard
1/2 cup red wine vinegar
Instructions
In a large zip-top bag, combine the marinade ingredients. Squeeze to mix well. Add the boneless, skinless chicken breasts to the bag. Marinate for at least 2 hours in the refrigerator.
In a medium bowl, combine all of the salad dressing ingredients. Pour into a salad dressing cruet. Store tightly covered at room temperature until serving time.
Preheat a grill to medium. Place chicken on oiled cooking grates and cook, uncovered, for 10-12 minutes or until the chicken juices run clear, turning twice.
Plate the spinach. Top with tomatoes, cucumbers, red onion, Feta cheese. Slice the chicken and place atop the salad. Serve with salad dressing on the side.
Nutrition Information:
Amount Per Serving:
Calories:

644
Total Fat:

38g
Saturated Fat:

6g
Cholesterol:

199mg
Sodium:

392mg
Fiber:

4g
Sugar:

3g
Protein:

65g
Originally published on October 23, 2013. Updated on April 24, 2021.