Dear butter beans, lima beans and your kin –

I take back every mean thing I ever said about you. I called you vulgar, disgusting, vile, repugnant, an abomination to beans …. I said you tasted like grass. I have hated you my whole life. I have sat in protest at your appearance on my dinner plate as a child … I have been threatened with "having you for breakfast" if I didn't eat those said beans on my dinner plate. I have literally gagged myself trying to swallow you without chewing, so I wouldn't have to taste you. I just hadn't used you in the right way. I didn't know any better … I didn't know I needed to let you mingle with garlic, carrots, onion and tomatoes. You went from being the worst thing imaginable to a sweet, sweet delight …. I now understand why Debra said she loves you! I thought she was crazy! Seriously, I had to try you for myself and the rest is now history. I will never call you names again …. I will not scoff at you in the grocery store …. I will not pick you out of my mixed vegetables. I might even tell people I "like" you. Please forgive my lack of a good recipe and everything I've ever held against you. Debra has changed my mind!
Sincerely,
Jamie
Look at this picture ….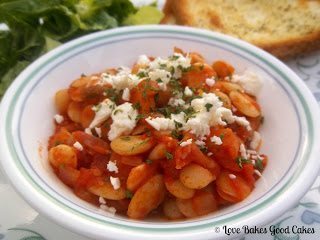 It looks like the farthest thing from being vile and disgusting, doesn't it?! The smell … oh, my! …. The smell while this was baking – amazing! I could not wait to try them! It's hard to imagine something so simple, smelling so wonderful. I got this recipe from a loyal Love Bakes Good Cake's reader named Debra. I wasn't really sure what to expect … I didn't know what it would look like, what it would taste like … I followed Debra's notes – it is her idea and her recipe! I hope this is close and does her bean recipe justice! 🙂
This is a great Meatless Monday meal. It's easy on the budget, too! I was so impressed with the flavor of this dish, I may even try switching up the variety of beans. I think cannellini beans or great northern beans would be great also! We served this with a side salad and garlic bread.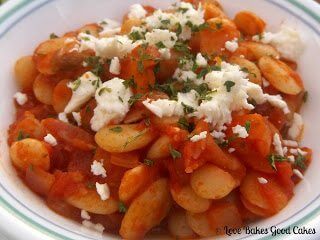 Debra's Greek Baked Beans
Yield: 4-5 servings
1 lb. dry butter beans
A few swirls of olive oil
2 carrots, peeled and chopped
1 medium onion, chopped
1 jalapeno, seeded and minced
3-4 cloves garlic, minced
1 can (28 oz.) crushed tomatoes, undrained
1 tsp. oregano
1 tsp. sugar
Salt and pepper, to taste
Parsley, chopped
Feta cheese, crumbled
In the morning, place the beans in a large pot. Cover with enough water to be about two inches over the beans and soak until about 2-3 hours before dinnertime. Bring the water to a boil. Lower heat and simmer 45 minutes to an hour, or until the beans are tender. Add more water, if necessary.
Meanwhile, in a separate pan, drizzle a few swirls of olive oil over medium-high heat. Add the carrots, onions and jalapeno. Cook until tender, about 10 minutes, stirring occasionally. Add the garlic, tomatoes, oregano, sugar, salt and pepper. Simmer, stirring occasionally, until sauce thickens slightly, about 15-20 minutes. Remove from heat and set aside.
Preheat oven to 350° F.
Add ¾ cup of the bean water to the reserved tomato mixture and stir. Drain beans. Add beans to the tomato mixture and mix well. Place in a 13x9x2-inch baking dish. Bake in oven for 45-60 minutes, or until most of the liquid and beans have formed a sauce.
Top with chopped parsley and Feta cheese. Serve immediately!
*** I'm guessing you could use canned butter bean to make this a quicker meal. Prepare the tomato mixture and combine with the beans. Bake as noted above. You may or may not need to add the water, use your best judgement!
I hope you enjoy!
Shared at these
fun parties!