Change up that boring lunchtime routine. Kids (and kids at heart) will love finding a Fairy Sandwich in their lunchbox!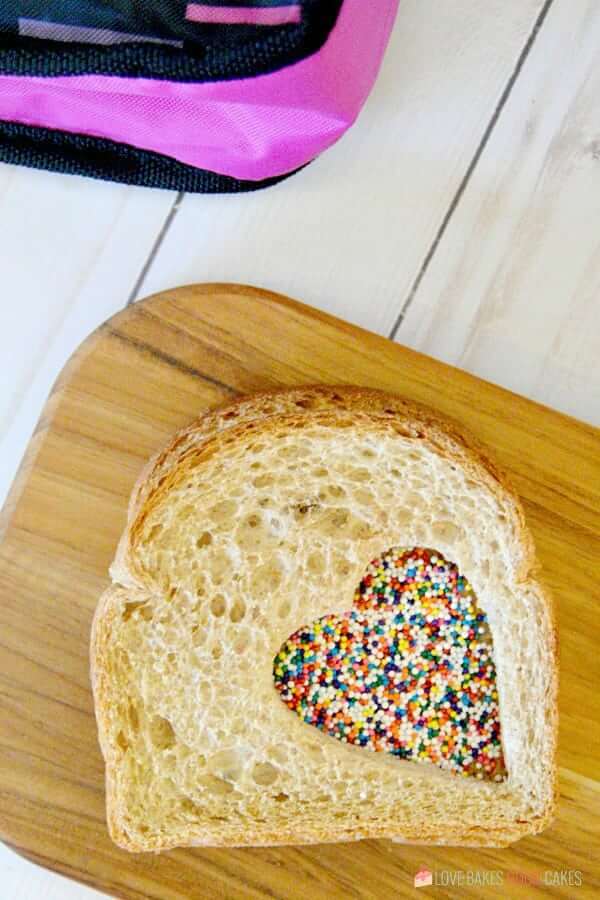 This post may contain affiliate links. As an amazon associate, I earn from qualifying purchases. See my full Disclosure Policy for details.
Fairy Sandwich
Up until a few years ago, I didn't even know what a Fairy Sandwich was. A friend of mine was talking about it and I had no clue what she was talking about. I felt kind of stupid like I somehow missed out on some kind of special lunch during my childhood. Come to find out, it's not even an American thing – although I think its popularity is growing here!
Fairy bread is originally from Australia. It is white bread with butter and hundreds of thousands of tiny nonpareil sprinkles. Typically, it's not made in sandwich form with the two pieces of bread – but we're changing that today!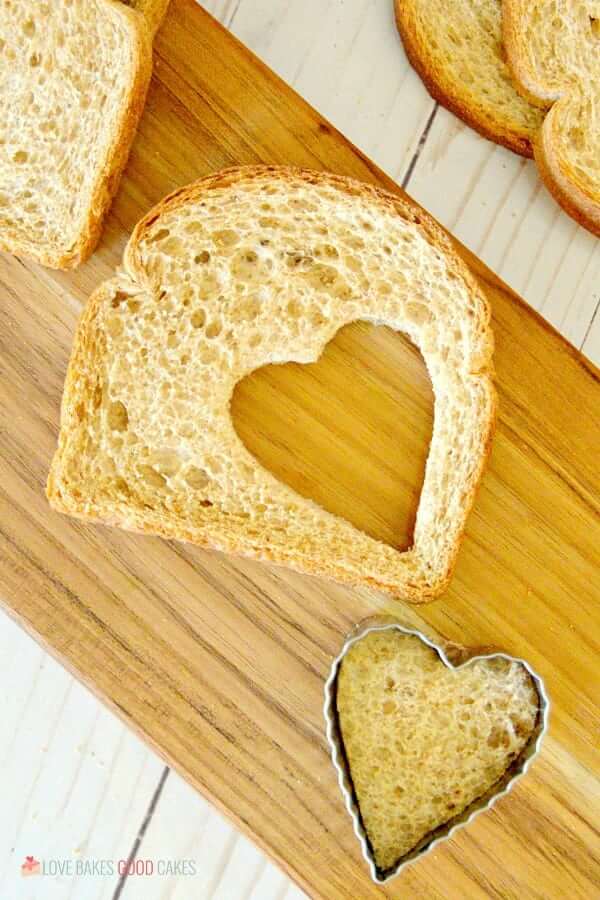 Although this Fairy Sandwich is made with peanut butter and jelly, you can use any kind of spread you like. Traditionally in Australia, just regular butter is used.
Try some other yummy ideas: tinted vanilla frosting, apple butter, and just plain peanut butter or plain jelly. Or Nutella. Mmmmm! I could see making this sandwich using lemon curd too – maybe even pairing it with vanilla frosting or cream cheese for a new flavor! If fluffernutter sandwiches are your thing, try making a Fairy Sandwich with those ingredients! Don't limit the possibilities!
I used a heart-shaped cookie cutter for my fairy sandwich, but feel free to use any shape cookie cutter you want that fits your size of the bread. My kids like dinosaurs, crowns, flowers, and of course, the heart! ❤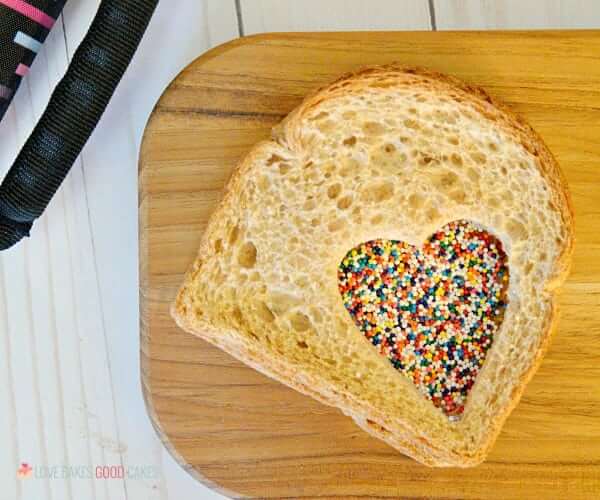 Other recipes you may enjoy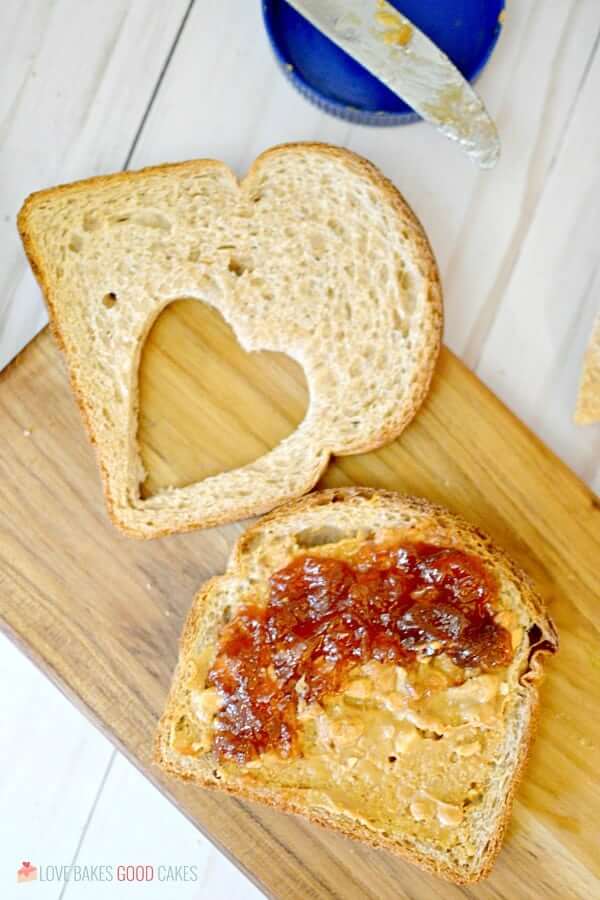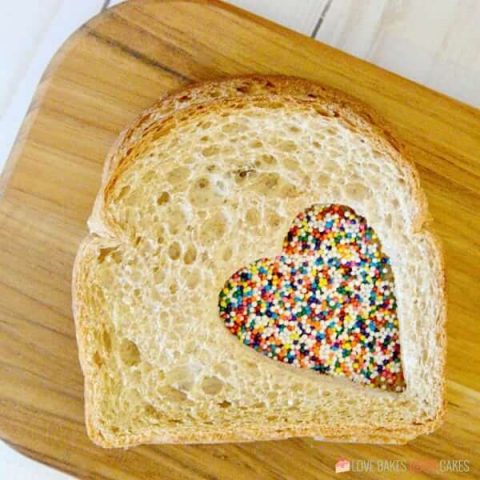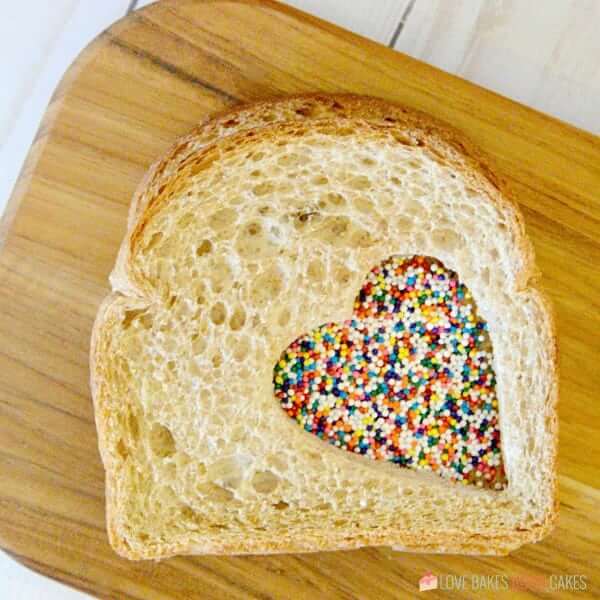 Fairy Sandwich
Change up that boring lunchtime routine. Kids (and kids at heart) will love finding a Fairy Sandwich in their lunchbox!
Ingredients
Two slices of bread
Jelly
Peanut butter
Small cookie cutter
Nonpareil sprinkles for cookies
Instructions
Place cookie cutter on the corner of one slice of bread and press down. Remove the cut-out piece of bread.

Spread your filling along with jelly on another slice of bread.

Place the cut slice on top and fill cut out area with a thin layer of nonpareil sprinkles.

If making the night before, place in sandwich bag and refrigerate.
Notes
Feel free to switch up the spreadings! Try cream cheese, lemon curd, Nutella, frosting, apple butter, marshmallow creme - or anything your family likes!
Nutrition Information:
Amount Per Serving:
Calories:

155
Total Fat:

2g
Saturated Fat:

0g
Cholesterol:

0mg
Sodium:

295mg
Fiber:

2g
Sugar:

3g
Protein:

6g