This post may contain affiliate links. As an amazon associate, I earn from qualifying purchases. See my full Disclosure Policy for details.
These Hearts & Bows Cookies are a super cute way to show someone you love them! Easy to make!


I'm not a big celebrator of Valentine's Day. I usually get Brian a card and a small gift …. and we have a nice dinner alone. The dinner alone is a huge treat for us, because it rarely happens. Sometimes (read many times), we don't even have our Valentine's Dinner on Valentine's Day …. because life just works that way.
I usually get all of my kiddos a token or gift too …. a small box of chocolates, a personal pan pizza for lunch – or a batch of these "heart-shaped" cookies.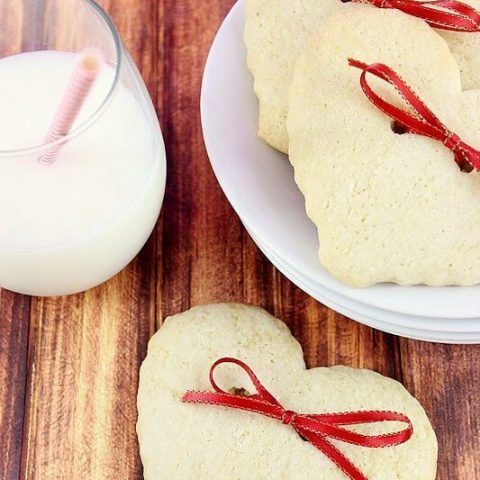 Hearts & Bows Cookies
These Hearts & Bows Cookies are a super cute way to show someone you love them! Easy to make!
Ingredients
1 cup (2 sticks) butter, softened
3 cups sugar
3 eggs
3 tsp. vanilla
7 1/2 cups all-purpose flour
2 tsp. baking powder
1 tsp. baking soda
1 cup buttermilk
Coarse or colored sugar, optional
Heart -shaped cookie cutter
Straw (for poking holes)
Ribbon
Instructions
Cream the butter and sugar in a large mixing bowl. Add the eggs, one at a time, beating well after each addition. Beat in vanilla.
In a separate bowl, combine the flour, baking powder and baking soda. Gradually add to the creamed mixture, alternating with the buttermilk. Cover and refrigerate for at least one hour or until the dough is easy to handle.
On a heavily floured surface, roll out the cookie dough to ¼-inch thickness. With a floured heart-shaped cookie cutter, cut out cookies. Place 1-inch apart on a parchment-lined baking sheet. Sprinkle with coarse or colored sugar, if desired.
Bake at 350°F for 8-10 minutes or until the edges are slightly browned. Cool for 2 minutes. While the cookies are still warm, poke two holes into each cookie with a straw. Carefully move to a wire rack to cool completely.
When completely cooled, thread ribbons through the holes and tie into bows. Trim ends if necessary.
Nutrition Information:
Amount Per Serving:
Calories:

160
Total Fat:

4g
Saturated Fat:

3g
Cholesterol:

20mg
Sodium:

56mg
Fiber:

1g
Sugar:

13g
Protein:

3g
Other Posts You May Enjoy:
Soft Pumpkin Cookies with Pumpkin Browned Butter Frosting