A cool and refreshing Disneyland classic, this make-at-home Disney Dole Whip brings the magic right to your kitchen!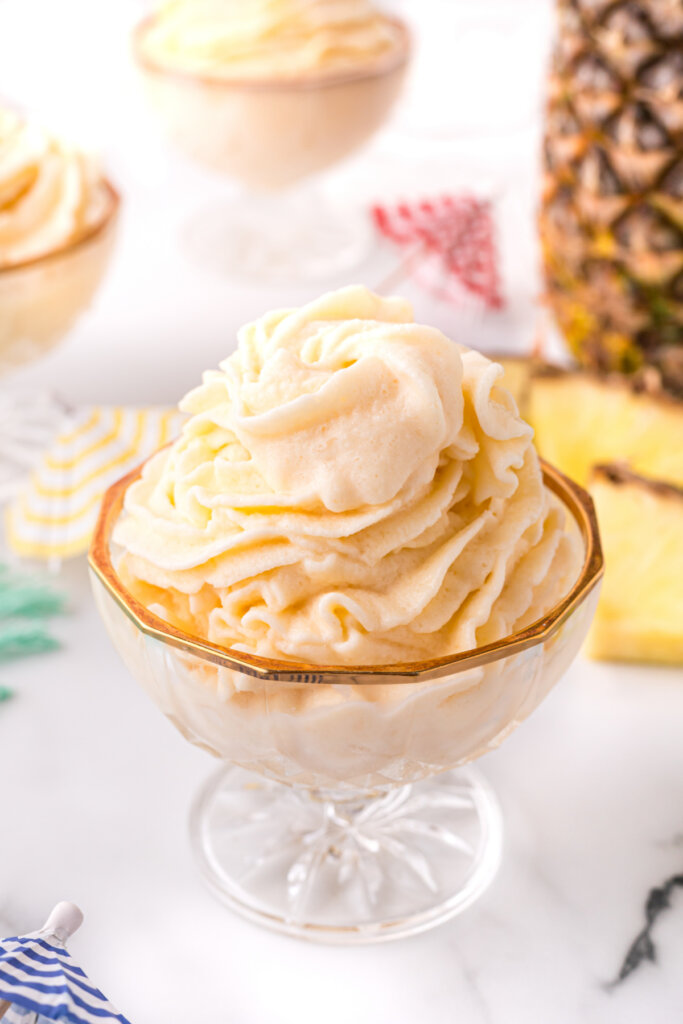 Disney Dole Whip
No need for long drives and long lines, y'all. I have the famous Disney Dole Whip recipe right here!
If you've never gone to Disneyland, you've still probably heard of the Disney Dole Whip. It's one of their snacks everyone seems to love and talk about online! It's like it has its own little fan club. I've even seen shirts celebrating the Dole Whip. I had to look into the phenomenon. It's so iconic!
For those who don't know, by the way, the Disney Dole Whip is essentially pineapple-flavored soft-serve. It's been on the menu for almost 40 years straight in Disney theme parks and on the Disney Cruise line recently, too. Starting in 2013, from what I can see, the parks even began offering an option for rum to be mixed in for adult guests. Yum!!
Honestly, y'all, it's no surprise that such a long-running and beloved treat would spark a huge fan following. It's simple and delicious and family-friendly (or not, depending on if you want to make it boozy). Today I'll show you how to make it at home! I hope you enjoy it!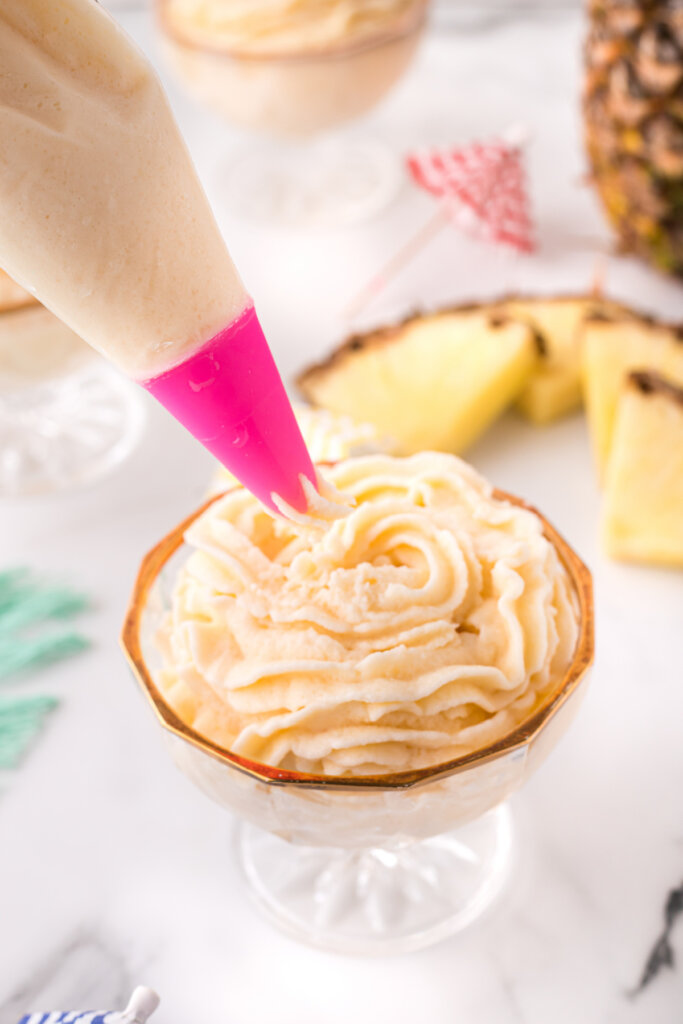 Recipe for Dole Whip: Ingredients & Equipment
For this Disney Dole Whip recipe, you'll need …
Ingredients
vanilla ice cream – the base of your homemade Dole whip.
pineapple juice and pineapple chunks – these provide the classic pineapple flavor to your Disney Dole whip!
Equipment
blender – to blend your ingredients until smooth!
star-shaped piping bag – you'll put your pineapple mixture in here and swirl it into a bowl. Yum!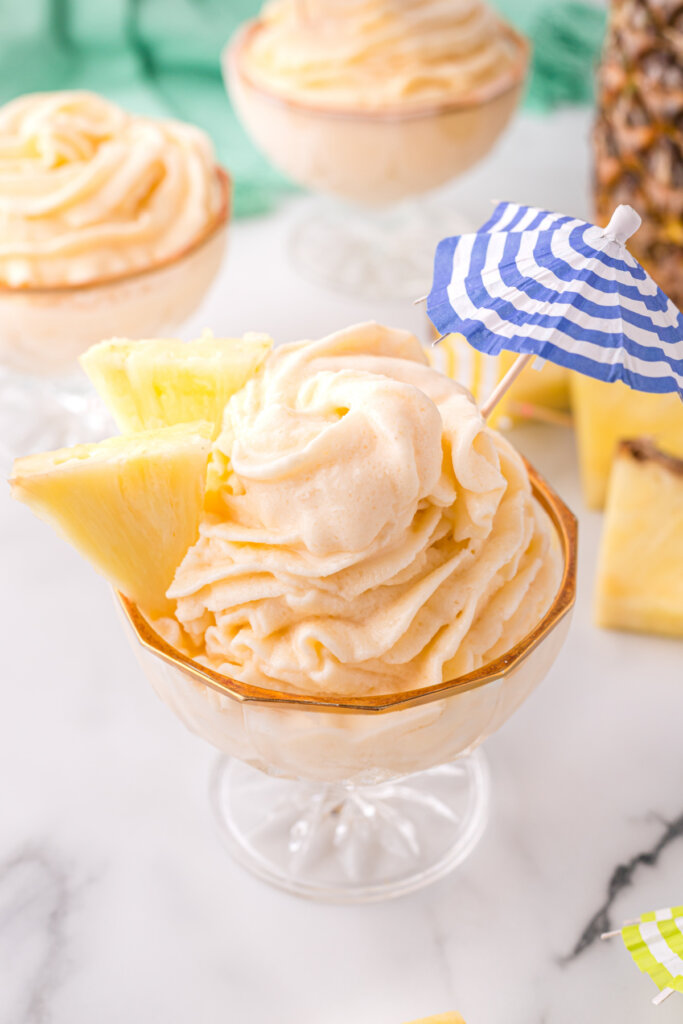 Dole Whip: FAQs
How many servings does this recipe make?
Just one, about as much as you'd get with a single serving at Disneyland or another park.
How long does it take to make Disney Dole Whip?
Honestly, less than 10 minutes, since you're just blending ingredients!
How do I make sure my Disney Dole Whip stays firm?
If your Disney Dole Whip mixture isn't as firm as you'd like, you can try freezing it again for a little bit. That way, it'll hold its shape better when it's piped.
What variations can I make with my Disney Dole Whip mixture?
Here are a few ideas:
– Making floats is always fun! Disney parks make their floats with Dole pineapple juice specifically, but you can try sodas like Sprite or 7-UP at home.
– You can also try swirling your Disney Dole Whip with any kind of soft serve you enjoy! Vanilla, chocolate, strawberry, raspberry…they all taste wonderful with the pineapple flavoring.
– As I said in the intro, you can also add rum to the mixture for a grown-up boozy treat. (Don't tell anyone, but this is my favorite!)

There are also "official" variations you can make that they serve at the parks, like:
⚓ – Jungle Cruise Dessert Bowl: This is Dole Whip with blueberries, strawberries, and mandarin oranges topped with coconut caramel sauce, crushed plantains, dried hibiscus, and toasted coconut. Tropical!
🔥 – I Lava You Float: Orange Dole Whip topped with Fanta Strawberry and red passion fruit syrup, with popped candy as a garnish.
🍉 – Fresh Dole Whip Watermelon Slice: Watermelon Dole Whip served in a fresh watermelon slice topped with chocolate chips. (I hear this one's really big with the kids.)
🍹 – Frozen Margarita Dole Whip: Lime Dole Whip blended with tequila and chili-lime seasoning. Another grown-up favorite!!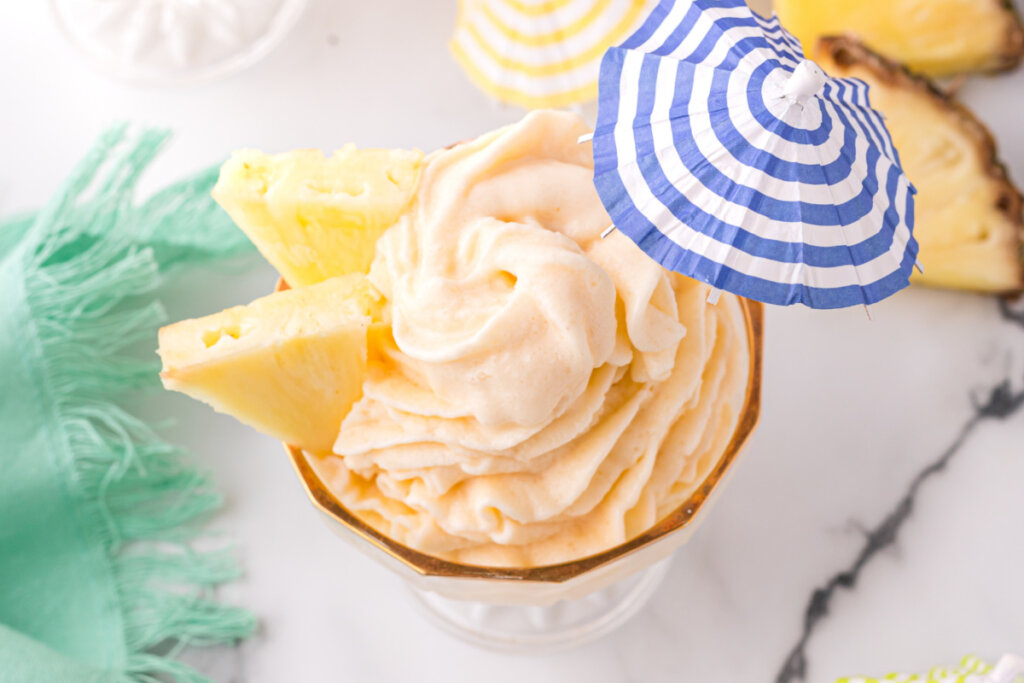 Other recipes you may enjoy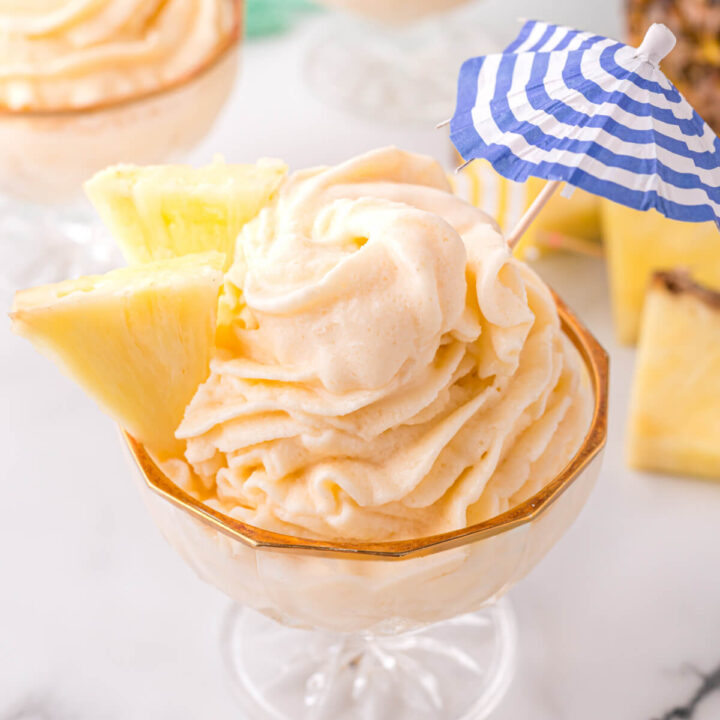 Disney Dole Whip
A cool and refreshing Disneyland classic, this make-at-home Disney Dole Whip brings the magic right to your kitchen!
Ingredients
1 to 1-1/2 cups vanilla ice cream
4 oz. pineapple juice
2 cups frozen pineapple chunks
Instructions
Add all of the ingredients into a blender and blend until smooth.
Place the pineapple mixture in a star-tipped piping bag.
Swirl the mixture into a bowl and serve immediately.
Notes
If the mixture is not firm, it can be frozen for a little bit so that when it is piped, it holds its shape.
For a boozy adult treat, try adding a splash of rum!
Recommended Products
As an Amazon Associate and member of other affiliate programs, I earn from qualifying purchases.
Nutrition Information:
Yield:

1
Serving Size:

1
Amount Per Serving:
Calories:

761
Total Fat:

15g
Saturated Fat:

9g
Trans Fat:

0g
Unsaturated Fat:

5g
Cholesterol:

58mg
Sodium:

118mg
Carbohydrates:

156g
Fiber:

7g
Sugar:

144g
Protein:

7g
Please note that the nutritional information listed on this page is an estimation based on the products I used. Ingredients and nutritional information can vary significantly between brands. Always be sure to read labels. Please verify that a recipe fits your needs before using it. Nutrition info may contain errors, so please verify it independently. Likewise, recipes may contain errors, so please use your common sense when following them.