This post may contain affiliate links. As an amazon associate, I earn from qualifying purchases. See my full Disclosure Policy for details.
This is my first time participating in the Crazy Cooking Challenge at Mom's Crazy Cooking. I was a little hesitant, being so new to blogging and not really knowing what to do. Truth be told, I've learned a lot … and I am continuing to learn a whole lot more! I am excited to see how my first link-up goes and may participate in more Cooking Challenge's in the future!
This month's theme is fruit smoothies/shakes. It seemed like a pretty easy challenge to get in on … and then I realized … there are like a bazillion fruit smoothie and shake recipes online! How in the world am I going to narrow this down?!? After days (literally) of searching high and low, I found the perfect recipe to try – Chocolate Covered Strawberry Shake by Budget Gourmet Mom! When I saw Krista's shake, I knew that was the one I was going to use. I like her recipe for a couple of reasons … One, it has chocolate! Winning! Two, it seemed like I could easily adapt other fruits and yogurt flavors in the future. I can't even remember the last time I had a shake or smoothie before this. Years, probably! I don't even know why I don't make them … I like them, I just "forget" about them! I think after this Cooking Challenge experience, I will have fruit smoothies and shakes a little more often than every two or three years! 😉 I found a ton of recipes I want to try! (To see some of the recipes, click my Beverage/Drink board on Pinterest.)
When looking over Krista's recipe, I did have to Google "Nature's Sunshine Smartmeal Chocolate", because I had no idea what that was. When I saw what it was, I had no intention of spending $20-35 for a bag of this stuff. I didn't have any other protein powder on hand and really didn't want to buy something I may never use again …. I had some Nestle Nesquik Chocolate Powder Flavored Milk Additive (you can pick this up at most regular grocery stores near the hot chocolate) so I decided to use that. I used chocolate milk instead of regular milk (I never drink milk – ever … chocolate-flavored was the only way it was going in my shake). Everything else, I kept the same.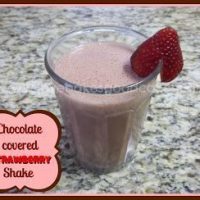 Chocolate-Covered Strawberry Shake
I found the perfect recipe to try - Chocolate Covered Strawberry Shake by Budget Gourmet Mom!
Ingredients
2 scoops Nature's Sunshine SmartMeal Chocolate (I used the one-serving equivalent of Nestle Nesquick Chocolate Powder Flavored Milk Additive)
1 cup skim milk (I used chocolate milk)
6 oz. low-fat strawberry yogurt
1/2 banana
4-5 frozen strawberries
Instructions
Place all ingredients in a large blender and blend until completely mixed and frothy.
Pour into a glass and enjoy!
Nutrition Information:
Amount Per Serving:
Calories:

531
Total Fat:

15g
Saturated Fat:

9g
Cholesterol:

20mg
Sodium:

223mg
Fiber:

6g
Sugar:

76g
Protein:

18g
This was quite yummy! Even without the protein powder, I felt full. Thanks for a great recipe Krista! You can find her blog HERE. Stop by and check out all her yummy stuff. 🙂
Linked up at
these
fun parties!