Chicken Cordon Bleu Stromboli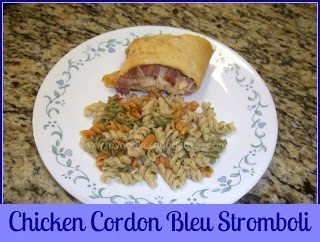 This Chicken Cordon Bleu Stromboli was one of those ideas born out of an "I wonder how this would taste" moment. It was well received by the family and I added it to our file to make again. It's a great way to use leftover chicken and ham.
Chicken Cordon Bleu Stromboli
Yield: 4-6 servings
1 loaf (1 lb.) frozen bread dough, thawed
2 to 3 cups cooked, chopped chicken
1 to 1-1/2 cups chopped ham
1 cup shredded Swiss cheese
1/4 cup Dijon mustard
Preheat oven to 375 degrees F. Grease a large baking sheet and set aside.
On a lightly floured surface, roll out bread dough into a 14×10 rectangle. Top with chicken, ham, cheese and mustard. Roll up jelly-roll style from the long side and pinch seams to seal. Carefully transfer to the greased baking sheet, seam-side down and tuck ends under. Cover and let rise about 15-20 minutes.
Bake in preheated oven for 25-30 minutes or until golden brown.
Remove from oven and slice. Serve!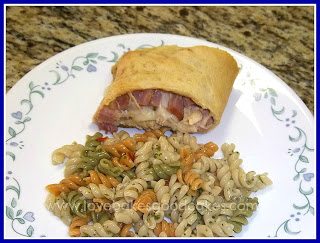 I hope you enjoy! Shared at these
fun parties!
Don't forget to share and comment ♥
Copyright © Love Bakes Good Cakes 2012-2013 All Rights Reserved