With no rolling or biscuit cutter required, these Butter Dip Biscuits are a cinch to make! Serve them alongside your favorite meals when you need an easy and delicious side dish.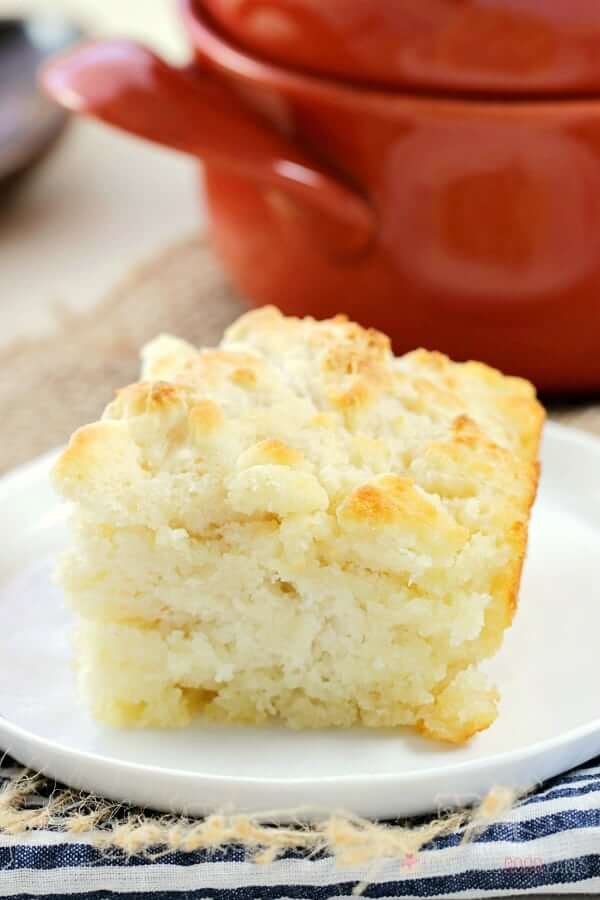 This post may contain affiliate links. As an amazon associate, I earn from qualifying purchases. See my full Disclosure Policy for details.
This is a sponsored post for Challenge Dairy. All opinions are honest and 100% my own.
Butter Dip Biscuits
I hate when I forget to pick things up at the store. I hate to admit that it happens far too often.
Over the years, I've created a file of tried and true recipes of things my family not only loves but things that I can make in a pinch … most of the "emergency recipes" being some sort of bread recipe. I am the worst at remembering garlic bread, sandwich bread, hamburger or hot dog buns …. I just can't get my act together. Maybe it's the fact that I save those items for last so they don't get squashed in my overflowing grocery cart and I'm so excited to be finished shopping that I just forget?! Maybe it's the fact no one ever writes it on my list and I'm just left to guess if we need it or not? Idk.
We almost always have some kind of bread with dinner. Which can prove to be difficult when you tend to forget to pick those items up at the store. *sigh*
Butter Swim Biscuits
These Butter Dip Biscuits make an appearance about two or three times a month in the LBGC house. I always have all of the ingredients on hand to make them so even when I forget other stuff at the store, I'm good to go with this recipe! I especially love serving them with soup and salad. This is the PERFECT recipe on days when I'm feeling particularly lazy since there is no rolling of dough or biscuit cutters involved. But that's another story!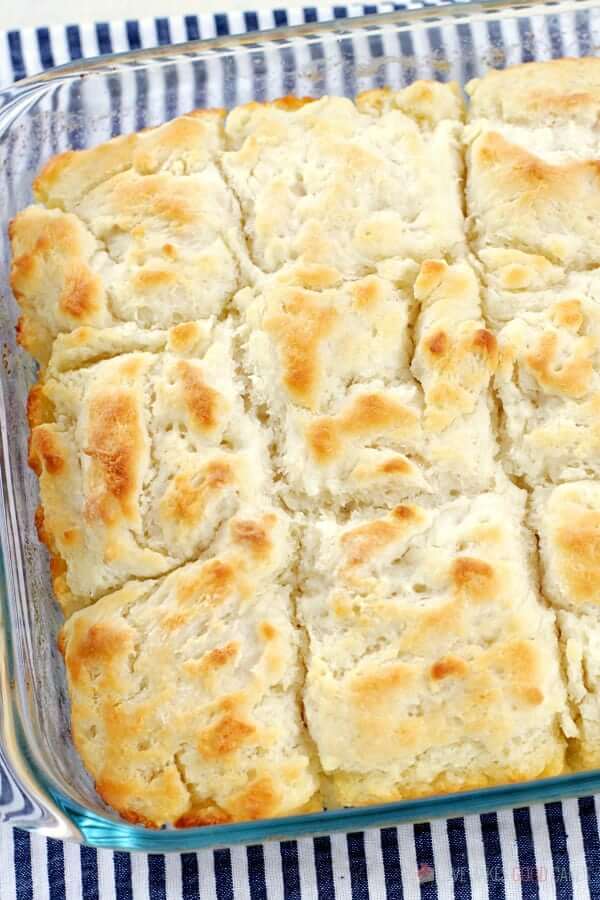 One of my favorite secret weapons in my baking recipes is Challenge Butter. Challenge is the only dairy product company that controls the whole process when it comes to making its butter – from milking the cows to transporting the milk, to making the butter, and to packaging. It's made the right way – the old-fashioned way! With no hormones, additives, or fillers and farm to fridge in just TWO days, Challenge Butter is a taste you'll love – my family does!
A cooperative of California family-owned dairies founded more than 100 years ago, Challenge is proud to sell its products NATIONALLY. To find retailers near you, visit www.challengedairy.com/where-to-buy.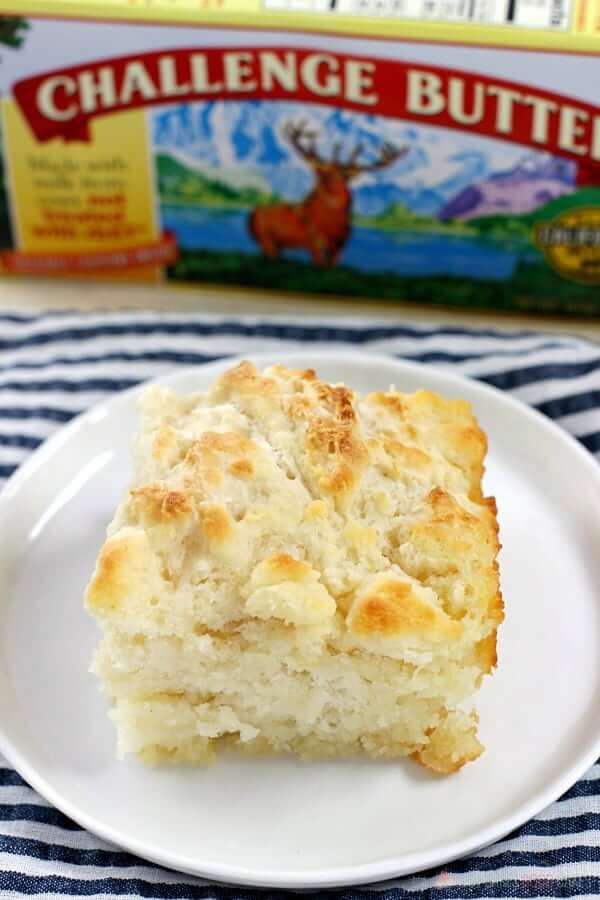 Which is better – salted or unsalted butter? Can I use either one in this recipe?
Generally, it is best to use unsalted butter when baking since it's all about the ability to control ingredients. The last thing you want is for your baked goods to come out too salty! I prefer salted butter when making things like toast – where there is no added salt in a recipe. In our house, we call salted butter "table butter" because it's always in our covered container for spreading on toast or bread. It is totally acceptable to use unsalted butter also – although you may feel like flavor is a bit lacking on something like toast.
The biggest benefit of unsalted butter, in my opinion, is the ability to control exactly how much salt is used in a recipe. If you want to substitute unsalted butter for salted butter, start with 1/4 tsp. of salt to one stick (equal to 1/2 cup) of butter. Adjust the amount to your preference from there.
Do you have to refrigerate butter?
There is nothing worse than trying to spread a pat of cold butter. Bread that has been torn into eleventy-billion pieces, anyone?! There are so many questions about should butter be refrigerated or left on the counter … so let's talk about it!
Unsalted butter should ALWAYS be refrigerated. Salt acts as a preservative and since unsalted butter has none, it is best to keep it in the fridge.
Salted butter should ALWAYS be refrigerated too! Surprised? I was too!
What do I do? (Pssst …. it's not always the right thing!)
We keep our table butter (salted butter) covered on the countertop if we'll use it within 1-2 days. If I know we won't use it within that time frame, we keep it in the fridge. Based on my own personal research, I feel comfortable leaving butter at room temperature for a day or two. (Note: Challenge Butter NEVER recommends leaving butter out). If your kitchen is routinely above 70 degrees Fahrenheit, it is best to keep your butter refrigerated. It should stay cool enough that it retains its shape. If in doubt, just keep out what you think you'll use in a day or two, and replenish the butter dish as you use it.
If at any time you notice discolorations, a sour smell, or a sour taste with your butter – DISCARD it. Better safe than sorry.
Can you freeze butter?
Of course, we use butter for so many things so it never lasts long at our house. We use so much Challenge Butter that I keep several boxes on hand in the freezer. To freeze butter, leave it in its original wrapping and place it in a heavy-duty freezer bag. You can freeze unsalted butter for up to 6 months. Salted butter can be frozen for up to 12 months.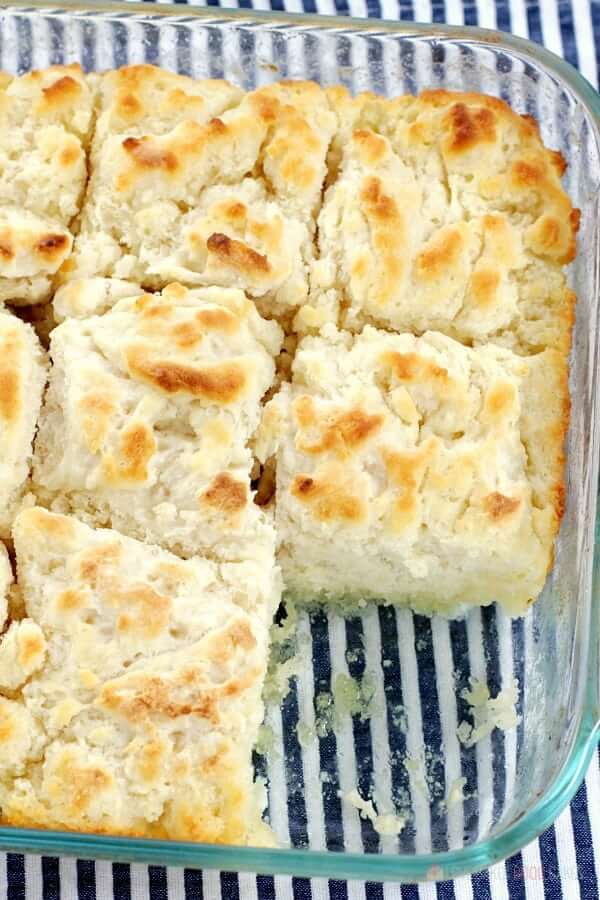 Other recipes you may enjoy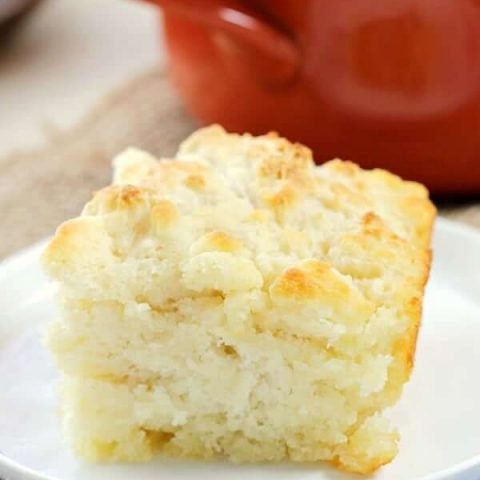 Butter Dip Biscuits
With no rolling or biscuit cutter required, these Butter Dip Biscuits are a cinch to make! Serve them alongside your favorite meals when you need an easy and delicious side dish.
Ingredients
1/2 cup (1 stick) Salted Challenge Butter
2-1/2 cups all-purpose flour
1-1/2 tablespoons granulated sugar
1-1/2 tablespoons baking powder
1/4 teaspoon salt
1- 3/4 cup buttermilk
Instructions
Preheat oven to 450°F.
Place butter in an 8x8-inch baking dish. Place baking dish in the oven to melt the butter while preparing biscuit dough.
Meanwhile, in a mixing bowl, combine flour, sugar, baking powder, and salt with a whisk or fork. Add the buttermilk and stir with a spatula until a batter forms. It will be sticky.
Remove the baking dish from the oven. Pour the biscuit batter over the top of the butter, spreading it into the pan with a spatula. It's okay if some of the butter runs over the batter. Using a sharp knife, cut the biscuits into 9 squares.
Bake 22-25 minutes, or until the biscuits are cooked through and golden brown.
Notes
If you use Unsalted Challenge Butter in this recipe, increase the salt to ½ tsp.
For each cup of buttermilk, you can use 1 tablespoon of white vinegar or lemon juice plus enough milk to measure 1 cup. Stir, then let stand for 5 minutes. Measure out what you need and proceed with the recipe.

Nutrition Information:
Amount Per Serving:
Calories:

245
Total Fat:

11g
Saturated Fat:

7g
Cholesterol:

29mg
Sodium:

274mg
Fiber:

1g
Sugar:

4g
Protein:

5g
Recipe adapted from The Country Cook