This delicious Blueberry Crumble Bar recipe uses pantry staples to create a family-favorite. A perfect way to use up those summer berries!
Blueberry Crumble Bars
Last weekend, we took the kids to play miniature golf. Although it was hot as you know what (it IS Arizona, after all), we had a good time. I got a hole-in-one … actually, I think all of us got at least one! I was super impressed that Gabriel got FOUR hole-in-ones!! Did I mention, he's only five?! Watch out Tiger Woods, he's comin' after ya! ?
I wanted to have a treat ready for when we got home, so I made these Blueberry Crumble Bars earlier in the day – but we ended up staying out much later than we had anticipated. Although I was tempted to eat these babies for breakfast, I resisted …. I had eyes watching me and that meant I would have to give into them eating these for breakfast, too! I swear they hear every little rustle of paper or foil, don't they?! But amazingly, they never hear anything that you tell them! ?
You could use almost any kind of fresh fruit that you like in these bars as long as it equals about 4 cups. So, if you prefer strawberries or have tons of peaches – it's easy to substitute! They're one of our go-to desserts any time we have fresh berries on hand!


Other recipes you may enjoy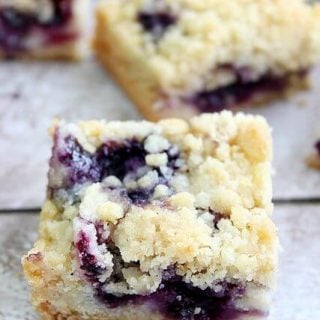 Blueberry Crumble Bars
This easy and delicious recipe uses pantry staples to create family-favorite Blueberry Crumble Bars that are the perfect way to use up those summer berries!
Ingredients
For the crust and crumble
1/2 cup granulated sugar
1/2 cup packed brown sugar
1 teaspoon baking powder
3 cups all-purpose flour
1 cup (2 sticks) butter
1 large egg, slightly beaten
1/2 teaspoon vanilla extract
For the filling
4 cups fresh blueberries
1/2 cup granulated sugar
3 teaspoons cornstarch
Instructions
Preheat oven to 375°F. Lightly grease a 9x13-in. baking dish and set it aside.
Prepare the crust and crumble by combining both sugars, baking powder, and flour in a large bowl. Using a pastry cutter, cut in butter, egg, and vanilla until the mixture is well combined and resembles coarse crumbs. Pat half of the mixture into the bottom of the prepared pan.
In a separate bowl, combine all of the filling ingredients until well combined, stirring gently. Sprinkle the berry mixture evenly over the top of the crust. Crumble the remaining crust mixture evenly over the top of the blueberries.
Bake for 45 minutes or until the top is lightly browned. Remove from the oven and allow to cool before cutting.
Nutrition Information:
Amount Per Serving:
Calories:

193
Total Fat:

8g
Saturated Fat:

5g
Cholesterol:

28mg
Sodium:

21mg
Fiber:

1g
Sugar:

15g
Protein:

2g
Originally published on June 5, 2014. Updated on April 29, 2021.