This Bacon Chipotle Mac & Cheese is a great way to get dinner on the table fast! Starting with a boxed mac and cheese, you can easily add a few other ingredients to make dinner delicious! #MealtimeSolutions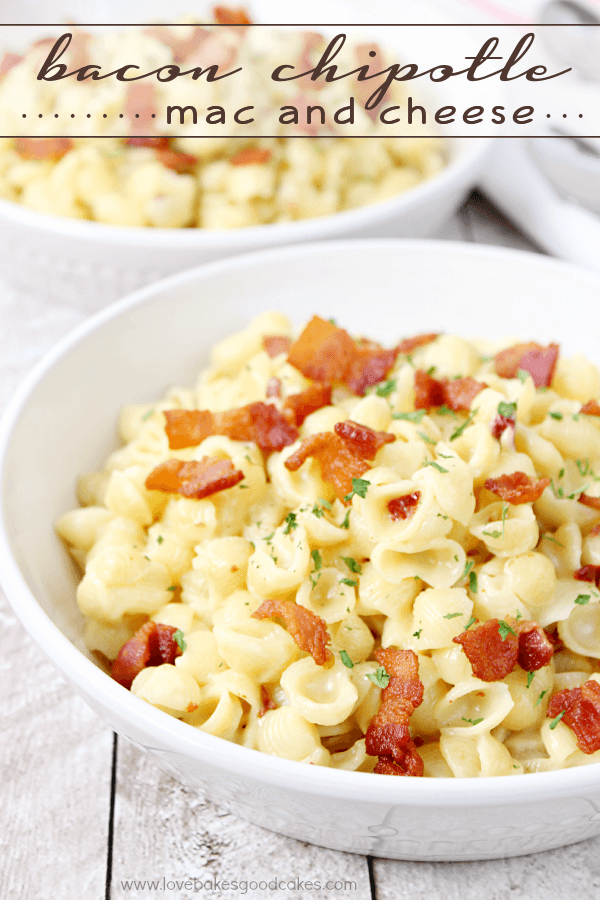 Bacon Chipotle Mac & Cheese
This is a sponsored conversation written by me on behalf of Horizon Organic. The opinions and text are all mine.
I sat down the other day to plan out this next week's menu and I realized that the dates for the week were for the middle of April already. The middle of April!! How did that even happen?! Maybe with life being so busy, I have totally lost track of dates and times. At least for me, everything seems to blur into one. I mean, here we are a quarter of the way through the year and it seems like 2015 just started!
Because life has been so crazy, there have been nights where I have had to rely on quick and easy meals. I have to be honest, as a mom with 5 kids (4 of whom are still at home), I always have mac and cheese on hand. It's easy enough for my older kiddos to make themselves and when I need a quick dinner idea, I have a great starting place. Believe me, I can doctor a box of mac and cheese up like nobody's business!
A quick meal
When I was young and poor, I practically lived on boxed mac and cheese, ramen noodles and peanut butter. True story, by the way. It's fair to say that eating the same thing day after day gets kinda boring – and I realized that I could easily stretch the grocery budget by using small amounts of other things in my mac and cheese or ramen noodles. I experimented with all kinds of ingredients, and, believe it or not, it was kinda fun figuring out what kinds of things actually worked and tasted good!
Some of that experimenting has carried over into my older adult life. I still love coming up with great flavors in the kitchen! When time is short or when I really don't feel like cooking, I can easily cook up a "gourmet" mac and cheese dish using a box of Horizon Organic Mac & Cheese. At least my kiddos think its gourmet since it's doctored up! LOL.
For the latest Horizon Organic news, special offers and more delicious recipes, be sure to check them out on Facebook, Twitter, Pinterest and/or Instagram.
Other Posts You May Enjoy:
Cheesy Chicken Noodle Casserole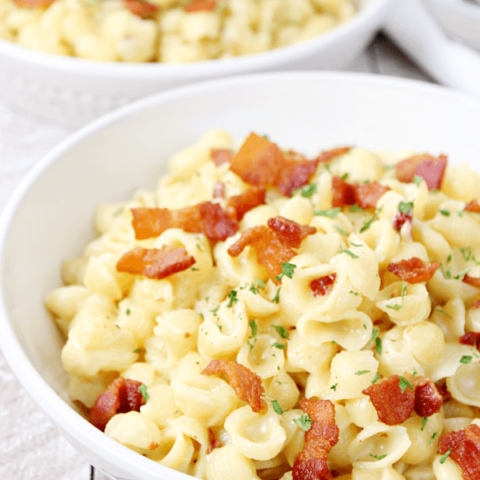 Bacon Chipotle Mac & Cheese
This Bacon Chipotle Mac & Cheese is a great way to get dinner on the table fast! Starting with a boxed mac and cheese, you can easily add a few other ingredients to make dinner delicious!
Ingredients
2 boxes (6 oz. each) Horizon Classic Mac Pasta Shells & White Cheddar Cheese
1/2 cup milk
1/4 cup butter
1 tsp. chipotle in adobo, finely chopped (or more to taste)
6-8 slices bacon, cooked and crumbled
Chopped parsley or cilantro, for garnish (optional)
Instructions
Cook mac and cheese according to package directions. Drain.
Add the milk, butter, cheese sauce and chipotle in adobo. Stir to combine.
To serve, top individual portions with bacon and chopped parsley.
Nutrition Information:
Amount Per Serving:
Calories:

678
Total Fat:

61g
Saturated Fat:

31g
Cholesterol:

154mg
Sodium:

912mg
Fiber:

0g
Sugar:

2g
Protein:

28g