This Blackberry Lemon Coffee Cake is great for brunch, but it could double as a dessert! It's not overly heavy – and the berry and citrus flavor pairs well with the cake.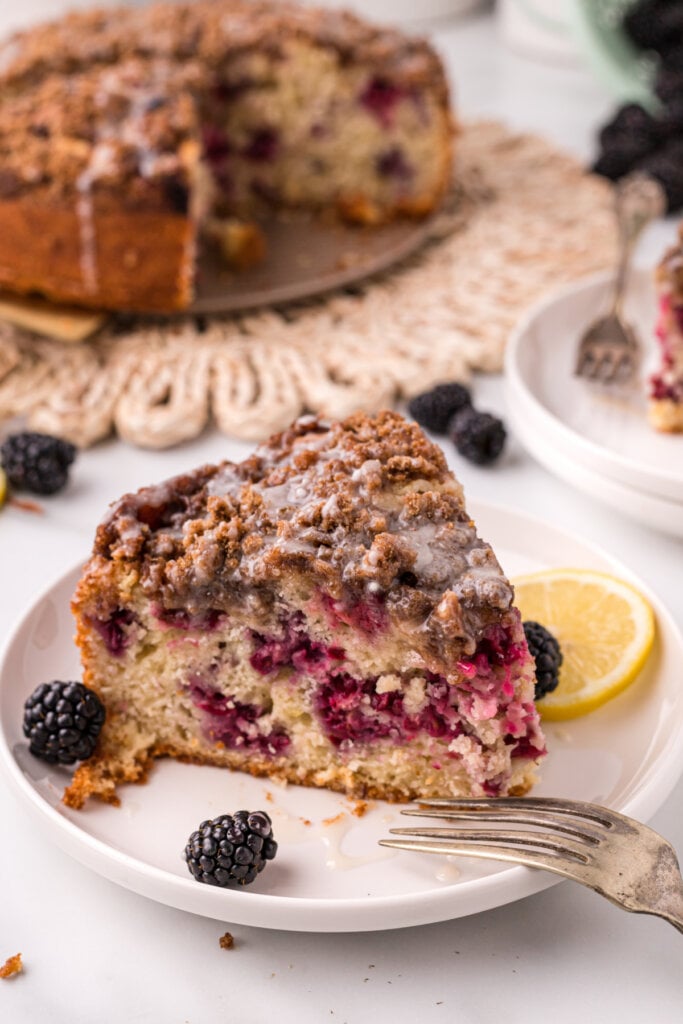 Lemon Blackberry Coffee Cake
Mother's Day is just around the corner …. did y'all know that?! It's not generally a big scene at our house. The kids usually get me a little something with a card and take me out to dinner. Truth be told, I don't want or need a lot of fuss.
The kids always want to make me breakfast in bed for Mother's Day or my birthday. Although I love the thought, I have this fear of them burning our house down in the process. So, unless it's something really easy (read – it doesn't involve cooking – think toast here), it's usually a no-go.
I appreciate their thought, but I just can't let them run free in my kitchen.
My thought is to make something like this Blackberry & Lemon Coffee Cake the day before. I think it's the best coffee cake for Mother's Day – and it lets the kids go through all the fuss of breakfast in bed, so they still FEEL like they're doing what they want to do – and it spares my kitchen! ? I can already see it now! 🥰
Make it for your Mom, or make it for yourself to spare your kitchen on Mother's Day! Take it to your church's ladies' group or any get-together with your girlfriends! I hope it is enjoyed no matter where it goes!
This Blackberry Lemon Coffee Cake has such great spring-time flavors in it. Not only is it great for brunch, but it could double as a dessert, in my opinion! It's not overly heavy – and the berry and citrus flavor pairs well with the cake.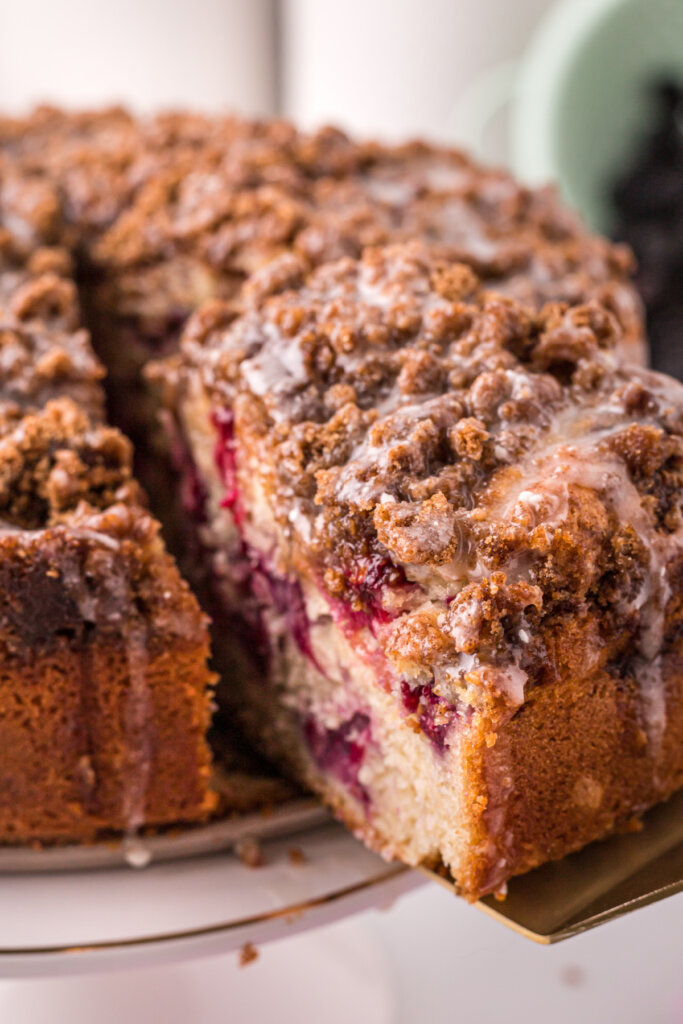 Blackberry Lemon Coffee Cake: Ingredients & Equipment
To make Lemon Blackberry Cake, you'll need…
Ingredients
For the batter:
eggs, milk, oil, flour, sugar, baking powder, and baking soda – lots of standard baking ingredients here!! If you've ever made a cake before, you'll recognize a lot of these.
vanilla extract and salt – more familiar baking supplies. I singled them out to point out that you need vanilla to bring out your sweet ingredients, and salt to bring out all the other ones.
sour cream – this provides some amazing moisture to any baked good.
lemon zest, lemon juice: – to give your coffee cake the perfect citrus flavor, of course!!
For the topping:
blackberries – fresh ones, preferably, as they provide the best sweet fruity flavor for your coffee cake.
butter, brown sugar, flour, cinnamon – you know that crumbly topping that makes a coffee cake, a coffee cake? Here you go!
For the icing:
vutter and vanilla – the base of your icing.
powdered sugar – you'll stir this into your butter/vanilla mixture. It'll be crumbly at first until you add…
milk – the milk! This will bring your icing to a more creamy consistency.
Equipment
measuring cups and spoons – for measuring all of your ingredients properly.
9-inch springform pan and cooking spray – you'll bake up your lemon blackberry cake in this pan.
bowls and electric mixer – for mixing your batter, and later for prepping your topping.
rubber spatula – for scraping out your bowls.
butter knife – for swirling the coffee cake.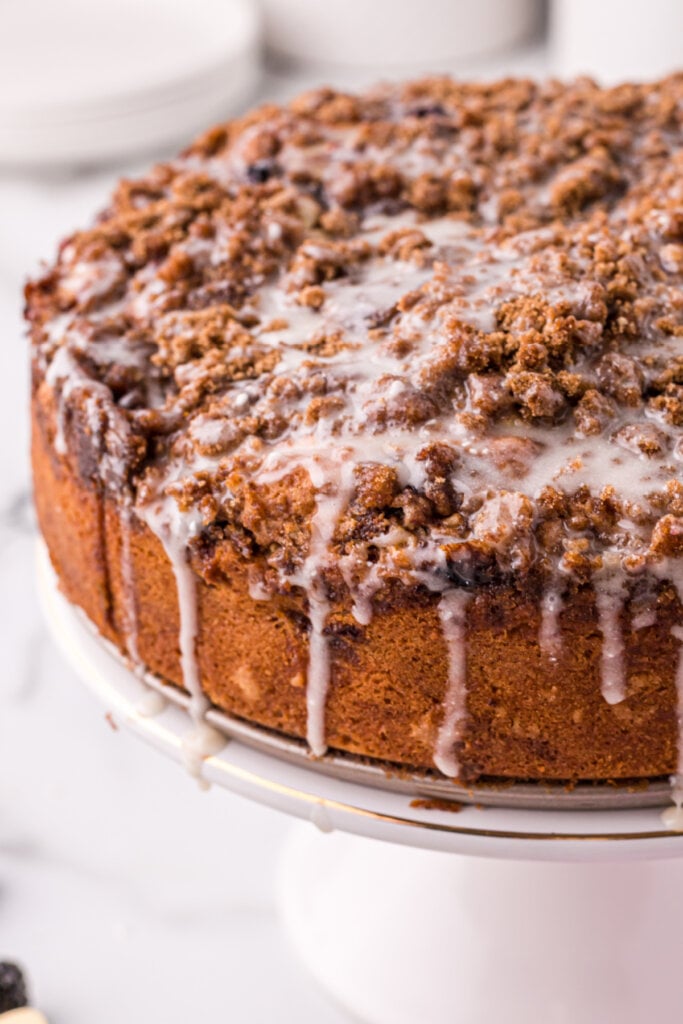 Blackberry Lemon Coffee Cake
How many servings does this recipe make?
Between 12 and 18, depending on how you cut the cake!
How long does it take to make Lemon Blackberry Coffee Cake?
Around an hour and 20 minutes! You'll need 20 minutes to prep the ingredients and an hour to bake the cake.
Do you eat this warm or cold?
Totally up to you! It's delicious both ways!
What do you do with leftovers?
You can keep them at room temperature for a day or two. After that, store it in the fridge covered for a week.
Can you freeze Blackberry Lemon Coffee Cake?
Yes!! You can freeze the coffee cake! Wrap the cake tightly in aluminum foil or plastic wrap before freezing. For best quality, use within 2-3 months.
– To defrost a frozen coffee cake, remove all wrapping in which it was frozen and store the cake at room temperature for a few hours. It will taste as fresh as when it was just baked!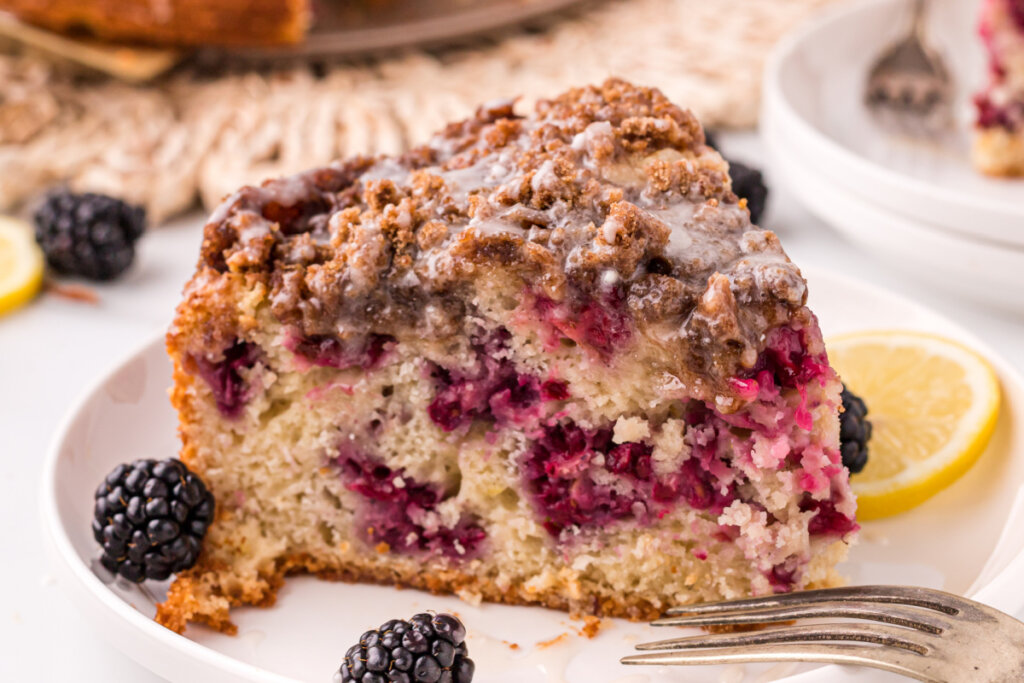 Other recipes you may enjoy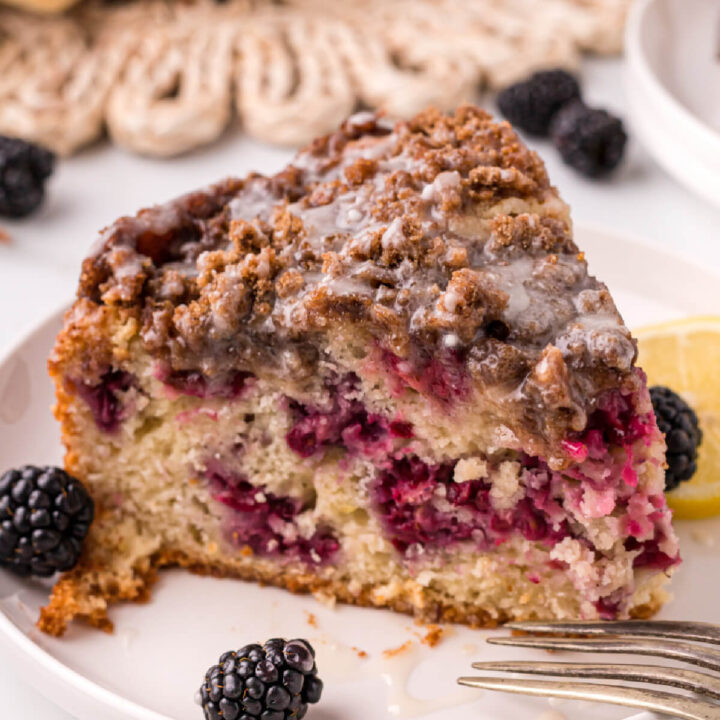 Blackberry & Lemon Coffee Cake
Total Time:
1 hour
20 minutes
This Blackberry Lemon Coffee Cake is great for brunch, but it could double as a dessert! It's not overly heavy - and the berry and citrus flavor pairs well with the cake.
Ingredients
For the batter
2 large eggs
1 cup milk
1/2 cup vegetable oil
1 teaspoon vanilla extract
1/2 cup sour cream
juice of 1 lemon (about 3 tablespoons)
3 cups all-purpose flour
1 cup granulated sugar
1 teaspoon baking powder
1/2 teaspoon salt
1/2 teaspoon baking soda
zest of 2 lemons
For the topping
12 ounces fresh blackberries, halved or quartered
2 tablespoons butter, melted
1 cup brown sugar, packed
2 teaspoons ground cinnamon
3 tablespoons all-purpose flour
For the vanilla icing
1 tablespoon salted butter
1 teaspoon vanilla extract
3/4 cup powdered sugar
2-3 teaspoons milk
Instructions
Preheat oven to 350°F and spray a 9-Inch spring-form pan with non-stick cooking spray. Set it aside.
In a large bowl, beat the eggs with an electric mixer for about two minutes. Add the milk, oil, vanilla, sour cream, and lemon juice. Mix until thoroughly blended. Stop the mixer and add flour, sugar, baking powder, salt, baking soda, and lemon zest. Continue to mix until it is well combined.
Pour into prepared pan and set aside.
Place the blackberries on top of the batter. Swirl gently with a knife making an "s" shape in one direction, then turning the pan a quarter of a turn and making another "s" shape.
In a medium bowl, stir in the melted butter, brown sugar, cinnamon, and flour. Spoon the topping evenly over the batter.
Bake in preheated oven for 55-60 minutes or until golden brown. Allow to cool for 10 minutes then loosen the side from the pan and remove. (Run a knife along the edge if necessary).
While the cake is cooling, melt the butter in the microwave. Add the vanilla. Slowly stir in the powdered sugar (it will be crumbly, but don't worry). Add the milk, one teaspoon at a time, whisking until you get a smooth and creamy consistency. Drizzle the vanilla icing on top of the cake.
Slice, serve, and enjoy!
Notes
You may choose to eat this warm ..... or let it cool to room temperature. The choice is yours!
Cover the coffee cake with plastic wrap or foil to prevent the cake from drying out.
Cover and store any leftovers at room temperature for up to 2 days or refrigerate for up to 1 week.
Recommended Products
As an Amazon Associate and member of other affiliate programs, I earn from qualifying purchases.
Nutrition Information:
Yield:

12
Serving Size:

1
Amount Per Serving:
Calories:

440
Total Fat:

16g
Saturated Fat:

4g
Trans Fat:

0g
Unsaturated Fat:

11g
Cholesterol:

46mg
Sodium:

235mg
Carbohydrates:

70g
Fiber:

3g
Sugar:

42g
Protein:

6g
Please note that the nutritional information listed on this page is an estimation based on the products I used. Ingredients and nutritional information can vary greatly between brands. Always be sure to read labels.
Originally published May 2, 2013. Updated on March 12, 2022.