Banana Puddin' Parfait – a cool and refreshing dessert idea – perfect for summer potlucks and parties! #parfait #banana #CollectiveBias #shop
Banana Puddin' Parfait and the Scan & Go App!!
I am a member of the Collective Bias® Social Fabric® Community. This shop has been compensated as part of a social shopper amplification for Collective Bias and its advertiser.
Like many of you, I'm a busy mom. I appreciate products and services that save me time and money – or ones that help me stay withing my budget! I recently found out that Walmart has a Scan & Go app for my smartphone that makes shopping so much more convenient!!
What is Scan & Go
Have you heard of the Scan & Go app at Walmart?! I had never heard of it until recently! I'm not sure if I have been living under a rock or what, but I was so excited to find out that my local Walmart was one of the stores that the Scan & Go app works in! We have many stores in which the Scan & Go app works at here in the valley! (You can check this list of cities to see if the app is available at your local Walmart!)
I needed to head to Walmart to pick up some things to make Banana Puddin' Parfaits for a party – and I thought it would be the perfect opportunity to check out the Scan & Go app!
First of all, you will need to download the Scan & Go app to your smartphone. It works with iPhone and Android devices.
Next, you'll need to head to your local Walmart that has the Scan & Go feature available. You may be prompted to sign into your Walmart account – and if you don't have one, no worries, it's easy and free to sign up for one!
Using Scan & Go
You're going to want to open your Walmart app and select your store from the "Find a Store" menu. Scroll down and find where it says, "In-Store Mode" and make sure the box is checked. Hit the menu bar in the upper left hand corner and select the home screen. You should see an option for the "Scan & Go" in green, near the top of your screen. Click it – you're all set to scan & go!
As you make your way around the store and add items to your cart, simply click the "scan button" on your phone and place it over the bar code on the product. Keep scanning new products as you place them in your cart. Once you have everything you need, head to the self check-out lane in the front of the store. Select the checkout button on your phone and the Scan & Go button on the register. Follow the prompt to scan the QR code. Your basket and total will be transferred over to the register for checkout. Select your method of payment and finish checking out! Easy peasy!
So easy and convenient
For me, it was super convenient to get what I needed for the Banana Puddin' Parfaits! I was able to scan it all as I added it to my cart and I checked out on my own. I didn't have to wait in any lines. Yay!! Since the Scan & Go app keeps a running total of everything I scanned as I put them in my basket, I knew my total BEFORE I hit the checkout. The best part? I was in and out of the store in no time!
Well, I have to say, I was thoroughly impressed with the Scan & Go app. I wish I had known about this app sooner – which is why I am so excited to share it with YOU – so you know about it too! This is definitely an app I will continue to use!
I told y'all I picked up some things to make Banana Puddin' Parfaits, so let's share that recipe! It's perfect for warmer weather and parties! I picked up some 9 oz. clear plastic cups for mine since we were eating them outside! No broken glass to deal with! 🙂 Plus, it made clean-up a breeze!
Other recipes you may enjoy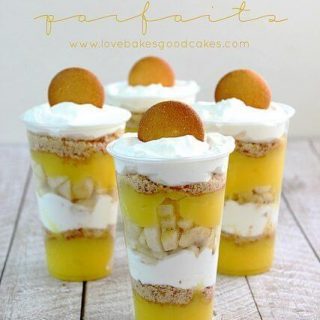 Banana Puddin' Parfait
Banana Puddin' Parfait - a cool and refreshing dessert idea - perfect for summer potlucks and parties!
Ingredients
1 box (5.1 oz.) banana cream instant pudding and pie filling mix
3 cups milk
2 cups Nilla wafers
1 cup heavy cream
2 tablespoons powdered sugar
3 bananas, chopped or sliced
Additional Nilla wafers for garnish, if desired
Instructions
In a medium bowl, combine the pudding mix and milk according to package directions. Place in the refrigerator while you prepare the rest of the parfait.
Place 2 cups of Nilla wafers in a food processor and pulse until it resembles coarse crumbs. Set aside.
In a medium mixing bowl, beat the heavy cream and powdered sugar on HIGH speed until stiff. Set aside.
In parfait glasses, layer some of the pudding mix, Nilla wafers, sweetened whipped cream and bananas. Follow with an additional layer of pudding mix, Nilla wafers and sweetened whipped cream.
Refrigerate until serving time. Garnish with an additional Nilla wafer, if desired.
Nutrition Information:
Amount Per Serving:
Calories:

571
Total Fat:

33g
Saturated Fat:

16g
Cholesterol:

67mg
Sodium:

268mg
Fiber:

2g
Sugar:

32g
Protein:

8g
Originally published on May 5, 2014. Updated on April 27, 2021.