I didn't eat a lot of fish growing up. Truthfully, I have only eaten fish a handful of ways … and I have only tried a few "kinds" of fish. One of my favorites though, is salmon. I love it and if my husband wasn't so opposed to it, we would eat it more often.
I think Asian flavors pair well with salmon and it is one of my favorite ways to prepare it. This meal is very low in fat and is full of those good omega-3 fatty acids that everyone tells us we need. It's also a good source of lean protein. If you're looking for a new recipe, give this one a try – it's easy and family-friendly! 🙂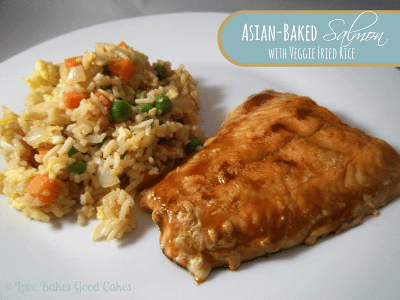 Asian Baked Salmon with Veggie Fried Rice
Yield: 4 servings
For the Asian-Baked Salmon:
1 lb. salmon fillets
¼ cup soy sauce
2 tbsp. packed brown sugar
1 tbsp. sesame oil
1 tbsp. red wine vinegar
1 tbsp. honey
1 tsp. ground ginger
½ tsp. garlic powder
Preheat oven to 425°F. Spray a 13×9-in. baking dish with cooking spray. Place the salmon in the baking dish. In a small bowl, combine the remaining ingredients and mix well. Pour over the fillets. Bake uncovered for 15-20 minutes or until the fish flakes easily with a fork. Spoon the sauce over the fish at least once during the baking time.
For the Veggie Fried Rice:
1 egg
1 tbsp. water
1 tbsp. butter
1 tbsp. vegetable oil
1 small onion, chopped
1 clove garlic, minced
1 cup (from a 16 oz. bag) frozen peas and carrots, thawed, (optional)
2 cups cooked white rice, cold*** (see note)
4 tbsp. soy sauce
½ tsp. black pepper
*** It is very important to use cold rice for this recipe!
In a small bowl, beat egg with water. Melt butter in a skillet or wok over medium-low heat. Add egg and scramble until cooked through. Remove from skillet to a small bowl.
Heat oil in the same pan. Add onion, garlic and the peas and carrots. Saute until the onion is soft. Then add rice, soy sauce and black pepper. Stir-fry together about 3-5 minutes, until mixture is well combined. Add the eggs and stir to combine.
Serve hot!
I hope you enjoy! Shared at these
fun parties!
Featured at Miz Helen's Country Cottage, Seven Alive, Daily Dish Magazine and Recipes For My Boys
Don't forget to share and comment ♥


Copyright © Love Bakes Good Cakes 2012 All Rights Reserved