This Summer Veggie Pasta Salad is a great way to sneak more veggies into your family's diet! Plus, this pasta salad is perfect for summer BBQ's and potlucks since there is no mayo! #RonzoniSummer #Ad #Pmedia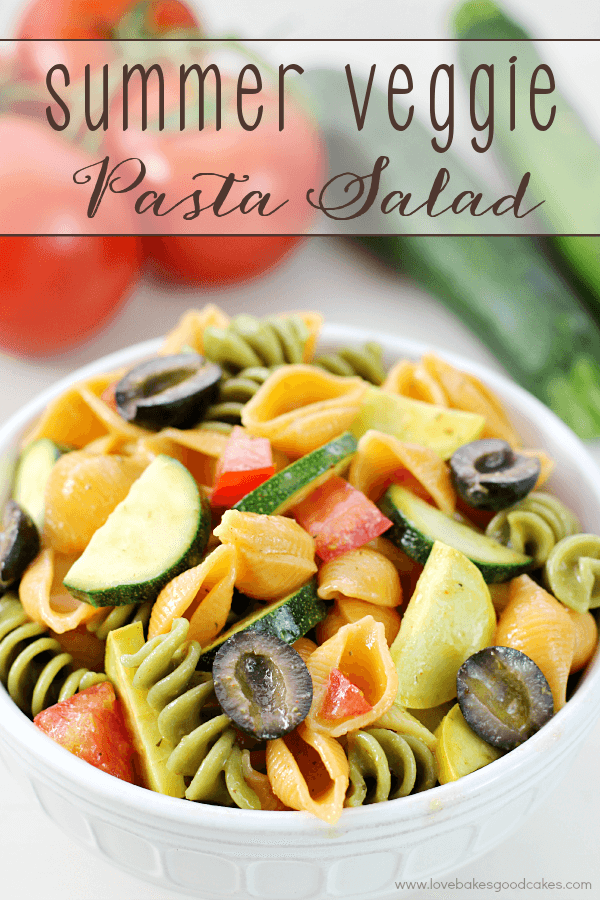 This post is part of a social shopper marketing insight campaign with Pollinate Media Group® and Ronzoni, but all my opinions are my own. #pmedia #RonzoniSummer http://my-disclosur.es/OBsstV
Summer Veggie Pasta Salad
With summer in full swing, it's time to start thinking about lighter and more healthy choices when it comes to food. Although the idea sounds easy, it's not when you have a picky eater! You would automatically assume it to be one of my kiddos, but it's actually Brian!! I struggle to get him to eat the recommended daily allowance of fruits and vegetables …. but I have found a sneaky way to get some of them into him!
If there is one thing Brian loves, it's pasta … in any form! I have been known to put extra veggies in my spaghetti sauce and he will gladly eat those veggies without notice or complaint. However, while shopping at Walmart recently, I noticed Ronzoni Garden Delights and saw that they have one serving of vegetables IN THE PASTA!! Every 4 oz. portion contains one serving of vegetables! How genius is this?! Seriously, we may never eat "regular" pasta again!
There are a few options to choose from for this Summer Veggie Pasta Salad – Tri-Color Penne, Tri-Color Rotini, or Trio Italiano. I went with the Trio Italiano because it had all of the fun shapes! Who doesn't love fun shapes and colors?
Since yesterday was Father's Day, we had some of the family over to enjoy the pool, we BBQ'd, and made s'mores over the fire pit after the sun went down! Knowing it was going to be blazing hot (we do live in Phoenix after all), I really wanted to make a lighter pasta salad for dinner that did not include any mayo. This Summer Veggie Pasta Salad was easy and delicious! I think what I liked most about it (other than Brian eating his veggies – hehe!!), was that you can use any veggies you like and it would still be great!
Making Summer Veggie Pasta Salad
Before you go shopping for your ingredients to make this yummy Summer Veggie Pasta Salad, grab some coupons! I'm always looking for ways to save money and I know you like to save money too! There are two ways to save –
$1.00 coupon off any two Garden Delight items in most newspapers on 6/28/15 (while supplies last)
$0.55 off in store coupon at Walmart starting 6/22/15. Offer expires 8/2/15 (while supplies last)
For the latest news, special offer and more great recipes, be sure to follow Ronzoni on Facebook and Twitter! For help finding a store near you, visit the product locator.
Other Posts You May Enjoy: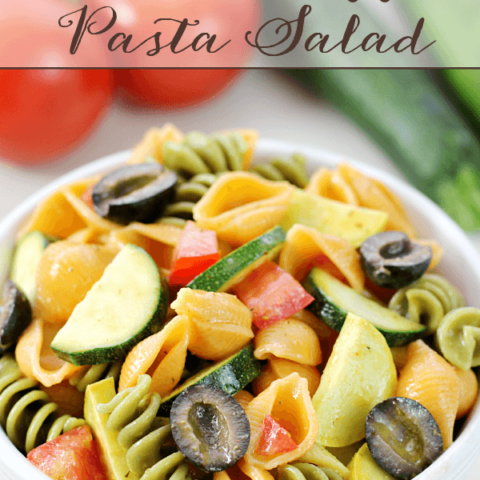 Summer Veggie Pasta Salad
This Summer Veggie Pasta Salad is a great way to sneak more veggies into your family's diet! Plus, this pasta salad is perfect for summer BBQ's and potlucks since there is no mayo!
Ingredients
For the pasta salad
1 box (12 oz.) Ronzoni Garden Delight Trio Italiano
1 medium zucchini, sliced lengthwise and chopped into half-circles
1 medium yellow squash, sliced lengthwise and chopped into half-circles
1 medium tomato, seeded and chopped
1/2 cup black olives, sliced
For the dressing
1/4 cup water
1/4 cup lemon juice
1/4 cup red wine vinegar
2 garlic cloves, halved
1 teaspoon sugar
3/4 teaspoon salt
3/4 teaspoon paprika
3/4 teaspoon dried oregano
1/2 teaspoon onion powder
1/2 teaspoon ground mustard
1/2 teaspoon dried thyme
3/4 cup olive oil
Instructions
Cook pasta according to package directions. Drain and rinse with cold water.
Place the pasta, zucchini, yellow squash, tomato and black olives in a large bowl. Set aside.
Place all of the dressing ingredients in a blender except the olive oil. Cover and process until pureed. While processing, gradually add oil in a steady stream.
Stir the dressing into the pasta. Serve immediately or refrigerate until serving time. Refrigerate leftovers.
Nutrition Information:
Amount Per Serving:
Calories:

225
Total Fat:

21g
Saturated Fat:

3g
Cholesterol:

0mg
Sodium:

279mg
Fiber:

2g
Sugar:

2g
Protein:

1g