This post may contain affiliate links. As an amazon associate, I earn from qualifying purchases. See my full Disclosure Policy for details.
Homemade Gnocchi – an Italian potato dumpling that is easy to make at home and tastes great in your favorite Italian recipes! Serve it with melted butter and sage, pesto or your favorite marinara sauce for an easy meal idea! #Italian #PotatoRecipe #dumpling
I finally feel like I am starting to get back into a groove. I've let a lot of things "go" the past few months – from the blog to household things and just life in general. I can't even tell you the last time I actually looked at the blogs in my BlogLovin' or took the time to hop around and visit some of my bloggy friends "just because" I wanted to see what they were up to that day. I have started updating my recipe index (which hadn't been updated since about Christmas!!), and I'm getting back into the habit of planning my posts instead of just flying by the seat of my pants.
If you've thought I had it all together, let me be the first to tell you that it couldn't be farther from truth! Lately, I have struggled with keeping a balance. Life has a funny way of getting in the way, doesn't it? And it can't just happen in little increments – it has to happen all at once …. and always right when you have something else to do.
To help get me back on track, I've added 4 contributors to Love Bakes Good Cakes. I know y'all are gonna love these ladies! You can see Kim's first contributor post for Single Serve Chocolate Chip Cookies – and this week, you'll get to see an awesome recipe Sandra from A Dash of Sanity! You are gonna love it!!
I've also gone back to using my trusty little blog calendar – aka "my brain" …. I have learned that I cannot function without it. I forget stuff. Too much stuff. I cut deadlines too close for comfort. Not cool. In my mind, I say I know better than this, but somewhere along the way, I've become a slacker. Trying to un-do a bad habit is hard, y'all. It's too easy to tell myself I'll get to it later … and later never comes because I forget about it. It's a vicious cycle. Just writing this reminds me that I have a post I need to update for my bloggy bud, Kathe with an E (sorry, Kathe!!) …. and I have a guest post that I need to get moving on for another blogger.
Anyways, I'm a work in progress right now. Don't be alarmed if you suddenly start seeing me popping up all over the place and visiting your blogs again – I've missed y'all (I promise, I haven't forgotten about you!!) or if you visit the blog and things start getting caught up! Right now, I'm trying to figure out how to accomplish everything I want to get done and make the best use of my time. Wish me luck … I'm gonna need it! 😉
I know some of y'all can relate …. how do you find time to do everything you need or want to do in this crazy blogging life?
Enough about crazy …. let's talk about gnocchi. Y'all know, I don't do crazy recipes. I like easy because my life is crazy enough! Gnocchi is so easy to make at home and it is so much better than that stuff you buy at the store. You can even make it ahead and freeze it in a single layer, then cook it when you need it!
The grooves are not mandatory, but they look cool and they help hold some of the yummy sauce. It's a totally optional step!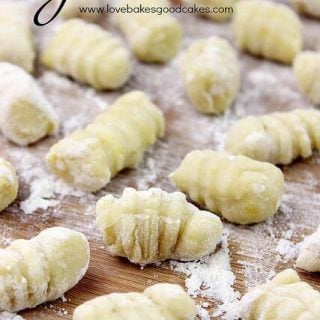 Homemade Gnocchi
Homemade Gnocchi - an Italian potato dumpling that is easy to make at home and tastes great in your favorite Italian recipes!
Ingredients
2 medium potatoes, peeled
2 cups all-purpose flour
1 egg, slightly beaten
Pinch of salt
Instructions
Place the potatoes in a medium saucepan. Cover with water. Bring the water to a boil over high heat. Cook the potatoes until tender, but still firm - about 15 minutes. Drain the water and mash the potatoes with a potato masher.
Remove 1 cup of the mashed potatoes to a medium bowl. Reserve any remaining potatoes for another use or discard leftover potatoes. Add the flour, egg and pinch of salt to the bowl. Knead until the mixture forms a ball. Divide the ball into 4 equal portions. Roll each portion into long snakes on a floured surface. Cut into ½-in. pieces. If desired, use the back of a fork and roll each piece of gnocchi off the tines, making groves.
Bring a large pot of salted water to a boil. Carefully place the gnocchi into the boiling water and cook until the gnocchi float to the top, about 3-5 minutes. Drain. Serve with your favorite marinara sauce, pesto, butter with sage or your favorite Italian recipe!
Nutrition Information:
Amount Per Serving:
Calories:

325
Total Fat:

2g
Saturated Fat:

0g
Cholesterol:

40mg
Sodium:

96mg
Fiber:

4g
Sugar:

1g
Protein:

10g
These little pillows of potato goodness are so addicting! Yum-O!!
Other Posts You May Enjoy: