Arroz con Leche is one of my favorite foods. It's easy to make, and you can eat it hot or cold. I love that it can be breakfast or dessert.
This post may contain affiliate links. As an amazon associate, I earn from qualifying purchases. See my full Disclosure Policy for details.
Arroz con Leche
This is a sponsored conversation written by me on behalf of Silk. The opinions and text are all mine.
My family is in the process of making a few changes in our lifestyles and diets. We are making healthier choices, cutting out a lot of (but not all of) processed foods, and we're getting active. Truthfully, it's something we've needed to do for a long time – and that time has come to put those words into action.
I am not a fan of dairy milk at all, and I have never been. I have tried to like it, but I just can't. The whole "cow boob" thing kinda grosses me out. Blech. Thankfully, Silk offers various alternatives that are delicious and nutritious! Whether for drinking or use in my favorite recipes, Silk has become a staple in my kitchen! Switching to Silk was an easy and delicious way to add more plant-based food to our diet – and just like the plants that Silk is made from, when your body gets everything it needs to be healthy – it blooms! For me, blooming is about being healthier, more active and just being happier with my body.
A healthier choice
Silk helps me provide a change for the better for my family – and for myself. I was thrilled to find out that Silk products are proudly made without the use of GMOs. This to me, is one more step to better health for my family! Did you know, Silk is a leading supporter of the Non-GMO Project, and they are committed to ensuring that all of their products receive the Non-GMO verification! You can see the seal displayed right on the front of most of their products. (Note: the verification process can take several months, so some of their newest products – like Silk Almondmilk Protein + Fiber in Vanilla and Original and Silk Almond Coconut Blend in Original and Unsweetened – may not have the seal on the carton YET, but they will be enrolled and verified over time.)
For those who have gluten or dairy intolerances, all Silk products are also dairy-free and gluten-free. Aside from that, the benefits of a plant-based diet are well documented. Since soy is a complete protein, it contains all of the amino acids we need for optimal health. Also, the FDA recognizes soy's role in supporting heart health – it can help lower cholesterol and diabetes, too. A diet full of plant foods can also help with weight management – something I struggle with!
Making Arroz con Leche
Although I mostly use Silk in my smoothies, I decided to put Silk to the test and see how it worked in my favorite Mexican Rice Pudding recipe. Arroz con Leche is one of my favorite comfort foods. It's so easy to make, you can eat it hot or cold – and I love that it can be a dessert or breakfast … or is that just me?! 🙂 I used the Silk Vanilla Soymilk for this recipe, but I think that the Silk Almondmilk and Silk Coconutmilk would be great, too!
Be sure to check out all of Silk's products to find what your family will love!
Sign up for a coupon! All new registrants will receive $0.75 off any Silk half gallon!
When you register, you can also look forward to:
– More coupons delivered to your inbox plus a special birthday offer
– News of Silk sweepstakes and promotions
– Monthly chances to win a year's supply of Silk!
Be sure to follow Silk on Facebook for special offers and for the latest on Silk products, recipes and news!
You can join the conversation using #mybloom or visit the Silk #mybloom website.
How do you like to use Silk? Share your thoughts below!
Please note: Comments submitted may be displayed on other websites owned by the sponsoring brand.
This is a sponsored conversation written by me on behalf of Silk. The opinions and text are all mine.
Other recipes you may enjoy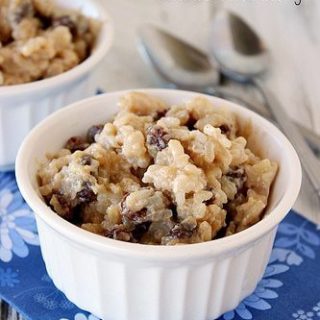 Arroz con Leche (Mexican Rice Pudding)
Arroz con Leche (Mexican Rice Pudding) and How Silk Helps Me Bloom
Ingredients
1-1/2 cups water
3/4 cup long-grain rice
2 cups whole milk, divided
1/3 cup granulated sugar
pinch of salt
1/2 teaspoon ground cinnamon
1 large egg, beaten
2/3 cup raisins
1 tablespoon butter
1/2 teaspoon vanilla extract
Instructions
In a medium saucepan, bring water to a boil. Stir in rice; reduce heat to low, cover, and simmer for 18-20 minutes or until all of the water is absorbed and the rice is tender.
Add 1-1/2 cups of milk, sugar, salt and cinnamon. Cook over medium heat, stirring often, until thick and creamy - about 15-20 minutes.
Microwave the remaining 1/2-cup milk on HIGH for 1-2 minutes. Slowly beat it into the beaten egg, tempering it. Add the egg mixture and raisins to the rice mixture; cook 2 minutes, stirring constantly. Remove from the heat and stir in the butter and vanilla extract.
Serve warm or refrigerate.
Notes
**Note you can use leftover rice for this recipe - just skip the step where you cook the rice! 🙂
Nutrition Information:
Amount Per Serving:
Calories:

372
Total Fat:

6g
Saturated Fat:

2g
Cholesterol:

48mg
Sodium:

158mg
Fiber:

2g
Sugar:

36g
Protein:

9g
Originally published on March 11, 2014. Updated on April 26, 2021.