Check out these Mexican Chocolate Cupcakes with a Dulce de Leche Cream Cheese Frosting. You will agree that they are so delicious!
Mexican Chocolate Cupcakes with Dulce de Leche Cream Cheese Frosting
Happy 2nd Blogiversary to ME!!! I cannot believe I have been doing this blogging thing for 2 years! I have been enormously blessed in more ways than I can count throughout this journey – and I am so glad to have some of my bloggy friends to help me celebrate with a Cupcake Linky Party! I'm sharing Mexican Chocolate Cupcakes with a Dulce de Leche Cream Cheese Frosting ….. try to say that five times fast! Yikes! Be sure to read all the way to the end to see what my bloggy friends made for my party – and if you're a blogger, come link up YOUR cupcake recipes!
If you're a blogger, you probably remember the very first time you hit that publish button. For me, it was February 27th, 2012 at 5:22 pm EST. Yes, I actually remember that exact moment of my finger hovering over the publish button, then pushing it for all the world to see. (Just for fun – exactly 69 people have read my very first post as of writing this – don't worry if you haven't read it – you're not missing anything! Haha – I didn't say much!) If you're like me, you wondered if you really knew what you were doing, if anyone would ever read what you wrote … and maybe you wondered if anything would ever come from this "blogging thing."
My intention
My intention from the beginning was just to have an outlet that was mine … ALL MINE. Something I didn't have to share with my kids – and hopefully, a place where I could find a few like-minded people who loved to cook and bake. Looking back …. I had no idea how important this blog would be to me … how much it would become my "baby" …. how many countless hours I would spend on it writing posts, taking pictures, tweaking the look and feel …. or how many brain cells I would lose from trying to learn this thing called HTML. (I swear I felt them exploding!!) The truth is, as bloggers we put sooooo much time into this. Countless hours. It's not just what you see – but sometimes what you don't see.
Never in a million years, would I have guessed I would have almost 27,500 followers on Facebook, more than 2,600 followers on Twitter, more than 17,000 Pinterest followers and over 450 followers on Instagram! This blows my mind every single day! I probably don't tell y'all often enough how much fun you make my "job." Or how much I appreciate each and every one of you who takes the time to stop by my blog or follow me on social media.
How it started
The truth is, what started out as "something fo rme to do," has become so much more. It has been a blessing to my family financially. It has become my job – and it's one I LOVE doing. I have started to make an actual steady income from this …. although it is not my motivation, it has been a really nice bonus. Of course, I would do this without pay (and I did it without pay for quite a long time LOL – my blogger friends know how hard it is!!) 
I love sharing recipes with y'all, and I love trying new things. I have made some really great friends through blogging – other bloggers and some really awesome fans (I have the best fans btw!) The first two years have been a blast and I look forward to what lies ahead. Thank y'all so much for being a part of this with me! (hugs!!!)
Now – let's check out some cupcakes! 🙂
Delicioso ….. these things are lip-smackingly good!
My bloggy friends are here to help me celebrate with even more cupcakes! If you're a blogger, please feel free to share any cupcakes you have posted! There's something for everyone here!
Other recipes you may enjoy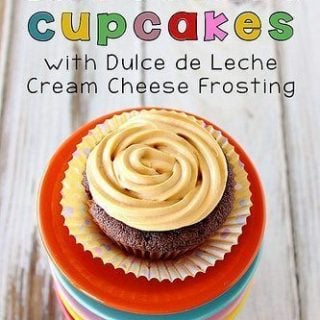 Mexican Chocolate Cupcakes with Dulce de Leche Cream Cheese Frosting
Delicioso ..... these things are lip-smackingly good!
Ingredients
For the cupcakes
3/4 cup hot brewed coffee
1/2 cup unsweetened baking cocoa
3 teaspoons ground cinnamon
2 cups all-purpose flour
1 teaspoon baking powder
3/4 teaspoon salt
1/2 teaspoon baking soda
3/4 cup butter, softened
1 3/4 cup sugar
3 eggs
3/4 cup buttermilk
2 teaspoons vanilla
For the frosting
1 can (13.4 oz.) dulce de leche (caramelized sweetened condensed milk)
1 package (8 oz.) cream cheese, softened
1/2 cup heavy whipping cream
Instructions
Preheat oven to 350°F. Line 24 muffin/cupcake holes with paper liners. Set aside.
In a medium bowl, combine the coffee, cocoa and cinnamon with a wire whisk until smooth. Set aside.
In a separate medium bowl, mix the flour, baking powder, salt and baking soda until well blended; set aside.
In a large bowl, beat the butter and sugar with an electric mixer on HIGH speed until creamy. Add the eggs, one at a time, beating well after each addition. Set the mixture aside.
Add the buttermilk and vanilla to the slightly cooled coffee mixture.
Add half of the flour mixture, then add the coffee mixture, into the butter mixture. Repeat with remaining flour and coffee mixture. Beat on medium speed, scraping the bowl occasionally, until the mixture is well combined. Divide the batter evenly between the paper-lined tins.
Bake for 18-23 minutes or until a toothpick inserted near the center of one of the cupcakes tests clean. Cool in pans for 10 minutes before removing to a wire rack to cool completely.
Meanwhile, in a large bowl, beat the dulce de leche and cream cheese on high speed until well blended and smooth. Scrape down the sides of the bowl. Beat in the whipping cream until stiff peaks form. Top cooled cupcake with frosting.
Serve immediately or refrigerate until serving.
Nutrition Information:
Amount Per Serving:
Calories:

261
Total Fat:

13g
Saturated Fat:

8g
Cholesterol:

57mg
Sodium:

195mg
Fiber:

1g
Sugar:

23g
Protein:

4g
Originally published on February 27, 2014. Updated on April 25, 2021.