This Coca-Cola Cake is a Southern favorite! Full of all your favorite flavors (like chocolate and cola), it's perfect for celebrations or potlucks!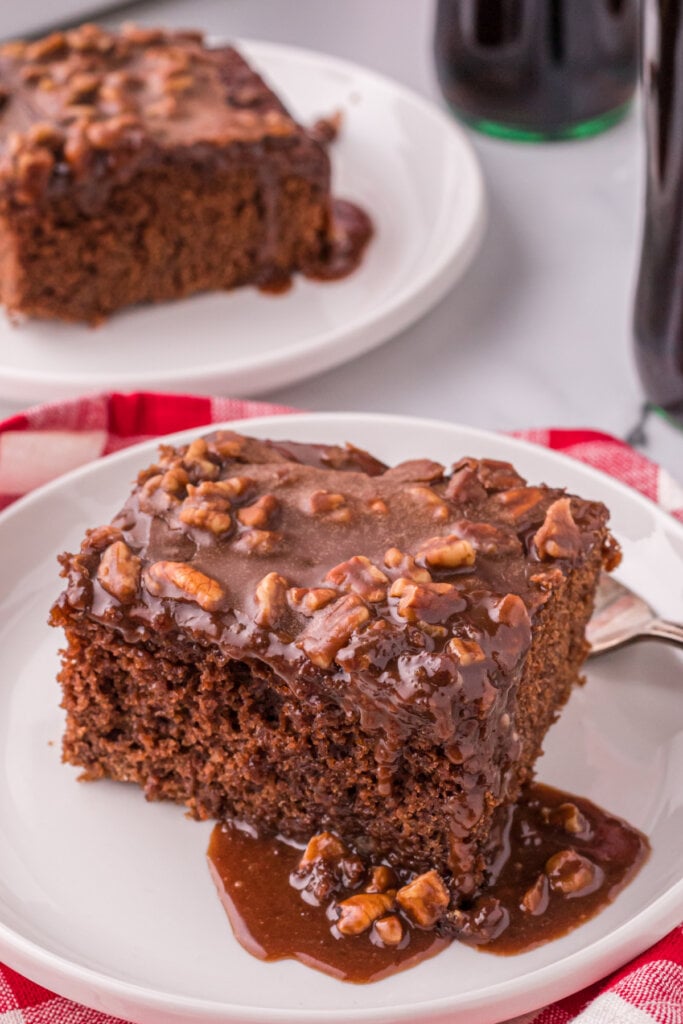 Coca-Cola Chocolate Cake
If you live in the South, I'm almost positive you have not only heard of Coca-Cola Cake but indulged in it a time or two (or ten). If you're from anywhere else, Coca-Cola Cake may be new to you!
This cake is quite popular at potlucks in the South, and every Southerner has an ______ (aunt, mother, grandmother, neighbor, pastor's wife … you get the idea) who makes this wonderfully delicious cake.
To clarify, it's what it says on the tin: a cake made from Coca-Cola, with a bit of chocolate, too. And it's SO, so scrumptious, y'all. It sounds like it'd be too much indulgence, but the flavors pair well together and aren't overwhelmingly sweet.
(Oh, and the frosting? Also, Coke-and-chocolate flavored!!) I'm sure you have figured out by now that homemade frosting is always a favorite of mine! It's perfection. I think I love frosting more than cake sometimes!)
Anyway! We'll be making the cake from scratch in this post but no worries – it's still super easy to put together.
Whether or not you live in the South, plan on making this cake soon! You'll be glad you did! It'll be a hit with family and friends or wherever you share it!
Oh, and don't forget to sneak a spoonful of the frosting while no one is looking … ya know, for quality control purposes! 😉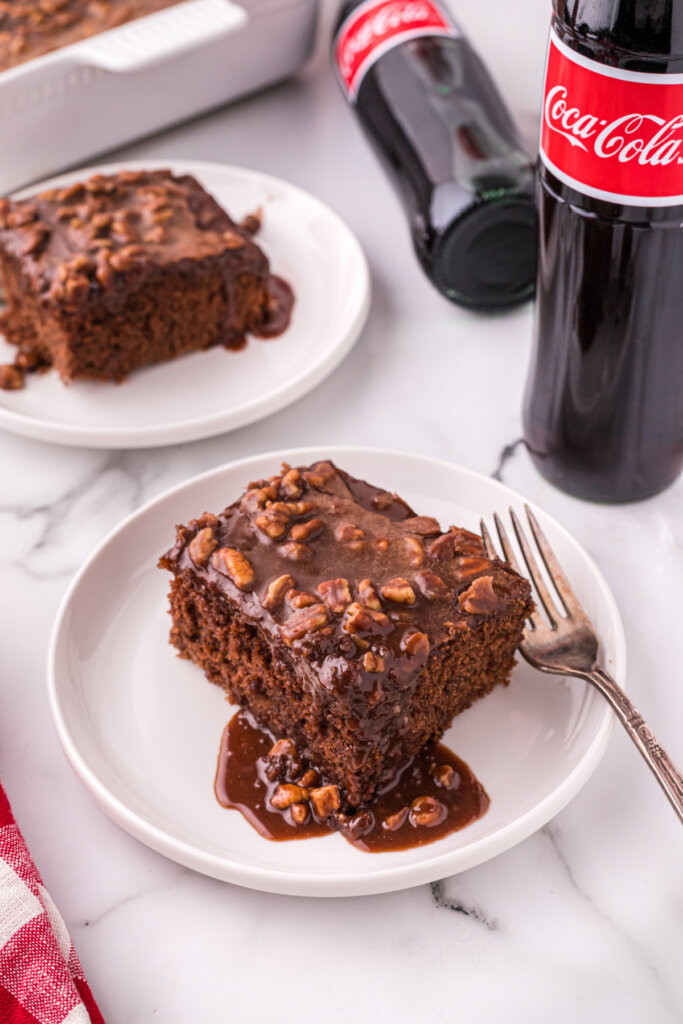 Coca-Cola Cake: Ingredients & Equipment
Never used Coke in cake mix before?! You're in luck! It's super easy, and super tasty, too!! To make this Coca-Cola Chocolate Cake, you'll need …
Ingredients
For the cake
flour, sugar, butter, eggs, baking soda, vanilla extract, buttermilk – I grouped all these because they're very standard baking materials when you make a cake from scratch. Of course, you can also use a boxed cake mix for your cake base!
cola beverage – your favorite brand. You don't have to use Coca-Cola, of course.
unsweetened cocoa powder – for the chocolate flavor that goes into this Coca-Cola cake. Believe it or not, it's not at all overpowering!
mini marshmallows – these provide some texture to your cake (and are tasty, to boot).
For the frosting
butter, confectioner's sugar – the base of many frostings, toppings, and sweet sauces!
chopped pecans – these add crunch to your frosting!
cola beverage and cocoa powder – same with the cake, these provide the Coke-and-chocolate flavor you'll love. (And trust me, you WILL love it. The frosting is so good!!)
Equipment
9×13 baking pan with cooking spray – you'll bake your Coca-Cola cake in this!
saucepan – to heat your chocolate-cola mix.
mixing bowl – to mix the majority of your ingredients and create the batter.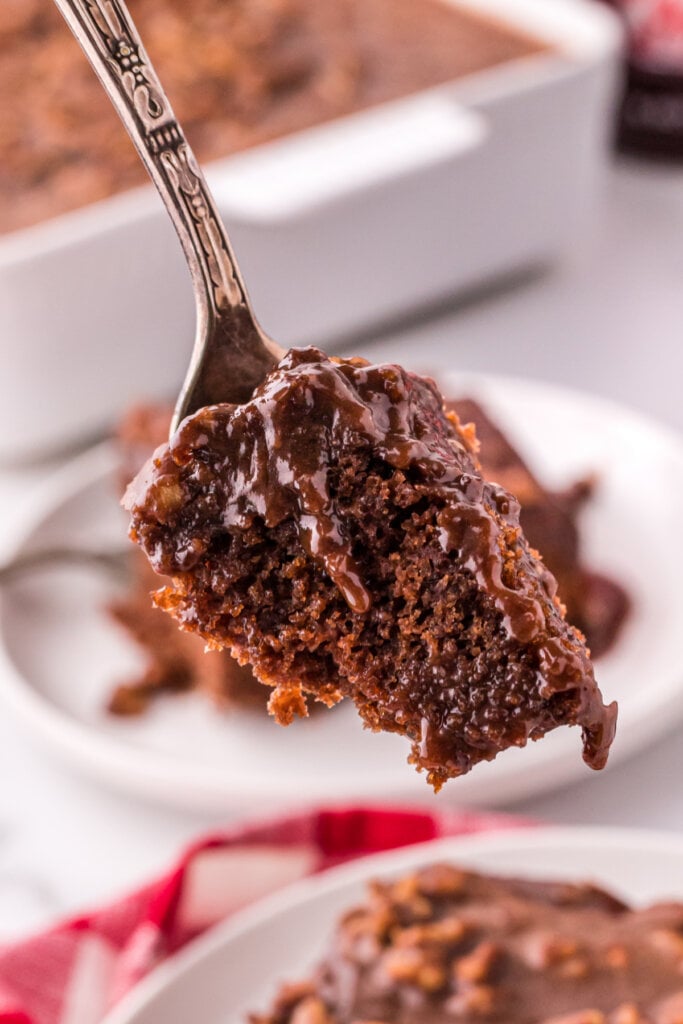 Coca-Cola Cake: FAQs
How long does it take to make Coca-Cola Cake?
You'll need a little less than an hour. Prep only takes about 5 minutes, and baking takes about 40-45.
How much Coca-Cola Cake does this recipe yield?
About 24 slices, give or take. Of course, it depends on how thin your slices are. Overall, it makes a 9×13 cake!
How should I store leftovers?
You can store Coca-Cola Cake at room temperature for about 3-5 days! Keep it covered.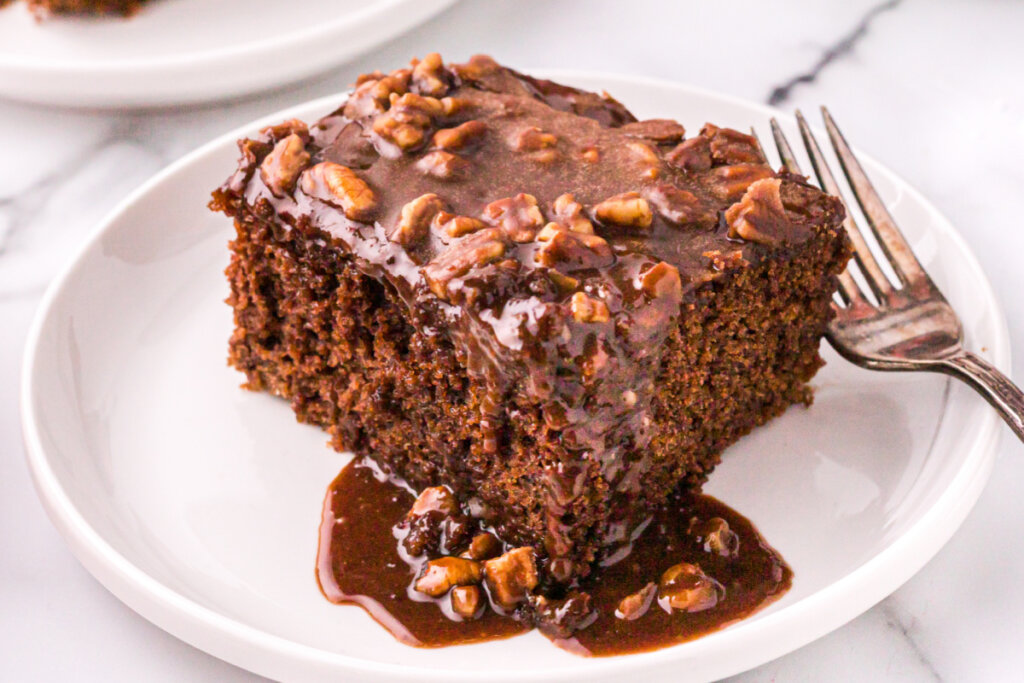 Other recipes you may enjoy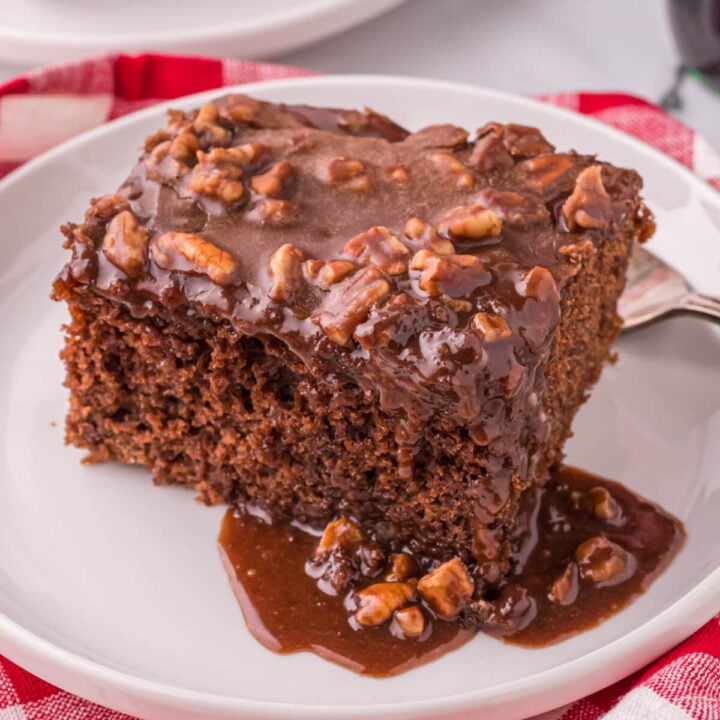 Coca-Cola Cake
This Coca-Cola Cake is a Southern favorite! Full of all your favorite flavors (like chocolate and cola), it's perfect for celebrations or potlucks!
Ingredients
For the cake
2 cups all-purpose flour
2 cups granulated sugar
1 cup butter
3 tablespoons unsweetened cocoa powder
1 cup cola-flavored carbonated beverage
1/2 cup buttermilk
2 large eggs
1 teaspoon baking soda
1 teaspoon vanilla extract
1 -1/2 cups miniature marshmallows
For the frosting
1/2 cup butter
2 tablespoons unsweetened cocoa powder
6 tablespoons cola-flavored carbonated beverage
4 cups confectioners' sugar
1 cup chopped pecans
Instructions
Preheat oven to 350F. Lightly spray a 9x13-inch baking pan with cooking spray and set it aside.
In a medium mixing bowl, combine flour and granulated sugar.
In a small saucepan, heat 1 cup butter, 3 tablespoons cocoa, and 1 cup cola soft drink to boiling and pour over the flour and sugar; mix thoroughly.
Add buttermilk, eggs, baking soda, vanilla, and marshmallows to the flour mixture and mix well.
Pour the cake batter into the prepared baking pan and bake for 40 minutes.
Immediately after the cake is removed from the oven to a cooling rack, prepare the frosting by combining the butter with cocoa, cola soft drink, and heat the mixture to boiling. Add in confectioners' sugar and mix well. Mix in chopped nuts and immediately spread the frosting over the hot cake.
Notes
Store the cake covered at room temperature for up to 3 to 5 days.
Recommended Products
As an Amazon Associate and member of other affiliate programs, I earn from qualifying purchases.
Nutrition Information:
Yield:

24
Serving Size:

1 slice
Amount Per Serving:
Calories:

329
Total Fat:

15g
Saturated Fat:

8g
Trans Fat:

0g
Unsaturated Fat:

7g
Cholesterol:

46mg
Sodium:

161mg
Carbohydrates:

47g
Fiber:

1g
Sugar:

37g
Protein:

3g
Please note that the nutritional information listed on this page is an estimation based on the products I used. Ingredients and nutritional information can vary significantly between brands. Always be sure to read labels. Please verify that a recipe fits your needs before using it. Nutrition info may contain errors, so please verify it independently. Likewise, recipes may contain errors, so please use your common sense when following them.
Originally published on June 23, 2015. Updated On April 11, 2022.