This Coca-Cola Cake is a Southern favorite! It's perfect for celebrations or potlucks!


If you live in the South, I'm almost positive you have not only heard of Coca-Cola Cake, but I'm sure you have indulged in it a time or two. If you're from anywhere else, Coca-Cola Cake may be new to you! It's quite popular at potlucks and every Southerner has an ______ (aunt, mother, grandmother, neighbor, pastor's wife ……. you get the idea) who makes this wonderfully delicious cake!
Since this Coca-Cola Cake starts with a boxed cake mix, it makes it super easy to put together. Unlike many cakes, this cake has a subtle chocolate taste paired with the Coca-Cola … and the frosting? I'm sure you have figured out by now that homemade frosting is always a favorite of mine! It's perfection. I think I love frosting more than cake sometimes! Definitely plan on making this cake soon! You'll be glad you did! Oh, and don't forget to sneak a spoonful of the frosting while no one is looking … ya know, for quality control purposes! Hehe!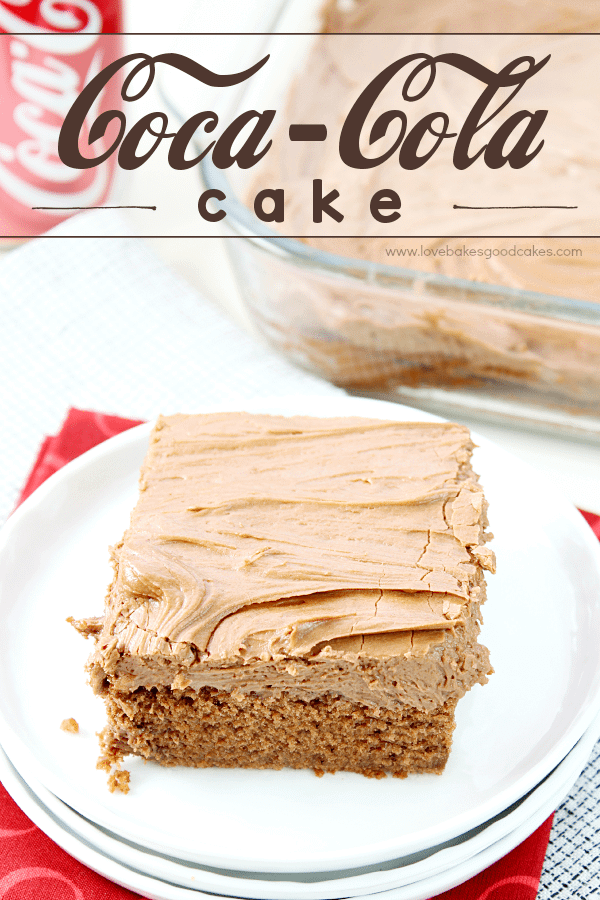 This Coca-Cola Cake is a Southern favorite! It's perfect for celebrations or potlucks!
Ingredients
For the cake
Miracle Pan Release or cooking spray (for the pan)
1 pkg. (16.25-18.25 oz.) plain white cake mix
4 tbsp. unsweetened cocoa powder
1/2 cup (1 stick) butter, melted
1 cup Coca-Cola
1/2 cup buttermilk
2 large eggs
1 tsp. vanilla extract
1 1/2 cup mini marshmallows
For the frosting
1/2 cup (1 stick) butter, softened
4 tbsp. unsweetened cocoa powder
1/3 cup Coca-Cola
4 cups powdered sugar (sifted)
Instructions
Preheat oven to 350°F. Brush a 9x13-inch baking pan with Miracle Pan Release or lightly mist with cooking spray. Set the pan aside.
Place all of the cake ingredients except marshmallows in a large bowl. Combine with an electric mixer on LOW speed until mostly combined. Stop machine and scrape down the sides of the bowl with a rubber spatula. Increase mixer speed to MEDIUM and continue to beat an additional 2 minutes or until well combined. Stir in the marshmallows. Pour the batter into the prepared pan, smoothing out with a rubber spatula.
Bake for 40-42 minutes or until the cake just starts to pull away from the edges of the pan and the cake springs back when lightly touched with a fingertip. Remove cake from oven to wire rack to cool while you prepare the frosting.
Meanwhile, place the butter in a medium saucepan over low heat. After the butter melts, stir in the cocoa powder and Coca-Cola. Bring the mixture just to a boil, stirring constantly. Remove from the heat and quickly stir in the powdered sugar. Stir until the frosting is smooth.
Pour the frosting over the prepared cake, spreading it evenly over the top. Let cake cool 20-30 minutes before serving.
Notes
Store covered at room temperature for up to 3 to 5 days
Nutrition Information:
Amount Per Serving:
Calories:

260
Total Fat:

11g
Saturated Fat:

5g
Cholesterol:

36mg
Sodium:

156mg
Fiber:

1g
Sugar:

34g
Protein:

2g
What is your favorite dish to take to a potluck? I'd love for you to tell me in the comments!
Other Posts You May Enjoy: