Pesto Chicken and Gnocchi Soup
Happy Thanksgiving, y'all 🙂 I hope everyone is getting to spend time with their loved ones today! Be blessed ♥
Today's recipe combines some of my family's favorite ingredients – pesto sauce, chicken and gnocchi! I have tried a few different versions of this soup, but this one remains my favorite. It's easy, delicious and full of flavor!
I like to double the recipe so we can have leftovers for lunch during the week. I personally would suggest, if you will have more soup than you will eat at one meal, to add the gnocchi to the bowls individually and ladle the soup over the top. Store the remaining soup and gnocchi separately. I think the gnocchi gets kinda funky if you let it play in the soup for too long. If the texture doesn't bother you, by all means, let 'em mingle together in the fridge! By the way, I'm the same way with pasta in my soup – I usually add it to the bowls individually if I know there will be leftovers. It's just my personal preference, but feel free to do what you like and what is best for your family and their needs.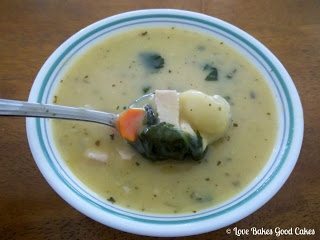 Pesto Chicken and Gnocchi Soup
Yield: 6-8 servings
2 tbsp. butter
2 carrots, peeled and chopped
1 rib of celery, chopped
1 small onion, chopped
1 clove garlic, minced
¼ cup all-purpose flour
1 carton (32 oz.) chicken broth
1 can (10¾ oz.) condensed cream of chicken soup, undiluted
1- 1½ lb. cooked chicken, chopped
1 pkg. (16 oz.) gnocchi
1 cup packed spinach, chopped
1-2 tbsp. pesto sauce or to taste
Melt butter in a soup pot. Add the carrots, celery and onion. Saute 4-5 minutes or until the vegetables start to soften. Add the garlic. Continue to saute another 1-2 minutes. Stir in the flour. Stir in the chicken broth and cream of chicken soup. Heat over medium-high heat until the mixture comes to a boil; reduce heat and allow to simmer for 20-25 minutes. Meanwhile, cook the gnocchi according to package directions and drain. Add the chicken and spinach to the soup. Continue to cook until the chicken is heated through and the spinach starts to wilt. Stir in pesto sauce and gnocchi. Serve hot.
I hope you enjoy!

Shared at these
fun parties!
Featured at Bizzy Bakes

Don't forget to like, share and comment ♥


Copyright © Love Bakes Good Cakes 2012 All Rights Reserved