This quick Apple Zucchini Bread is yeastless and full of fall flavors like cinnamon and apple. It only requires 15 minutes of prep time and results in a moist family-friendly loaf of sweetness!
This post may contain affiliate links. As an amazon associate, I earn from qualifying purchases. See my full Disclosure Policy for details.
Apple Zucchini Bread
I absolutely love zucchini bread! It's my favorite zucchini recipe, probably. It's easy just to throw together in a matter of minutes, y'all. You bake it in the oven and have a fresh slice right when it comes out, and don't forget that slice of butter on top. Yum!
Today though, I added a little fall twist to zucchini bread by adding in apples! I also replaced some of the oil in the "traditional recipe" with applesauce, and it is still just as moist. The result? Apple zucchini bread, one of the best autumn treats ever!
You may think that apple plus zucchini is a weird mix, but it's, well, scrumptious! I can't even explain it with any other word besides that. It's so so good! And my kids' review? They loved this, even though it's full of fruits and veggies. In fact, it was great for a snack after school or even for breakfast, or even as French toast. I hope you enjoy it as much as we did!
Apple Zucchini Bread: Ingredients & Equipment
For this Apple Zucchini Bread recipe, you'll need …
Ingredients
bread flour – you can also use all-purpose for this recipe. Flour lends any bread or baked good its texture.
baking powder, baking soda – instead of yeast, this quick bread uses baking powder and soda, which will "fluff" up the bread and give it a light airiness.
eggs – in any baked recipe, eggs bind the ingredients together.
sugar – for sweetness.
vanilla, salt – these two ingredients bring out the flavors of everything else when included in a baked recipe, even if you're not going for something salty or vanilla-flavored!
cinnamon – for a dash of that DELICIOUS earthy flavor!!
applesauce, squash, chopped apples – these provide your bread with the taste of fall! Just remember that chunks of the apples especially will remain after baking.
oil – this is a moist bread, and oil helps it stay that way.
nuts – optional, if you want more crunch in your bread. Use any you like!
Equipment
bread loaf pans – this is all you'll need to make tasty, tasty apple zucchini bread.
How to make Apple Zucchini Bread
First, prep your supplies. Preheat oven to 350F and grease 3 bread loaf pans.
Next, make your batter. Mix all ingredients together. Pour them into the bread pans.
Finally, bake and enjoy! Bake at 350F for 45 minutes to 1 hour. (The time may vary depending on your oven! Be sure to insert a toothpick in the center of the loaf to make sure the bread is done.)
Apple Zucchini Bread: FAQs
How much bread does this recipe make?
About 2-3 loaves, depending on how many loaf pans you use/need.
How long does it take to make apple zucchini bread?
The prep time is 15 minutes, and the cook time is about an hour.
What kind of apples are best for this recipe?
I tend to find the most success with Honeycrisp, personally! Just remember to core, peel, and chop them.
Should I use fresh or frozen squash?
Either one! I've used both and couldn't really tell the difference both times.
Slow Cooker Chicken and Sausage Gumbo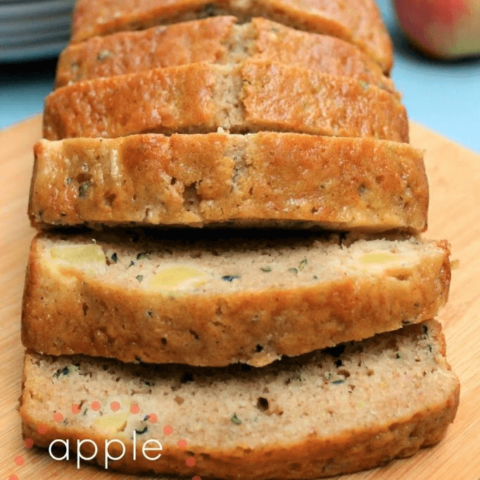 Apple Zucchini Bread
Total Time:
1 hour
15 minutes
This Apple ZucchiniBread is the perfect fall loaf of bread.
Ingredients
3 eggs
2 cups sugar
1/2 cup oil
1/2 cup apple sauce
4 cups fresh / 2 cups frozen squash
2 apples, cored, peeled and chopped, I used Honeycrisp
2 teaspoon vanilla
3 cups + 3 tablespoons bread flour (you can use all-purpose too)
1 1/2 teaspoon cinnamon
1/2 teaspoon baking powder
1 teaspoon salt
1 teaspoon baking soda
1 cup nuts (optional)
Instructions
Preheat oven to 350; grease 3 bread loaf pans.
Mix all ingredients together; pour into 2-3 bread pans, just depends on the size of pans you use.
Bake at 350 for 45 minutes to 1 hour. Time may vary depending on oven; insert toothpick in the center of the loaf to make sure bread is done.
Nutrition Information:
Amount Per Serving:
Calories:

2386
Total Fat:

65g
Saturated Fat:

7g
Cholesterol:

240mg
Sodium:

1993mg
Fiber:

16g
Sugar:

226g
Protein:

37g