Nothing hits quite like Pumpkin Bread as the months grow colder! Don't buy it from the store; use this simple recipe for baking it homemade instead.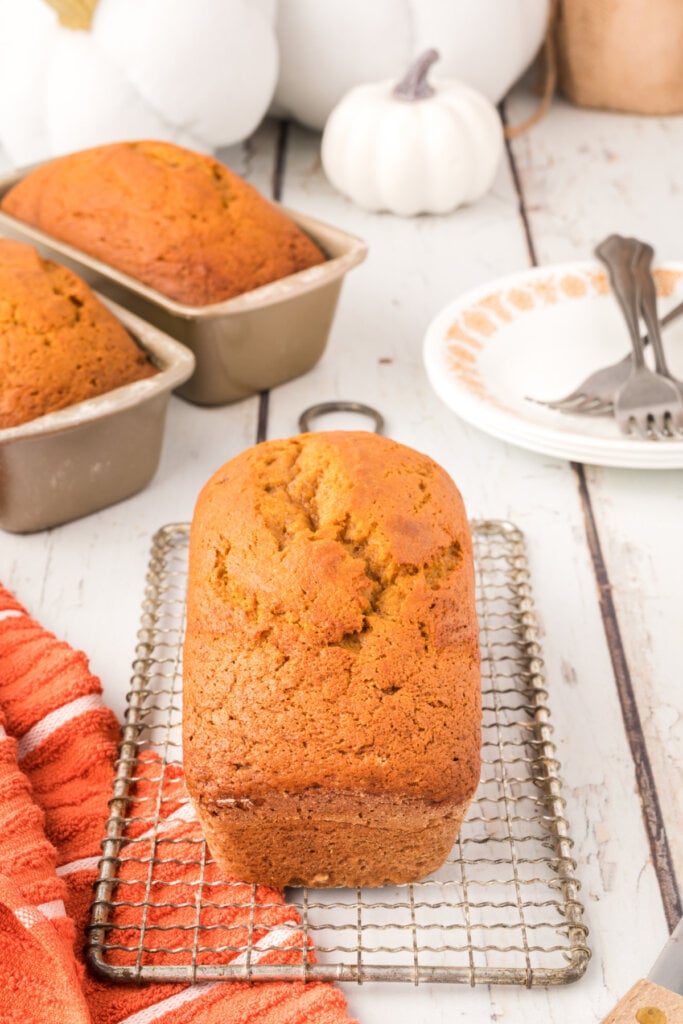 Pumpkin Bread Recipes
As of writing, it's almost August, but I'm already thinking of autumn-time! Isn't that life, though?! We're always hoping for winter when it's summer and summer when it's winter.
Because I'm looking forward to orange leaves while sweating, I'm prepping all the fall recipes I want to serve to my loved ones, too. Recipes I haven't dug out in a while!
For instance: this absolutely fabulous pumpkin bread. Y'all, it's SO moist and flavorful. It's got all your favorite pumpkin flavors wrapped in one, and you can adjust the level of your autumn spices, too. You'll never feel like you used too little nutmeg or too much cinnamon.
This is a classic fall-time treat that pretty much everyone loves! I hope you enjoy it as much as my family does!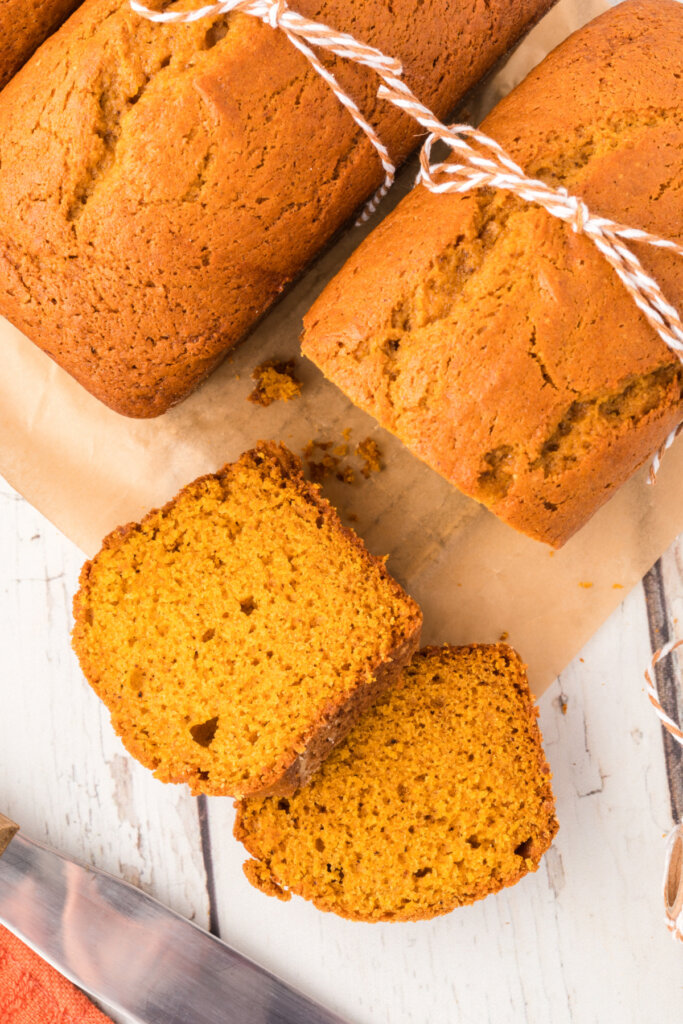 Recipe for Pumpkin Bread: Ingredients & Equipment
For this Pumpkin Bread recipe, you'll need …
Ingredients
pumpkin puree – not pumpkin pie mix! We'll be adding the spices ourselves.
eggs, water, vegetable oil, vanilla extract, butter – our standard "wet" baking supplies. If you've baked anything before, these are all familiar to you, I'm sure!!
all-purpose flour, granulated sugar, light brown sugar, baking soda, and salt – our "dry" baking supplies. Once again, I'm grouping these all together because they're not unusual for baked goods.
cinnamon, nutmeg, cloves, and ginger – the spices we'll use to give pumpkin bread its flavor. Very autumn-y! If you want a more flavorful loaf, double the amount of spices I suggest.
Equipment
7×3 inch loaf pans – greased and floured.
mixing bowls – large ones for your wet and dry ingredients.
spoon/spatula or hand mixer – for combining the above ingredients.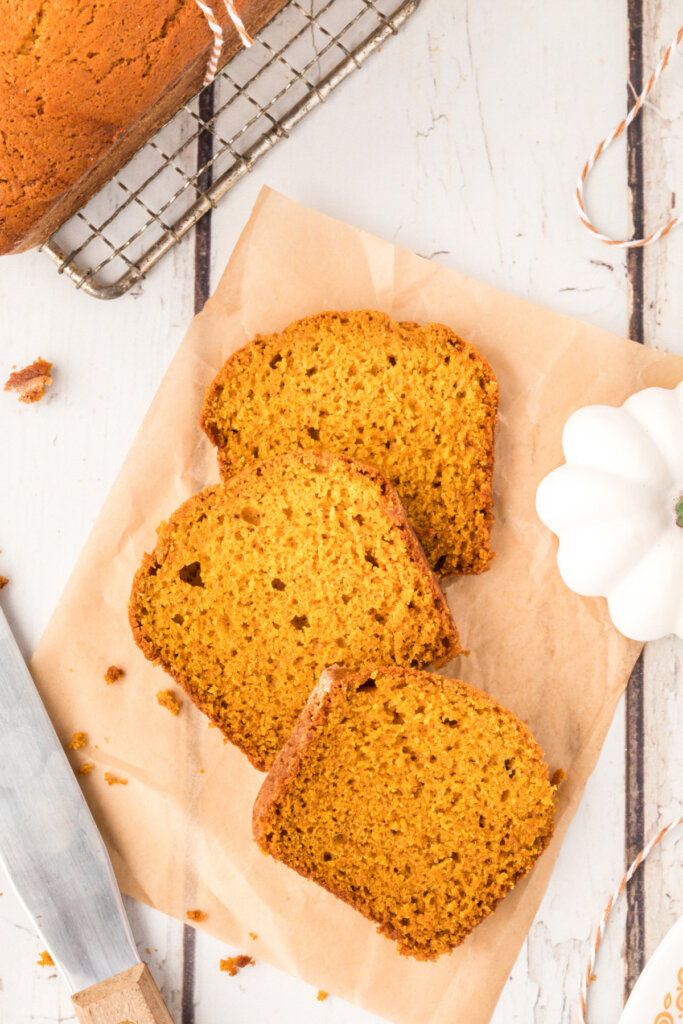 Pumpkin Bread Recipe: FAQs
How long does it take to make Pumpkin Loaf?
About 15 minutes to prep the ingredients and 50 minutes to bake them.
How many servings does this Pumpkin Bread recipe make?
It should make 24 servings, give or take, depending on how you slice the bread.
Can I use a different-sized pan or a muffin tin?
Yes, but remember you'll have to adjust the baking time!! Using a toothpick in the center of the Pumpkin Loaf to check its "doneness" is crucial here. If the toothpick comes out clean, it's done!
How can I keep my Pumpkin Bread moist when I'm storing it?
To keep your Pumpkin Bread moist, wrap it up in some foil or plastic wrap and then store it in an airtight container. Pumpkin Bread should keep at room temperature for up to 2 days. On the other hand, if you'd like to keep your loaf of Pumpkin Bread for longer, you can place it in the refrigerator for up to a week or freeze it for 2-3 months.
What's the best way to freeze Pumpkin Bread?
Wrap it tightly in two layers of plastic wrap or aluminum foil. You can also keep the wrapped Pumpkin Bread in a zip-top freezer bag, squeezing out all of the air from the bag first.
How do I thaw frozen Pumpkin Bread?
To thaw your Pumpkin Loaf, remove the outer protective layer you used to freeze it or remove it from the freezer bag you put it in. Then place it on a wire cooling rack before loosely opening the innermost foil or paper layer. After that, just let the bread stand at room temperature for about 2-3 hours. 

Believe it or not, weird as it sounds, unwrapping your bread layer by layer is important if you don't want soggy, icky bread after it thaws!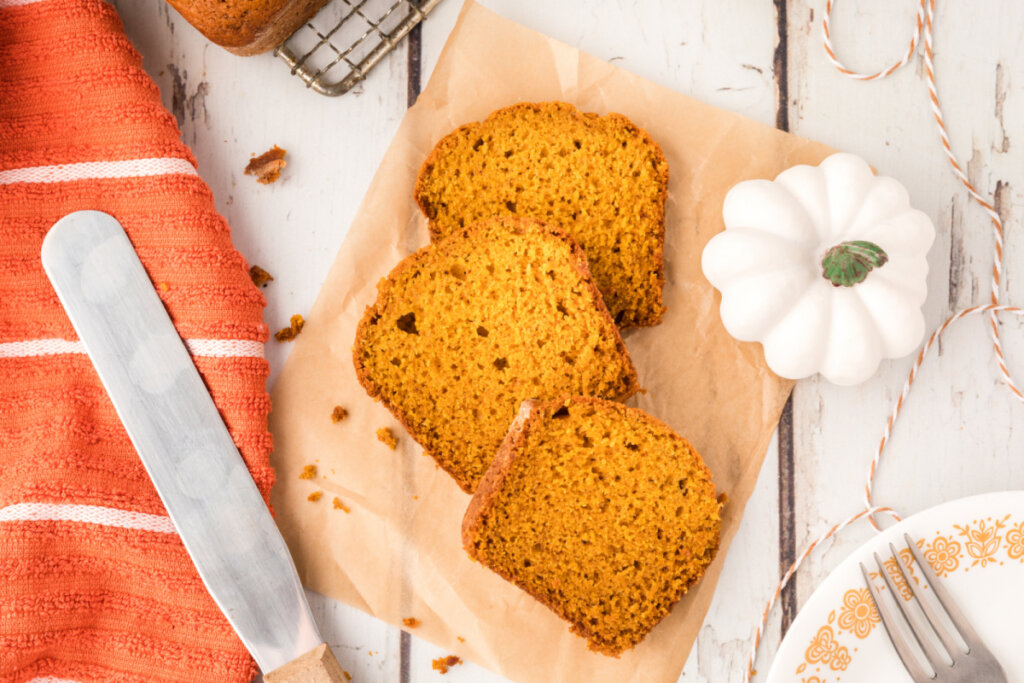 Other recipes you may enjoy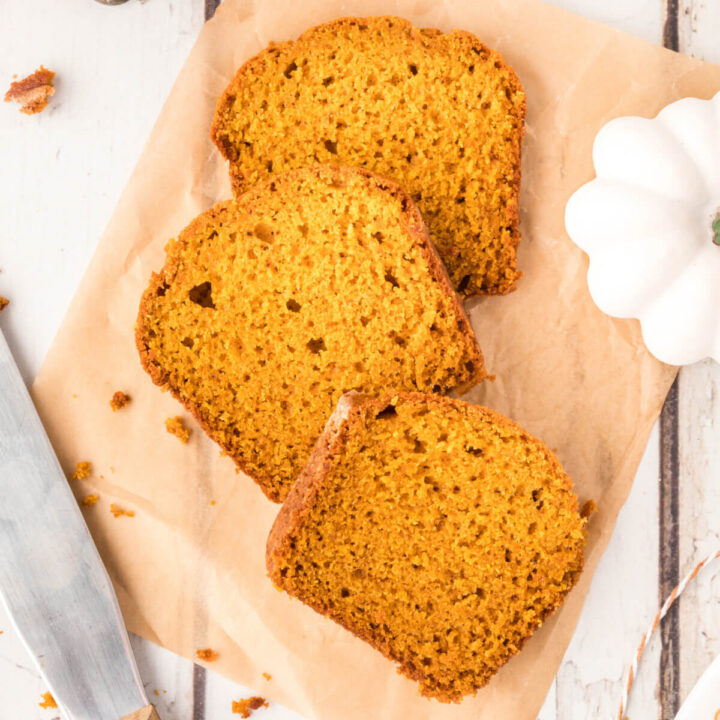 Pumpkin Bread
Nothing hits quite like Pumpkin Bread as the months grow colder! Don't buy it from the store; use this simple recipe for baking it homemade instead.
Ingredients
1 can (15 oz.) pumpkin puree (not pumpkin pie mix)
4 large eggs
2/3 cup water
1/2 cup vegetable oil
1/2 cup (1 stick) unsalted butter, melted and cooled
1 teaspoon vanilla extract
3-1/2 cups all-purpose flour
2 cups granulated sugar
1 cup light brown sugar, packed
2 teaspoons baking soda
1-1/2 teaspoons salt
1 teaspoon ground cinnamon
1 teaspoon ground nutmeg
1/2 teaspoon ground cloves
1/4 teaspoon ground ginger
Instructions
Preheat the oven to 350F. Grease and flour three 7x3-inch loaf pans and set them aside.
In a large mixing bowl, combine the pumpkin, eggs, water, oil, butter, and extract with a spoon/spatula or a hand mixer until well combined.
In a separate large mixing bowl, whisk together the flour, granulated sugar, brown sugar, baking soda, salt, cinnamon, nutmeg, cloves, and ginger.
Stir the dry ingredients into the pumpkin mixture until just blended. Divide the batter evenly between the three pans, smoothing the top.
Bake for 50 minutes or until a toothpick inserted near the center of the loaf comes out clean.
Allow the bread to cool in the pan for 25-30 minutes before carefully transferring the loaves to a wire rack to cool completely.
Notes
For a more flavorful loaf, double the spices!
For a glazed loaf, poke holes in the top of your loaves (while still in the pan and hot from the oven) with a toothpick and mix, then pour this glaze mixture over the top and into the holes - 1 cup powdered sugar, 2 tablespoons melted butter, 5 teaspoons milk, 1/8 teaspoon vanilla extract, 1/8 teaspoon ground cinnamon, and 1/8 teaspoon ground allspice.
You can use different size pans or muffin tins as needed, being sure to adjust the baking time for the pan. A larger 9x5-inch baking pan will need a little more time to bake (about an hour to one hour fifteen minutes), while a muffin tin will need considerably less time (about 18-24 minutes total time). Be sure to use a toothpick to check the center of the loaf or muffin to ensure it comes out clean and is baked all of the way through.
Nutrition Information:
Yield:

24
Serving Size:

1 slice
Amount Per Serving:
Calories:

187
Total Fat:

6g
Saturated Fat:

1g
Trans Fat:

0g
Unsaturated Fat:

5g
Cholesterol:

32mg
Sodium:

298mg
Carbohydrates:

32g
Fiber:

0g
Sugar:

24g
Protein:

2g
Please note that the nutritional information listed on this page is an estimation based on the products I used. Ingredients and nutritional information can vary significantly between brands. Always be sure to read labels. Please verify that a recipe fits your needs before using it. Nutrition info may contain errors, so please verify it independently. Likewise, recipes may contain errors, so please use your common sense when following them.