I really like this Pork & Zucchini Pasta Ragu. Maybe because it's an Italian dish. It tastes fantastic, and it's easy to make. It's all good!
This post may contain affiliate links. As an amazon associate, I earn from qualifying purchases. See my full Disclosure Policy for details.
Pork & Zucchini Pasta Ragu
I don't know about your family, but Italian food and pasta, ranks pretty high on my family's list of favorite foods. Brian would probably say it is his favorite! Although we could eat our fair share of spaghetti or lasagna or baked ziti or whatever, sometimes, I like something just a little bit different. This Pork & Zucchini Pasta Ragu is a quick and simple family meal that's sure to please!
I know I'm a little late getting this post out today …. it's been one of "those" weeks. Nothing seems to be going right, there's a hundred million things to do and never enough time. Don't ya hate days like that?!
School will be starting here in Arizona next week, and truthfully, I am more than ready, not because my kids will be gone (we homeschool) but because we need the structured environment that lacks in the summer. Anyone who knows me will tell you I have tons of lists and I am a very, very organized person – in a very OCD sort of way. Some of our structured life gets pushed to the wayside in lieu of summer fun and lazy days …. just like most families. I think the lack of structure makes me feel like a dog chasing his tail – and at least for me, it's fun for a little while but I just can't do it long term. I find my kiddos wanting the structure too.
Anyways, the only reason that stuff is remotely important is because we all know that with back-to-school, comes the need for quick and easy meal ideas. If you're looking for something a little different that won't keep you stuck in the kitchen, be sure to give this Pork & Zucchini Pasta Ragu a try! Enjoy!
Other recipes you may enjoy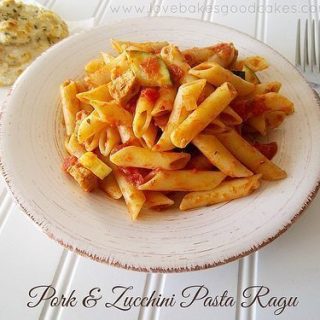 Pork and Zucchini Pasta Ragu
Ingredients
1 pound penne
1 tablespoon olive oil
1 to 1-1/2 pounds ground pork
1 small onion, chopped
1 can (29 oz.) stewed tomatoes
1 can (16 oz.) tomato sauce
2 teaspoons Italian seasoning
2 medium zucchini, cut half lengthwise and then into 1/4-inch slices
Parmesan cheese, for serving (optional)
Instructions
Cook pasta according to the package directions
Meanwhile, in a large skillet, add the oil. Cook and crumble the pork with the onion over medium heat until the pork is no longer pink.
Add the tomatoes, tomato sauce, and Italian seasoning. Bring to a boil, and reduce heat. Cover and cook for 7 minutes.
Drain the pasta and add to the skillet. Stir in the zucchini and cook for 3-5 minutes or until the zucchini is tender-crisp.
Serve immediately with Parmesan cheese, if desired.
Notes
1 to 1-1/2 lbs. of boneless pork chops, cut into bite-sized cubes, can be used in place of the ground pork.
Nutrition Information:
Amount Per Serving:
Calories:

514
Total Fat:

12g
Saturated Fat:

2g
Cholesterol:

60mg
Sodium:

571mg
Fiber:

7g
Sugar:

10g
Protein:

33g
Originally published on July 31, 2013. Updated on April 23, 2021.