Spicy Maple Chicken Wings are a Great Grilling Idea or Easy Party Food! These are perfect for game day, or party. Easy to make!
Spicy Maple Chicken Wings are a Great Grilling Idea or Easy Party Food!
With only three ingredients, these Spicy Maple Chicken Wings are a Great Grilling Idea or Easy Party Food! With upcoming graduations, family barbecues and summer picnics, we all need easy party food and great grilling ideas! Tyson Grillin' Wings and Country Time Lemonade are the perfect combo to get you party or picnic off to a great (and easy!!) start! #ad #whatsgrillin #CollectiveBias
My oldest son, Elijah, is graduating from high school in less than a month. As a mom, you may know how bittersweet it is. But, as parents, we try to give our children everything they need to be successful in life …. and we hope and pray that we're doing it right. As a mom, I have been so proud of Elijah and his accomplishments – and watching him grow into a man. I remember times when I thought this time would never come … and truthfully, it sneaks up way faster than we realize. He has plans to go off to boot camp and serve our great country, and as a mom, I am bursting with pride ….. but I am also tinged with a bit of heartbreak. He's the oldest …. so this will be the first time I will watch one of my children "not need me" anymore.
How time flies
I remember watching him go off to kindergarten. I remember his excitement and I remember thinking, "how's he going to do this without me?" He waved good-bye and went on to school – he had this. As I looked around the parking lot, I could see other moms who were letting their babies go for the first time too …. the tears gave us away. As his graduation approaches, I have those same feelings ….. "how's he going to make it without me?" Don't get me wrong, he's fully capable of taking care of himself, and I believe Brian and I have prepared him for the world … but it's hard letting go and trusting that they will be ok.
Since Elijah's graduating very soon, I have been planning a celebration for him! Nothing too big or over the top, but I want him to know that the people who love him are proud of him and are supportive of his next chapter in life. Celebrations call for food …. copious amounts of food! When your mom is a food blogger, you can bet it will be written about online! 🙂 One of Elijah's favorite foods is chicken wings. Not to mention, wings are a great party food and since it's grilling season, what could be better?!
Tyson Grillin' Wings
I heard that Sam's Club carries Tyson Grillin' Wings – and when I also heard that they cook up in less than 12 minutes, I knew I needed to have a trial run before the graduation party! I found the wings if the frozen food section near the other frozen chicken products. Since Elijah likes spicy/sweet type sauces, I wanted to make a sauce he would love! I had a bottle of pure maple syrup in the pantry and I wanted to use that as the base of my sauce. Cayenne pepper was an easy choice for the heat. I ended up using about 1½ tsp of cayenne powder for our wings (since we have little kiddos who eat with us!) – and that was perfect for our family. There wasn't so much heat that it burned, but it wasn't so mild that the heat lovers felt cheated. If you are more sensitive to spice, you may want to only use a teaspoon of cayenne pepper – if you like spice, go ahead and take it up to two teaspoons (or more if you dare).
Y'all, let me tell you – these wings are addictive and good!! The Tyson Grillin' Wings cook up quick and easy on the grill (less than 12 minutes, y'all!) and the sauce is amazeballs with it's thick, sweet and spicy goodness! I think I'll need a few batches of these wings for the party! Yum, yum!
Never miss out on Tyson news, recipes or special offers:
Follow them on Twitter or Facebook!
Here's one last look at those wings …. be sure to add them to your summer party menu, you'll be glad you did! 🙂
Other recipes you may enjoy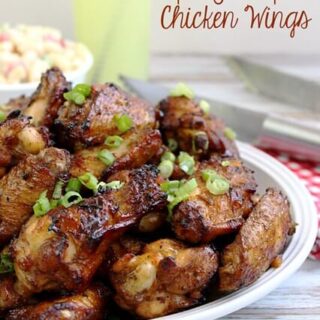 Spicy Maple Chicken Wings
Tyson Grillin' Wings and Country Time Lemonade are the perfect combo to get you party or picnic off to a great (and easy!!) start!
Ingredients
1 cup pure maple syrup
1-2 teaspoons ground cayenne pepper, depending on your preferred spice level
1 bag (3.75 lbs.) Tyson Grillin' Wings
3 green onions, sliced (optional garnish)
Instructions
In a small saucepan, combine the maple syrup and cayenne pepper. Heat over medium heat until the maple syrup is reduced between half and three-quarters. The maple syrup should appear very thick. Set aside.
While the syrup is reducing, cook the Tyson Grillin' Wings according to package directions. Once the chicken is cooked, remove it to a large bowl. Pour the maple sauce over the top and carefully toss (or use tongs to gently stir) until all of the chicken pieces are well coated with the sauce. Place on serving plate or basket. Garnish with green onion, if desired.
Nutrition Information:
Amount Per Serving:
Calories:

276
Total Fat:

0g
Saturated Fat:

0g
Cholesterol:

0mg
Sodium:

13mg
Fiber:

0g
Sugar:

64g
Protein:

0g
Originally published on April 28, 2014. Updated on April 27, 2021.