Would you believe there was a time when I would not eat potato soup at all?! I would sit defiantly at the dinner table and refuse to eat it. My parents would threaten me with "having it for breakfast" ... in which case, I usually responded by reluctantly eating it ..... without chewing - just swallowing and a lot to drink! The thing is, I don't know what it was about it that made me not like it ...... I just didn't like it.
Long gone are those days. :) I actually look forward to the cooler weather just for a warm, comforting bowl of soup .... and yes, even potato soup! We usually eat it 2 or 3 times during the cooler months. I even have a few different variations of potato soup! I hope you enjoy!
Loaded Baked Potato Soup
3 cups vegetable or chicken stock
6-8 large potatoes, scrubbed and cubed
Salt and pepper, to taste
3 cups heavy whipping cream
3 cups Sharp Cheddar cheese, shredded
Toppings: Sour Cream, Green Onions, optional
Fry bacon in a soup pot until crisp. Remove the bacon to paper towels to drain. In the bacon grease, cook the onions and celery over medium-high heat until the onions are translucent. Add the garlic and cook for an additional minute. Whisk in the flour. Continue to whisk until the flour in fully incorporated and the mixture thickens slightly. Add the vegetable stock gradually and continue to whisk until fully incorporated. Add the potatoes, salt and pepper. Bring the soup to a simmer over medium-high heat and cook 25-30 minutes or until the potatoes are soft. Add the whipping cream and heat through. Just before serving, add half of the bacon and 2 cups of cheese to the soup. Stir until the cheese melts completely. Serve with remaining bacon, cheese, sour cream and green onions on top.
I hope you enjoy! Shared at these fun parties!
Featured at Couponing and Cooking, High Heels and Grills and Crumbs and Chaos
Don't forget to share and comment ♥
Where you can find me: Facebook / Twitter / Pinterest / Google+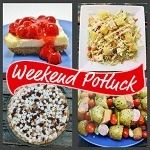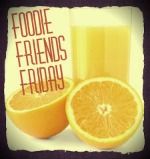 Copyright © Love Bakes Good Cakes 2012 All Rights Reserved