This post may contain affiliate links. As an amazon associate, I earn from qualifying purchases. See my full Disclosure Policy for details.
Beefy Jalapeno Corn Bake
No new recipe today! Instead, I am sharing an updated picture of my Beefy Jalapeno Corn Bake. It's amazing what a difference a year makes!
Truth be told, when I first started blogging, I had no idea what I was doing. Sometimes, I still don't know – but, that's another story. 🙂 I have learned a whole lot in the last year and a half … and I am sure there is still so much to learn (Hello, figuring out exactly what SEO is and how to optimize it – what?!?)
On top of the blog stuff, I'm still trying to figure out the whole photography thing. What works, what doesn't work …. lighting, mood, editing, etc …. It's almost like speaking a foreign language to me. This blog is a work in progress …. because that sounds better than it being called a hot mess.
I will eventually be going back through my old posts and replacing all of my cruddy pictures with ones that I hope, look better and more appetizing! I would love for you to stop by and check out my old post for Beefy Jalapeno Corn Bake – with the updated picture! 🙂
Other recipes you may enjoy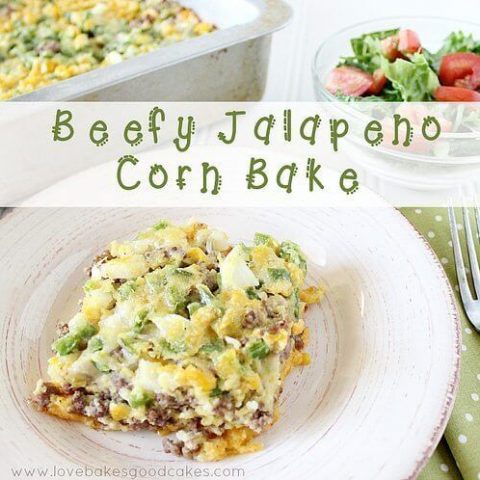 Beefy Jalapeno Corn Bake
Total Time:
1 hour
20 minutes
This Beefy Jalapeno Corn Bake has been in our family's handy dandy "Keeper" binder forever. It's easy to make and there is plenty to feed our family of 7! I have to admit, I have even enjoyed the leftovers for breakfast!
Ingredients
1 pound lean ground beef
2 eggs
1 can (14 oz) cream-style corn
1 cup milk
1/2 cup vegetable oil
1 cup cornmeal
3 tablespoons all-purpose flour
1 1/2 teaspoons baking powder
3/4 teaspoon salt
4 cups (16 oz.) shredded Cheddar cheese, divided
1 medium onion, chopped
4 jalapeno peppers, seeded and chopped
Instructions
Preheat oven to 350° F. Grease a 13x9x2-inch baking pan and set aside.
Meanwhile, cook and crumble the beef until no longer pink. Drain and set aside.
In a bowl, beat eggs, corn, milk and oil. Add cornmeal, flour, baking powder and salt. Mix well. Pour half of the batter into the prepared pan. Sprinkle with 2 cups of cheese. Top with beef, onions and jalapenos. Sprinkle with remaining cheese. Pour the remaining batter over the top. Use the back of a spoon to spread the batter all the way to the edges.
Bake, uncovered, for 55-60 minutes or until a toothpick inserted near the center tests clean.
Serve hot.
Nutrition Information:
Amount Per Serving:
Calories:

528
Total Fat:

38g
Saturated Fat:

14g
Cholesterol:

113mg
Sodium:

505mg
Fiber:

1g
Sugar:

3g
Protein:

23g
Originally published on September 7, 2013. Updated on April 24, 2021.