You can put this Tomato Soup Salad Dressing together in no time with just a few common pantry ingredients!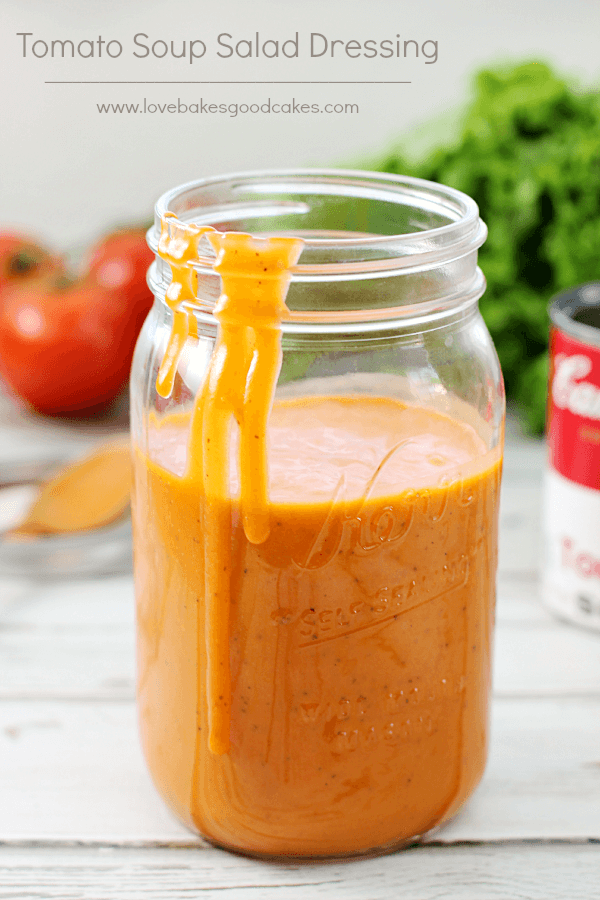 This post may contain affiliate links. As an amazon associate, I earn from qualifying purchases. See my full Disclosure Policy for details.
Tomato Soup Salad Dressing
You may have noticed this summer that I was on a little bit of a salad kick. I love how versatile and easy they are – and more importantly, that they kept my house cool in the scorching hot Arizona sun. I don't know if I will ever get used to having so much sunshine all of the time!! Seriously – there is sooooo much!! It's not a bad thing, I actually like it – however, my readhead skin does not!
Having so many salads also means having an array of salad dressings. While I sometimes buy the store-bought stuff, I usually prefer a homemade version. And seriously, salad dressing is one of the easiest things to make, so why not?! It's as easy as throwing everything into a blender and pushing a button. It doesn't get any easier than that!!
Although this Tomato Soup Salad Dressing might sound kinda weird, let me tell you, it will probably remind you of French Dressing. It's very similar in taste – but I think the homemade stuff tastes better and has more flavor! This is one of those "retro recipes" (retro: you know the kind, old but good) that I got from my grandma! We enjoy this Tomato Soup Salad Dressing with a simple side salad at dinner, but I think it would be fabulous on most any salad!
Making the dressing
I should note that I'm also getting together with some of my bloggy friends – and not only are they sharing their salad dressing recipes (links below) …. but one lucky reader will win a Blendtec Blender!! How awesome is that? Note, I may just be a little jealous, too! This prize is worth about $750, y'all.
(Value at the time of this post). Not even kidding!! So be sure to read all the way to the end and enter for a chance to win!
And just in case you would like to see the Blendtec for yourself … or hey, if you have the moolah …..
BEST 5 MINUTE BLENDER SALAD DRESSING RECIPES









BLENTEC GIVEAWAY
Disclaimer: Giveaway runs from August 23rd-midnight to August 30th. Open to US and Canada residents only. Must be 18 to apply.
Other Posts You May Enjoy:
Jacked Up Monterey Chicken Salad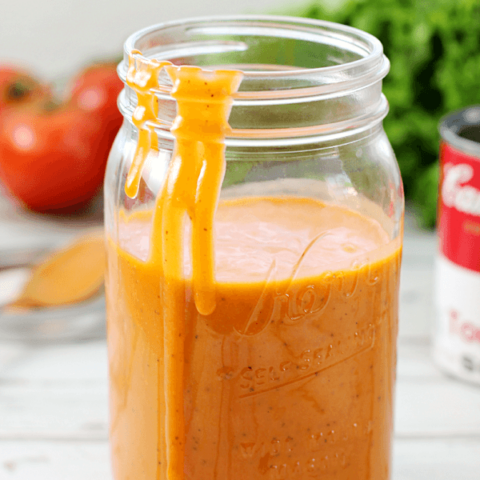 Tomato Soup Salad Dressing
You can put this Tomato Soup Salad Dressing together in no time with just a few common pantry ingredients!
Ingredients
1 can (10.75 oz.) condensed tomato soup
1 cup vegetable oil
3/4 cup granulated sugar
1/2 cup distilled white vinegar
1 tsp. dry mustard powder
1 tsp. salt
1/2 tsp. celery seeds
1/4 tsp. ground black pepper
1/4 tsp. garlic powder
Instructions
Place all of the ingredients in a blender. Cover and process until smooth and thoroughly combined. Serve immediately or refrigerate overnight for best flavor.
Nutrition Information:
Amount Per Serving:
Calories:

1408
Total Fat:

113g
Saturated Fat:

7g
Cholesterol:

0mg
Sodium:

933mg
Fiber:

2g
Sugar:

87g
Protein:

3g