This classic Lemon Bars recipe gives you bright and tangy treats, and it's a total must-make, especially when you need some citrus in your life!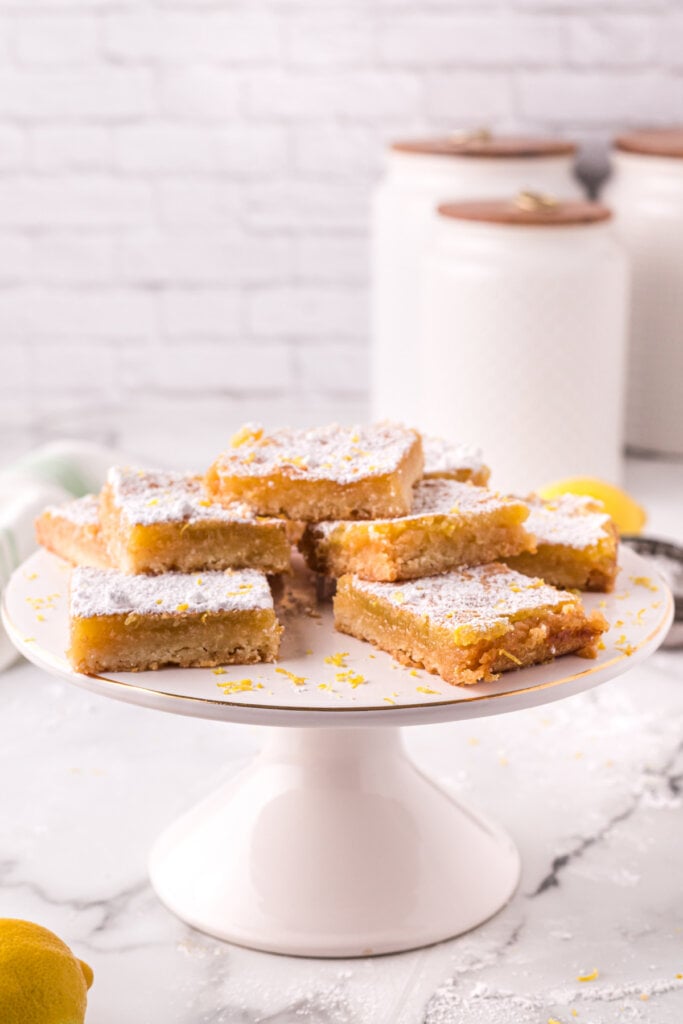 The Best Lemon Bars Recipe
Today … drum roll, please … I'm showing you the BEST ever lemon bars recipe!
It's true, y'all. You know I like to tinker with recipes, but there are just some recipes I don't mess with because they are (in my humble opinion, best-ever best ever lemon bars? Well, they're the best ever, of course!
If you come to my house to eat, I can promise you that some of the recipes on this blog will always be the same. Always. As in, they never vary. Ever.
The best ever lemon bars?! They fall into that "never ever change them" category.
You might be thinking, why? These lemon bars have the perfect balance of buttery crust with an incredibly delicious sweet pop of lemon filling. They're not too tart, and they're not too sweet – they're just right!!
It's good that it's easy to whip u a batch or three! You just might need that many with how addicting these things are!
Sometimes, y'all, there's no changing a good recipe…and this lemon bars recipe? A VERY good one! Let me show you how they're made …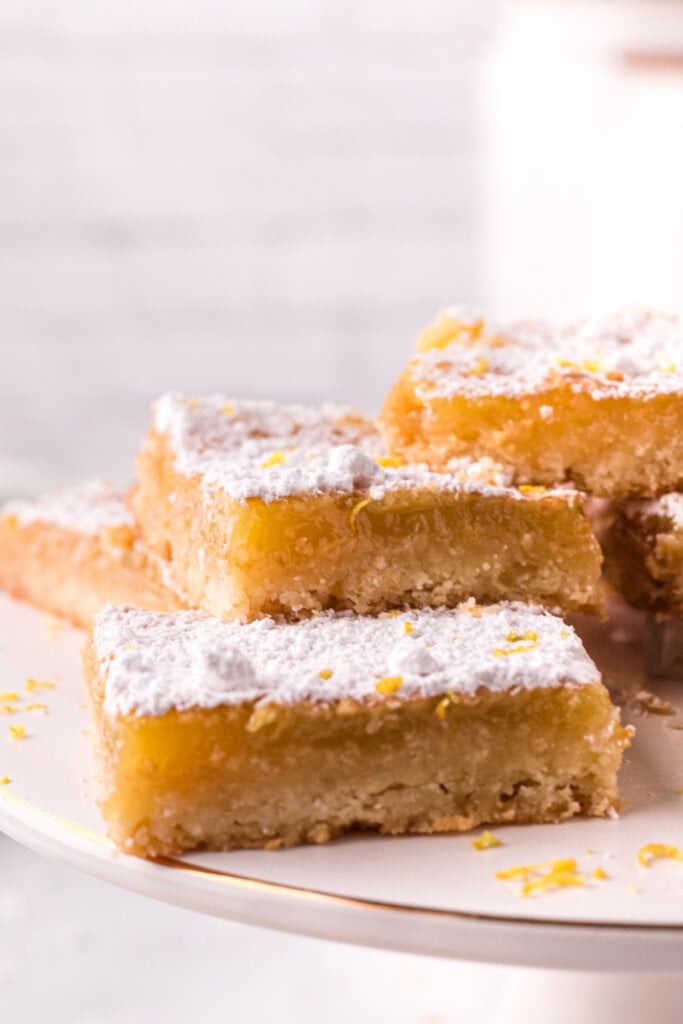 Easy Lemon Bars: Ingredients & Equipment
For this Lemon Bars recipe, you'll need …
Ingredients
all-purpose flour – there are many kinds of flour out there, each suited for a different purpose. When it comes to baking something like these best-ever lemon bars, you'll want all-purpose!
sugar – powdered. For added sweetness!
butter – softened. Butter in any recipe acts as a binding agent and "fat," which adds to the texture.
For the frosting:
sugar – this time, granulated. Again, for sweetness!
grated lemon peel and lemon juice – you can't have lemon bars without that gorgeous citrus-y flavor. These will give you the tangy taste you know and love!
baking powder – in recipes where you don't use yeast, the baking powder helps the sweet treat rise a little.
salt – believe it or not, salt in a sweet recipe brings out the flavors of the other ingredients. I say this in almost every blog post, but it's true, y'all. You definitely taste the difference without it! Don't leave it out if possible.
large eggs – two of 'em! Remember to leave them out at room temperature for a few hours first! Room temp eggs always blend smoother.
additional powdered sugar – as a topping, if you want!
Equipment
bowls – two. One to mix your crust ingredients, the other to beat your frosting ingredients.
baking pan – you'll want 8x8x2-inch or 9x9x2-inch. Don't grease it!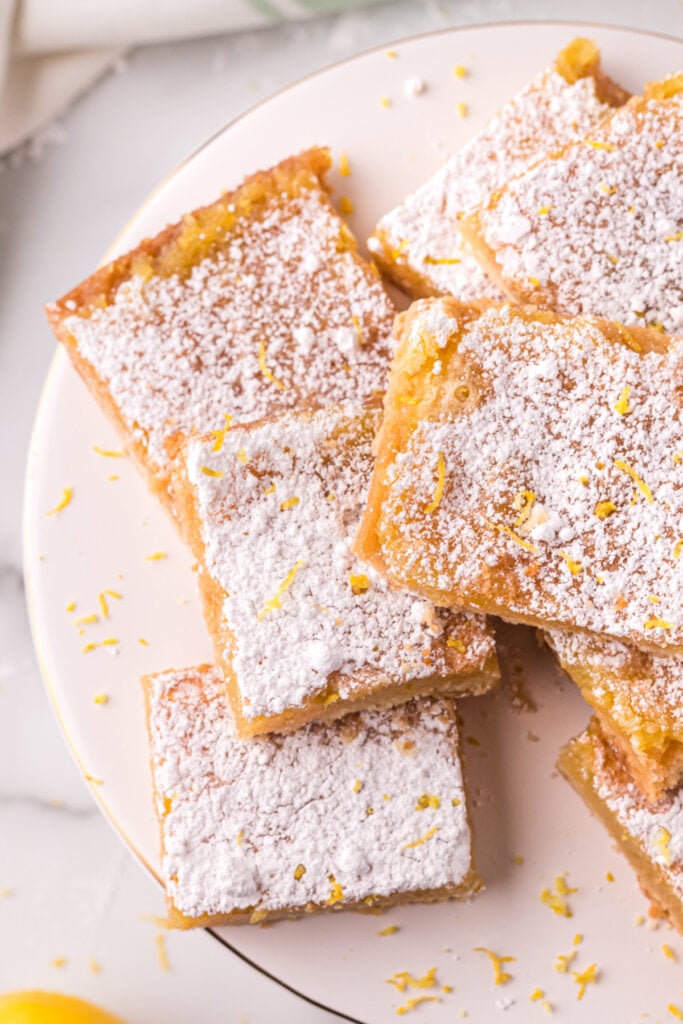 Easy Lemon Bars Recipe: FAQs
How many lemon squares does this make?
About 20-25, depending on how you cut them. Enough for a party, I think!
How long does it take to make this lemon bars recipe?
Almost an hour and a half. You'll want about an hour total to cook the bars and 25-ish minutes to prep the ingredients beforehand.
How long can I store my lemon squares in the fridge?
They'll be good for about a week after baking! Specifically, when kept in an airtight container, they should be good for about three days at room temperature without much loss in quality.
Is there an easier way to get my lemon bars out of the pan?
You can line the baking pan with parchment paper, leaving the edges slightly hanging over the sides of the pan for you to grab. That should make it so they are easier to lift out!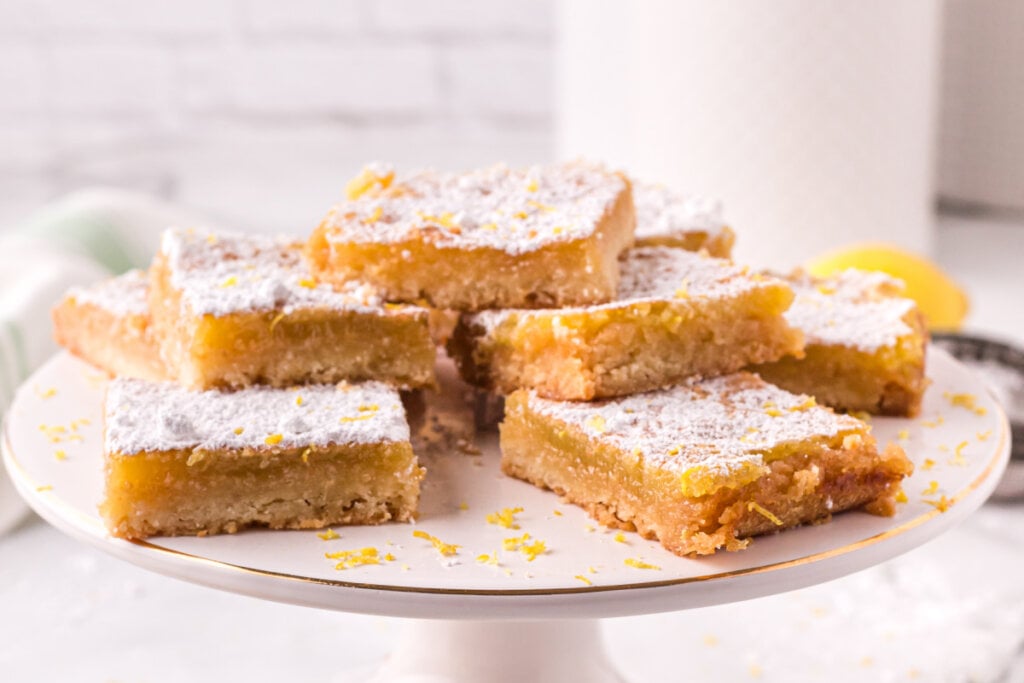 Other recipes you may enjoy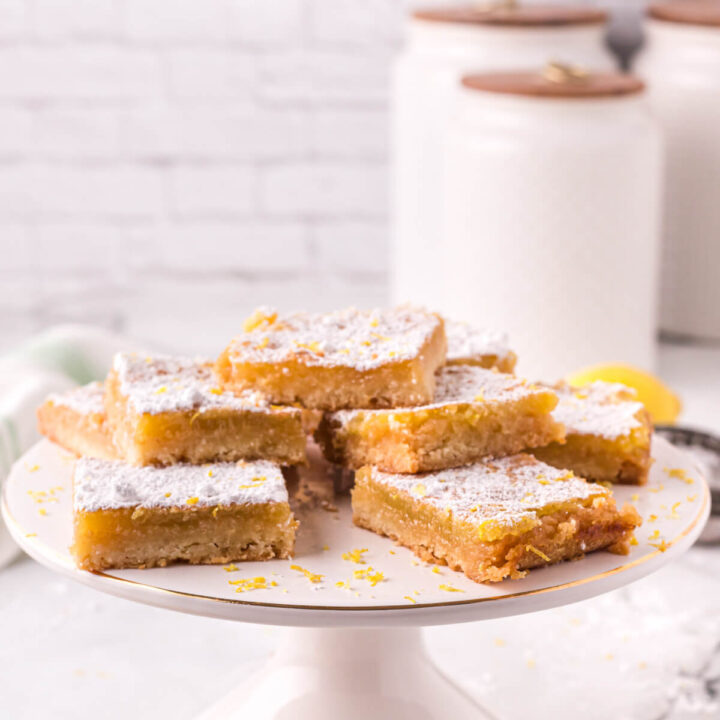 The BEST Lemon Bars EVER
Total Time:
1 hour
20 minutes
This classic Lemon Bars recipe gives you bright and tangy treats, and it's a total must-make, especially when you need some citrus in your life!
Ingredients
For the crust
1 cup all-purpose flour
1/2 cup (1 stick) butter, softened
1/4 cup powdered sugar
For the filling
1 cup granulated sugar
2 teaspoons grated lemon peel
2 tablespoons lemon juice
1/2 teaspoon baking powder
1/4 teaspoon salt
2 large eggs
additional powdered sugar for topping, if desired
Instructions
Preheat the oven to 350°F.
In a medium bowl, mix the flour, butter, and powdered sugar until well combined. Press into an ungreased 8x8x2-inch or 9x9x2-inch baking pan, building up the edges about half an inch.
Bake the crust for 20 minutes.
Beat the filling ingredients with an electric mixer on HIGH speed for about 3 minutes or until the mixture is light and fluffy. Pour the mixture over the hot crust.
Bake for 25-30 minutes or until no indentation remains when the center is lightly touched. Cool in the pan on a wire rack.
Just before serving, dust with powdered sugar, if desired. Cut into 1-1/2 to 2-inch bars.
Notes
Line the baking pan with parchment paper that hangs slightly over the edges to make it easier to get the bars out!
These bars can be left at room temperature for up to 3 days or refrigerated for up to 7 days!
Recommended Products
As an Amazon Associate and member of other affiliate programs, I earn from qualifying purchases.
Nutrition Information:
Yield:

16
Serving Size:

1 bar
Amount Per Serving:
Calories:

122
Total Fat:

1g
Saturated Fat:

0g
Trans Fat:

0g
Unsaturated Fat:

0g
Cholesterol:

23mg
Sodium:

58mg
Carbohydrates:

28g
Fiber:

0g
Sugar:

22g
Protein:

2g
Please note that the nutritional information listed on this page is an estimation based on the products I used. Ingredients and nutritional information can vary greatly between brands. Always be sure to read labels.
Originally published on March 4, 2014. Updated on August 13, 2022.