This recipe for Chocolate Turtle Candy combines chocolate, caramel, and pretzels with pecans. They're perfect for the holidays or for snacking anytime. They're bound to be everyone's new favorite!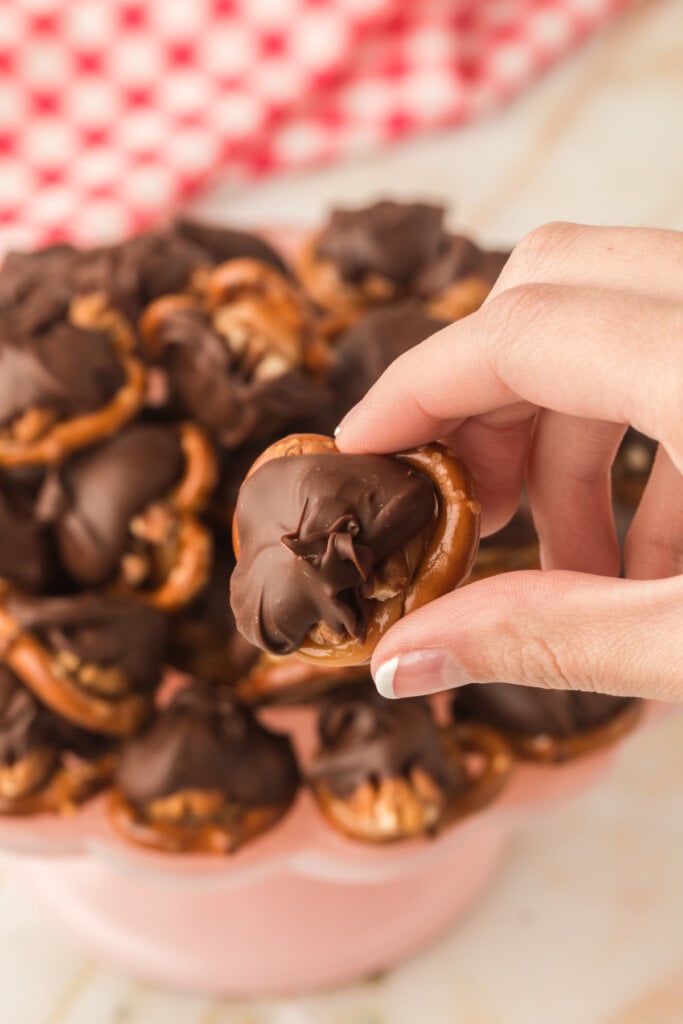 Chocolate Turtle Candies
Whether you say 'carmel' or 'car-a-mel', there is something about the combination of chocolate and that sweet buttery golden brown soft, chewy candy. Yes, quite a few adjectives there, and let me tell you, it was hard to stop at just a few!! Add in a pretzel and melt it all up, and we've got a sweet bite of perfection in these Chocolate Turtle Candies.
What's great is that this is one of those recipes you can play with a bit. I used soft caramels cut in half to make my Turtle Candies. If you'd like the caramel more contained, cut them in thirds or quarters. You can also switch out or leave out the pecan in case of nut allergies.
As I said, Chocolate Turtle Candies are a super easy recipe to make and don't take much time or effort! Even so, they look so stunning with that golden brown color you'll have to be careful not to eat the whole bunch. But maybe a few bites wouldn't hurt.
Add this recipe to your list of fast and tasty treats, especially if you're busy around the holidays! Enjoy!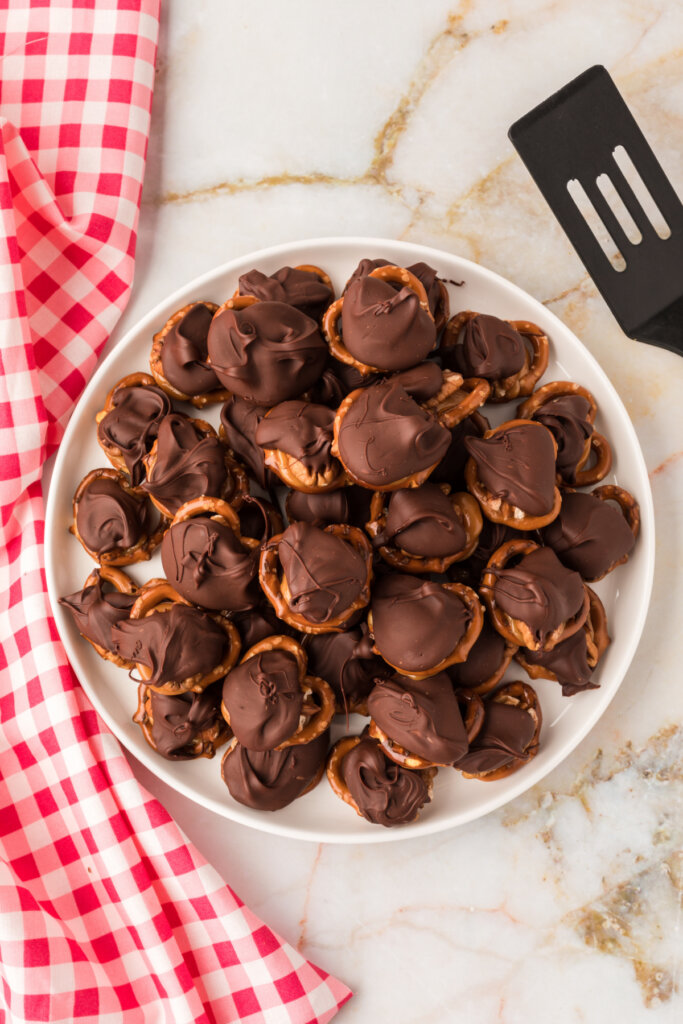 Chocolate Turtles Candies: Ingredients & Equipment
For this Chocolate Turtles Candies recipe, you'll need …
Ingredients
mini pretzel twists – these are the base of your candies. Everything goes on top of the pretzels!
soft caramels – you'll melt these on top of the pretzels.
pecan halves – this is the next part of your candy, which you'll place on top of the caramels.
chocolate chips – the final part of Chocolate Turtle Candy! You'll melt these chocolate chips and drizzle them over your pretzels.
Equipment
microwave-safe bowl – you'll use this to melt your chocolate.
baking sheet with parchment paper – this is where you'll assemble your candies (and bake them for a few minutes).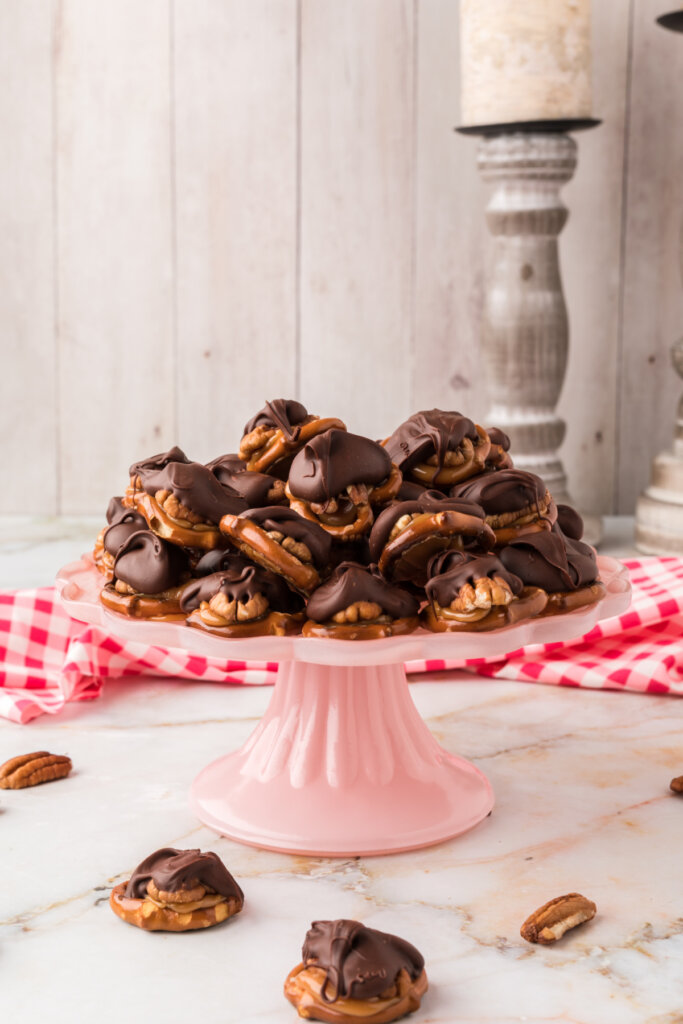 How to make Candy Turtles
This sweet treat is a fast and fun one since it's simple and ready in about 15 minutes! To make Turtle Candy …
First, prepare your supplies and ingredients. This means preheating that oven, y'all (to 350F), cutting your caramels in half, and arranging your pretzels on a baking sheet.
Next, melt your caramel. Top each pretzel with caramel, then slide it into the oven for about 5 minutes, or until the caramels have melted as you want them!
After that, add your pecans and chocolate. Pull your pretzels out of the oven and place half a pecan on top of each pretzel. Then melt your chocolate chips in the microwave and drizzle that melted chocolate over the pretzels.
Finally, serve those turtle candies! Of course, you'll want to wait until the candies harden first, which shouldn't take more than a few minutes. After that, though? Eat 'em up!!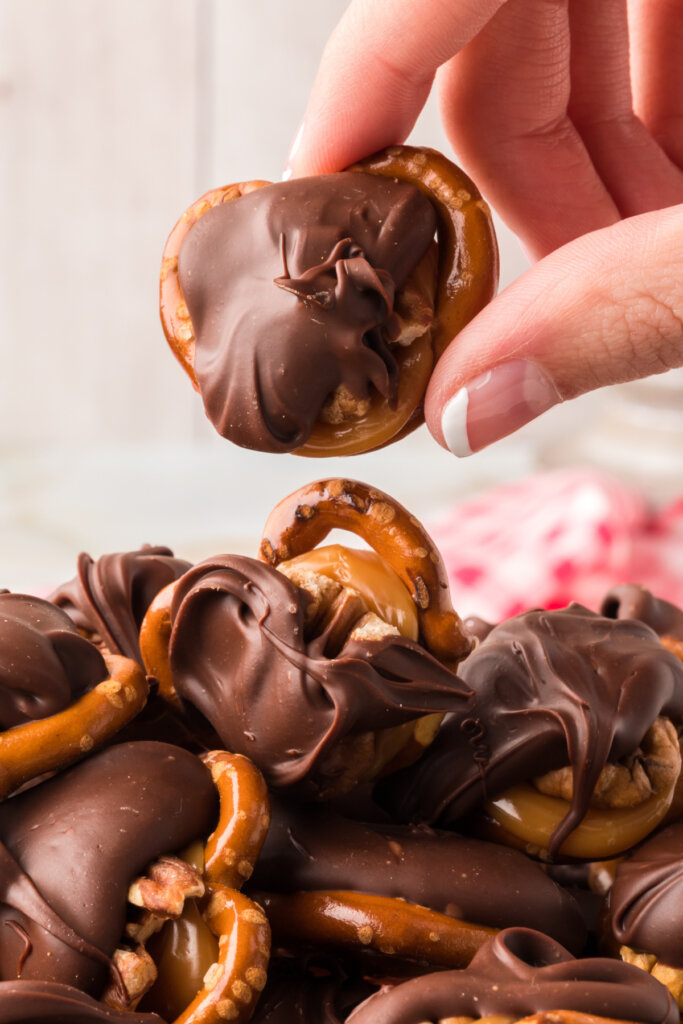 Chocolate Turtles Candies: FAQs
How many candies does this recipe make?
You'll be making 40 Chocolate Turtle Candies since you're using 40 pretzels. Of course, it's an easy recipe to double, triple, etc.!
How long does it take to make Chocolate Turtle Candy?
This is the best part about the recipe, it only takes about 15 minutes total to make, plus maybe an additional 5-10 to let the candies harden. Easy-peasy!!
Why are these called "turtles," anyway?!
Basically, when you're done making these candies, they should slightly resemble turtles. The pecans will form the head and limbs, and the chocolate will form the shell! Of course, no one's looking for perfection here, y'all, so don't worry if they're not as cute as you want.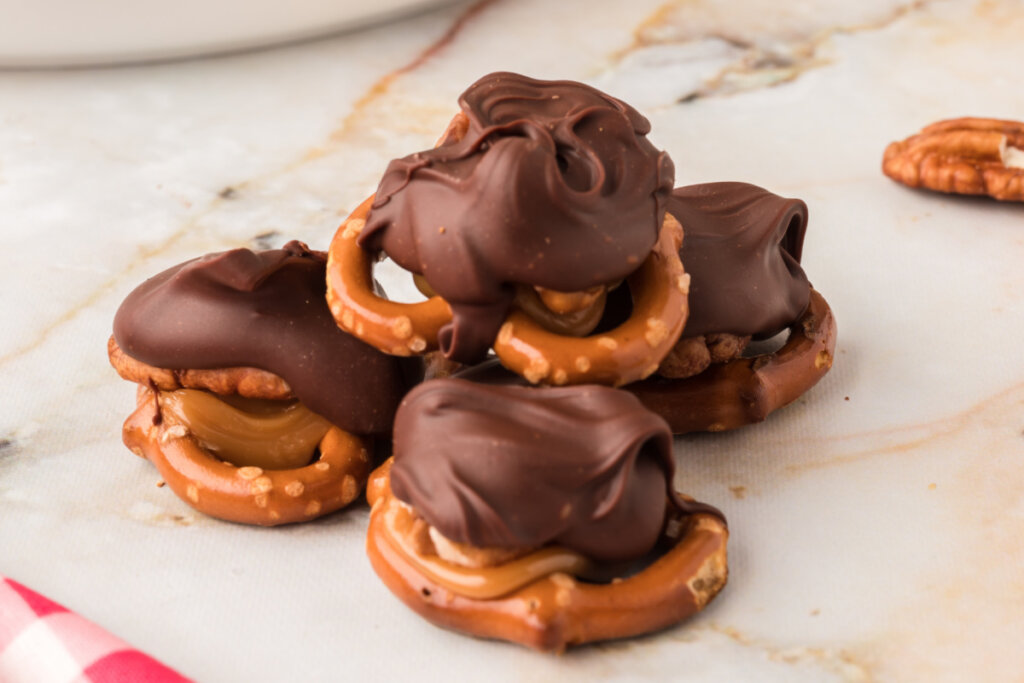 Other recipes you may enjoy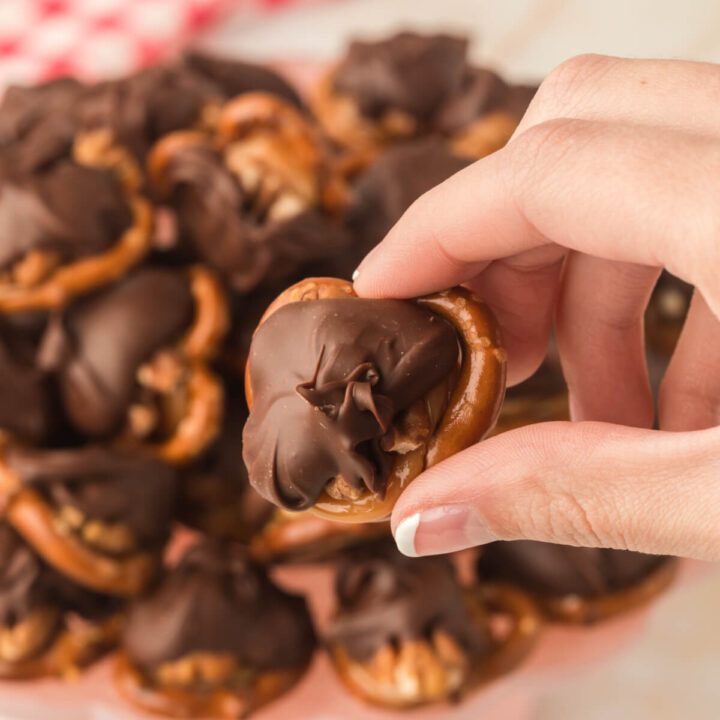 Chocolate Turtles Recipe
This recipe for Chocolate Turtle Candy combines chocolate, caramel, and pretzels with pecans. They're perfect for the holidays or for snacking anytime. They're bound to be everyone's new favorite!
Ingredients
20 soft caramels
40 mini pretzel twists
40 pecan halves
1 cup chocolate chips
Instructions
Preheat oven to 350°F.
Cut each caramel in half.
Arrange pretzels on a parchment paper-lined baking sheet. Top each pretzel with a piece of caramel. Put the baking sheet into the preheated oven for 3-5 minutes; keep an eye on the candy to see when it has melted to your desired level.
Remove the baking sheet from the oven and add a pecan half to the top of each pretzel.
In a large microwave-safe bowl, melt the chocolate chips in 15-second increments, stirring after each cooking time, until the chips are melted, and the mixture is smooth.
Drizzle the melted chocolate evenly over the tops of the pretzels.
Allow the candy to harden before serving.
Notes
Feel free to experiment with different kinds of chocolate!
This recipe was originally submitted as a guest post by All She Cooks.
Recommended Products
As an Amazon Associate and member of other affiliate programs, I earn from qualifying purchases.
Nutrition Information:
Yield:

40
Serving Size:

1 turtle
Amount Per Serving:
Calories:

159
Total Fat:

4g
Saturated Fat:

1g
Trans Fat:

0g
Unsaturated Fat:

2g
Cholesterol:

0mg
Sodium:

364mg
Carbohydrates:

30g
Fiber:

1g
Sugar:

6g
Protein:

3g
Please note that the nutritional information listed on this page is an estimation based on the products I used. Ingredients and nutritional information can vary significantly between brands. Always be sure to read labels. Please verify that a recipe fits your needs before using it. Nutrition info may contain errors, so please verify it independently. Likewise, recipes may contain errors, so please use your common sense when following them.
Originally published on August 22, 2014. Updated on November 28, 2022.