These soft, buttery Crescent Rolls are a delicious accompaniment to so many meals. They're easy to make, too, and always a family favorite!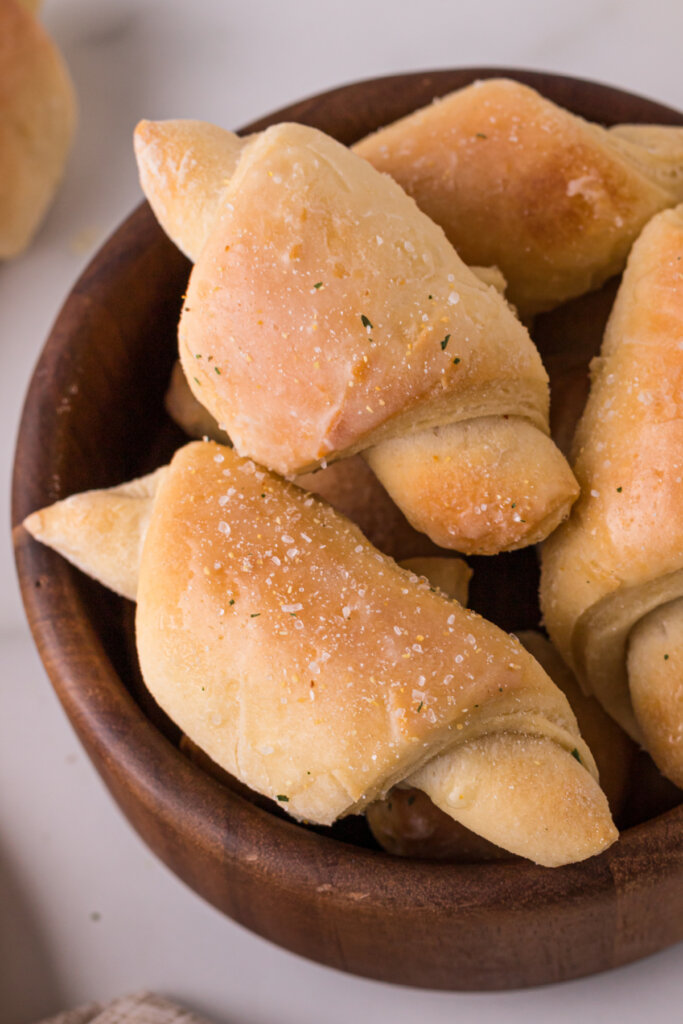 Crescent Rolls Recipes
I love crescent rolls, but I'm very stubborn, too. I don't like to buy bread products if I can make them myself. So, I came up with this amazing and oh-so-simple recipe to make at home. It's fool-proof!!
These rolls use yeast instead of baking powder so they are more bread-like than biscuit-like, and so they take longer to bake.
However, spend that bit of time baking and viola! You can have crescent rolls to store for up to 3 months in your freezer. Then they are ready to thaw, roll, and bake at your convenience.
And don't forget, they taste great without any strange ingredients since you made them at home.
Crescent rolls are a great holiday tradition. I tend to make them for Easter and again in late fall to serve around Christmas every year! Of course, they're a tasty classic during any season or any holiday. I hope you enjoy them!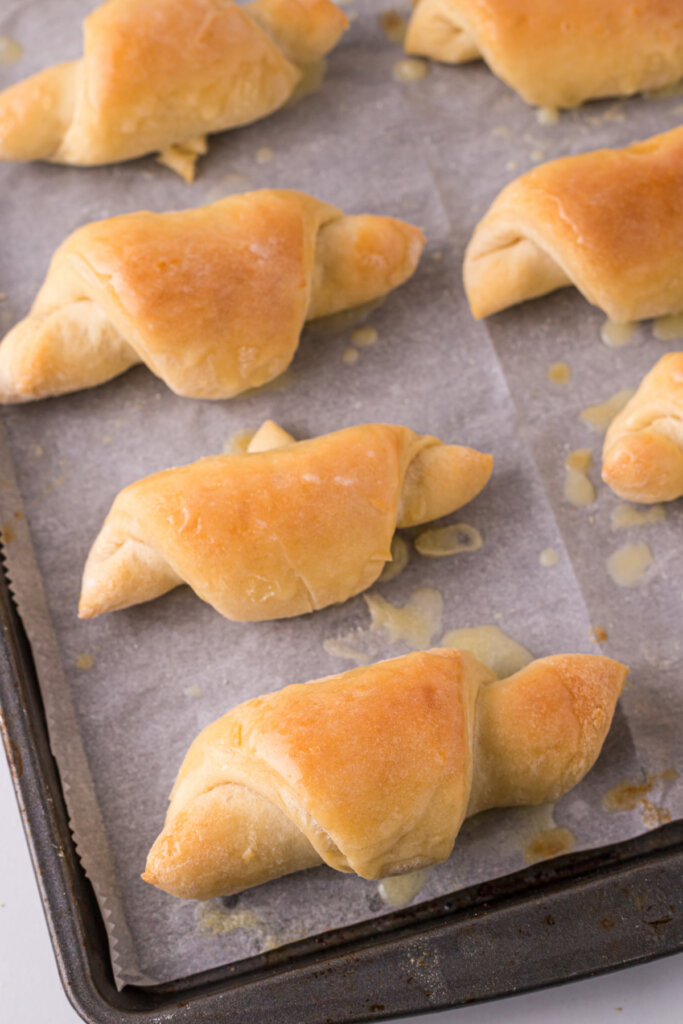 Crescent Rolls: Ingredients & Equipment
To make Crescent Rolls, you'll need…
Ingredients
warm water and yeast – my crescent rolls are made with yeast, so they have a super-soft texture to them. You'll use the water to activate the yeast.
sugar – this is the "food" for your yeast (since yeast is a type of bacteria, after all).
dry milk, flour, eggs, salt, butter – some familiar baking ingredients! These create your dough when added to the yeast.
Equipment
measuring cup and spoons – to accurately measure your ingredients.
stand mixer with bowl, paddle, dough hook: – necessary to create the dough for your crescent rolls.
oiled bowl – this is where you'll allow your crescent rolls to rise in the fridge.
parchment paper – to wrap up your rolled crescent roll dough and keep it in the fridge.
plastic wrap – to cover your dough while it rises.
baking sheet – to bake your rolls.
basting brush – to brush butter over the rolls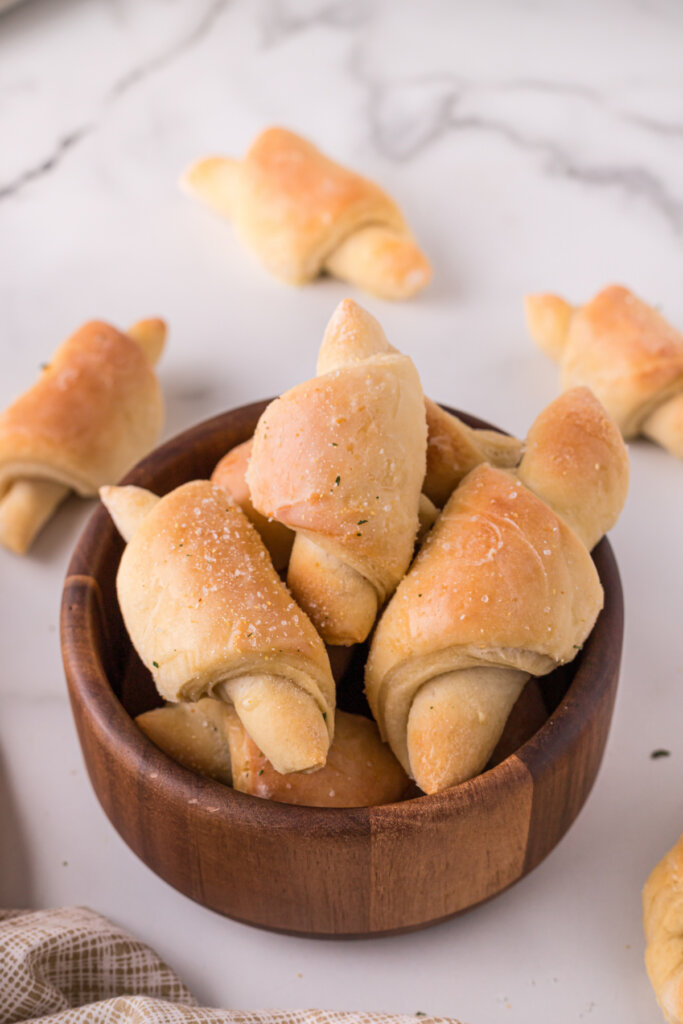 Crescent Rolls: FAQs
How many crescent rolls does this recipe make?
This recipe makes thirty-two rolls. Everyone in the family can have one with their dinner – or maybe even two – with plenty leftover for another meal! This recipe also makes plenty for any holiday meal.
How long does it take to make crescent rolls?
About an hour and 15-20 minutes. You'll need that hour for prep, and 15-20 minutes to actually bake the rolls. (The result is so, so worth it, though!!)
Can you store the dough in the freezer or fridge?
Yes! The dough can stay in the refrigerator for up to a week or freeze for up to 3 months. 
What about leftovers?
Put them in a zip-top bag. They can remain at room temperature for 2-3 days. You can also freeze your leftover rolls for 3 months, just like the dough.
Are these the same as croissants?
Believe it or not, no. Croissants use layered dough and are considered a kind of light and flaky pastry. This only has one layer. Croissants also activate the yeast at the end of the dough-making process, not the beginning like we do here. They're two different though equally yummy additions to one's meal!
Are there any additions you recommend for this recipe?
Yes!! Feel free to experiment with both sweet and savory variations. Basically, any herbs and spices you want. For example, you can make cinnamon crescent rolls with a sprinkling of brown sugar and, well, cinnamon!! On the other end of the flavor scale, you could also add garlic, cheese, onion powder – anything you really enjoy.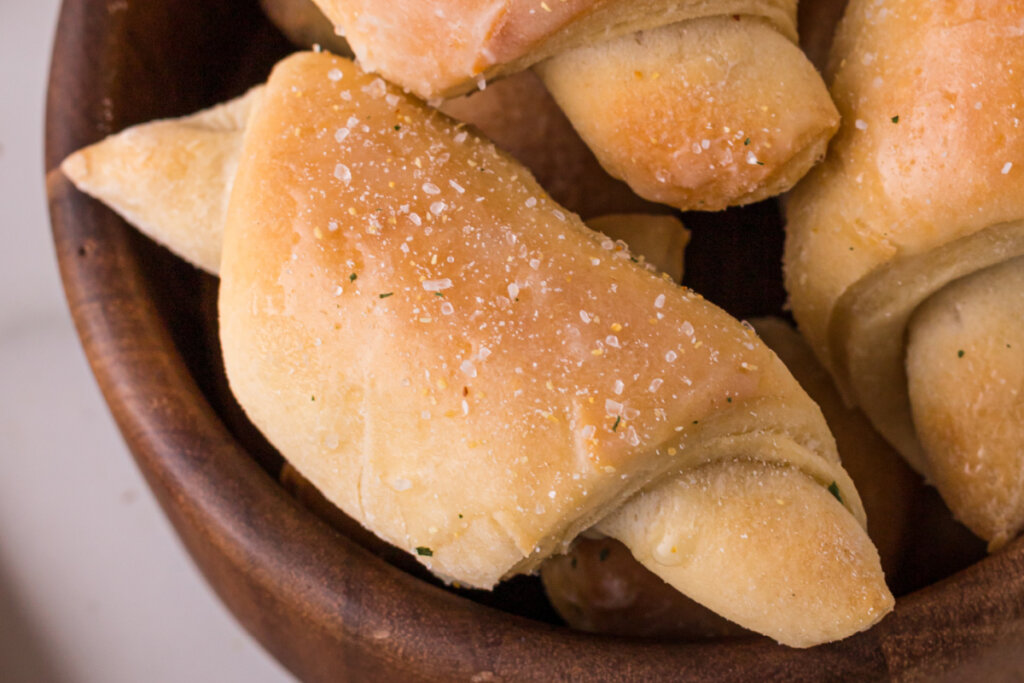 Other recipes you may enjoy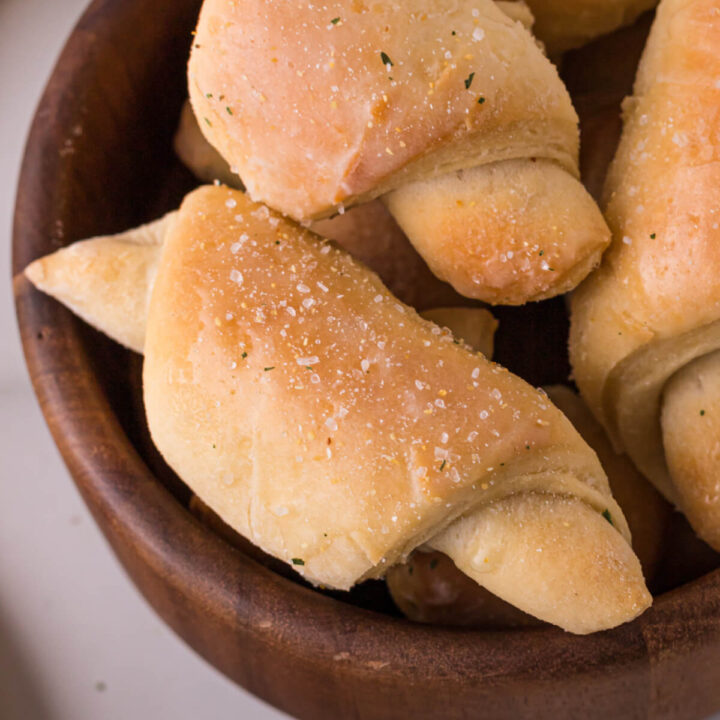 Crescent Rolls
Total Time:
3 hours
3 minutes
These soft, buttery Crescent Rolls are a delicious accompaniment to so many meals. They're easy to make, too, and always a family favorite!
Ingredients
For the dough
1 cup luke warm water
2-1/4 teaspoons active dry yeast
1-1/2 tablespoons granulated sugar
1/3 cup dry milk
4 cups bread flour
2 large eggs
1 teaspoon salt
4 tablespoons unsalted butter
For topping
additional melted butter for brushing over the rolls
Instructions
Pour the warm water (about 100°F) into the bowl of a stand mixer. Sprinkle on the yeast and then the sugar and let sit for about 15 minutes until frothy.
Once the yeast is active, add the dry milk, flour, eggs, salt, and butter. Stir on low speed with the paddle attachment until ingredients form a ball.
Switch to the dough hook and knead for 8-10 minutes until the dough is soft, supple, and elastic. It should be tacky but not sticky (it should not stick to your finger when you poke it and should pull away from the sides of the bowl but it may stick to the bottom a little) You may need to add more flour to reach this consistency.
Place the dough in a lightly oiled bowl, rolling to coat it all over. Cover with plastic wrap and allow to rise for 1-2 hours until doubled in size.
Turn out the risen dough and divide it into four equal pieces. Shape each piece into a ball and cover and let rest for 10-15 minutes.
Meanwhile, cut four pieces of parchment paper into roughly 9x13-inch rectangles.
On a sheet of parchment, roll out one ball of dough to about the size of a sheet of paper (8x11 inches) or at least an 8-inch circle.
Cut the rolled dough into eight triangles (like a pizza).
Roll each triangle starting at the wide end and ending at the pointy end. Curve the rolls into a crescent shape and place the roll with the pointy end down on a baking sheet. Repeat with all triangles. Then cover with plastic wrap and allow to rise until almost doubled in size, about 20 minutes.
Meanwhile, preheat the oven to 400°F.
Brush the rolls with melted butter and bake the rolls for 14-18 minutes until golden brown.
Serve with any meal and enjoy.
Notes
If you plan on freezing the unbaked dough
After cutting the dough into triangles in step 8, roll the parchment and dough into a cylinder and place them in a large freezer bag. Repeat with all of the dough balls. The dough can stay in the refrigerator for up to a week or freeze for up to 3 months.
If your crescent rolls are frozen thaw overnight in the refrigerator. Remove dough from the refrigerator, unroll the dough and parchment.
Proceed with steps 9-12 to finish the rolls

This recipe was originally shared by Joybee, What's For Dinner.
Nutrition Information:
Yield:

32
Serving Size:

1 roll
Amount Per Serving:
Calories:

92
Total Fat:

2g
Saturated Fat:

1g
Trans Fat:

0g
Unsaturated Fat:

1g
Cholesterol:

17mg
Sodium:

83mg
Carbohydrates:

14g
Fiber:

1g
Sugar:

1g
Protein:

3g
Please note that the nutritional information listed on this page is an estimation based on the products I used. Ingredients and nutritional information can vary significantly between brands. Always be sure to read labels. Please verify that a recipe fits your needs before using it. Nutrition info may contain errors, so please verify it independently. Likewise, recipes may contain errors, so please use your common sense when following them.
Originally published on December 2, 2013. Updated on March 12, 2022.