All you need are three ingredients and some ice to make this delicious Tequila Sunrise Cocktail! It's the perfect drink for sitting on the beach (or hanging out in your backyard pretending you're on the beach)!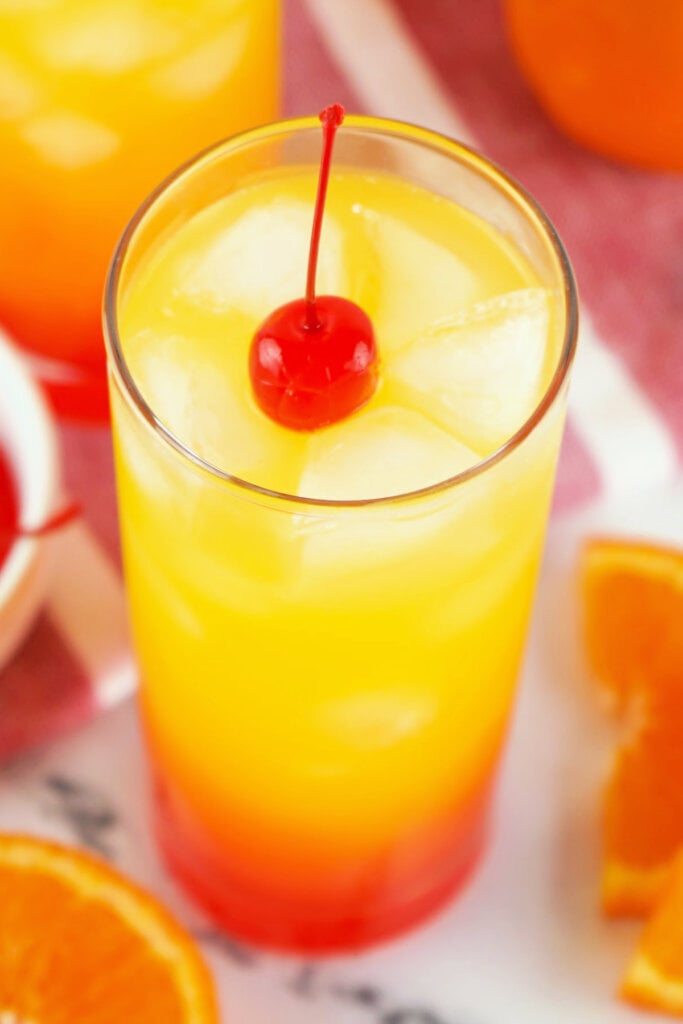 Tequila Sunrise
Tequila Sunrise is a gorgeous layered cocktail that looks like sunshine in a glass! Such a wonderful light drink for picnics, brunches, or any other get-together, especially as the days get longer and warmer. Its sweet-and-tart flavor is just, yum, y'all!!
As with all the cocktails I've been posting about lately, I had to go diving to look for the origins of this one!
The most likely story is that Californian bartenders created it in the 1970s, which is apparently when people were very much into tequila. It was (again, allegedly!!) a favorite of Mick Jagger, who took it around the world with him.
A rock star's drink?! Don't mind if I do!
Seriously, though, a Tequila Sunrise is not a hard drink at all, and it's great for those who don't like the taste of alcohol.
It's classy and pretty to look at, and it's a great reminder of how amazing summer can be. Enjoy!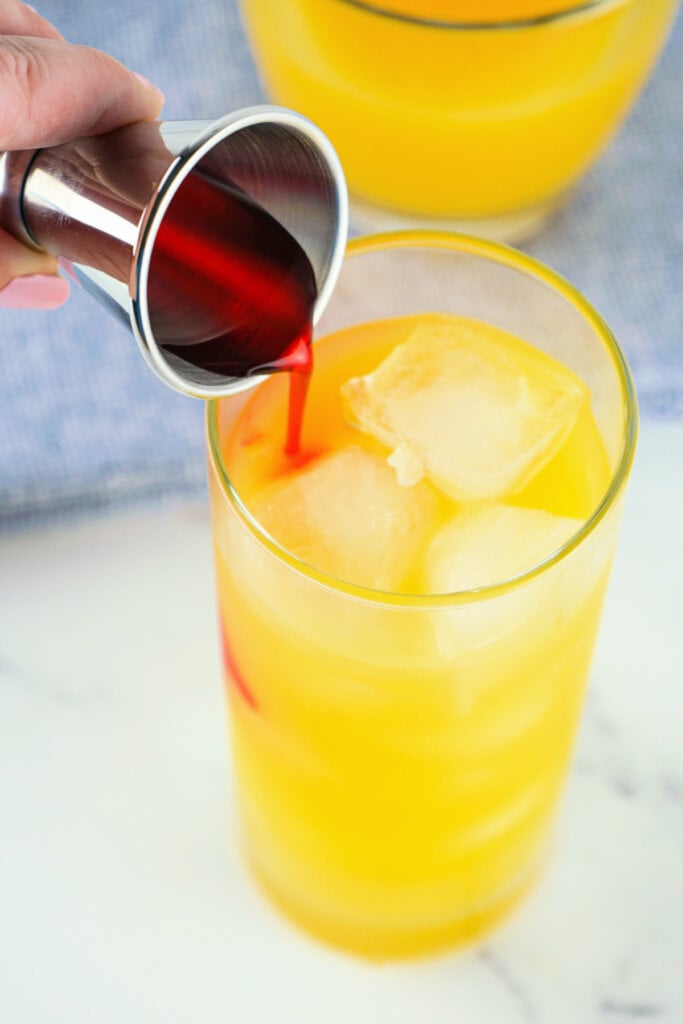 Tequila Sunrise Cocktail: Ingredients & Equipment
To make this recipe for Tequila Sunrise, you'll need …
Ingredients
orange juice – about 4 ounces. I tend to use pulpless OJ for a smooth drink! If you want a sweeter drink, you can use Sunny D instead.
grenadine – grenadine is a syrup (traditionally) made from pomegranate juice, and it gives this drink both a sweet and tart flavor! You'll probably find it at the grocery store near the cocktail mixes, or you can make your own at home.
tequila – two ounces. I recommend using 100% agave blanco tequila, which is a non-aged tequila with a citrusy taste. However, in the end, any tequila is good tequila for this drink! 😉
ice – well, we can't have a good cocktail without ice!
NOTE: Some people like to garnish their drink with a cherry or orange slice, and one of those cute little umbrella toothpicks, of course!!
Equipment
a glass – one of those lovely tall hurricanes or highball glasses is always a classic, but of course, you can use whatever you'd like.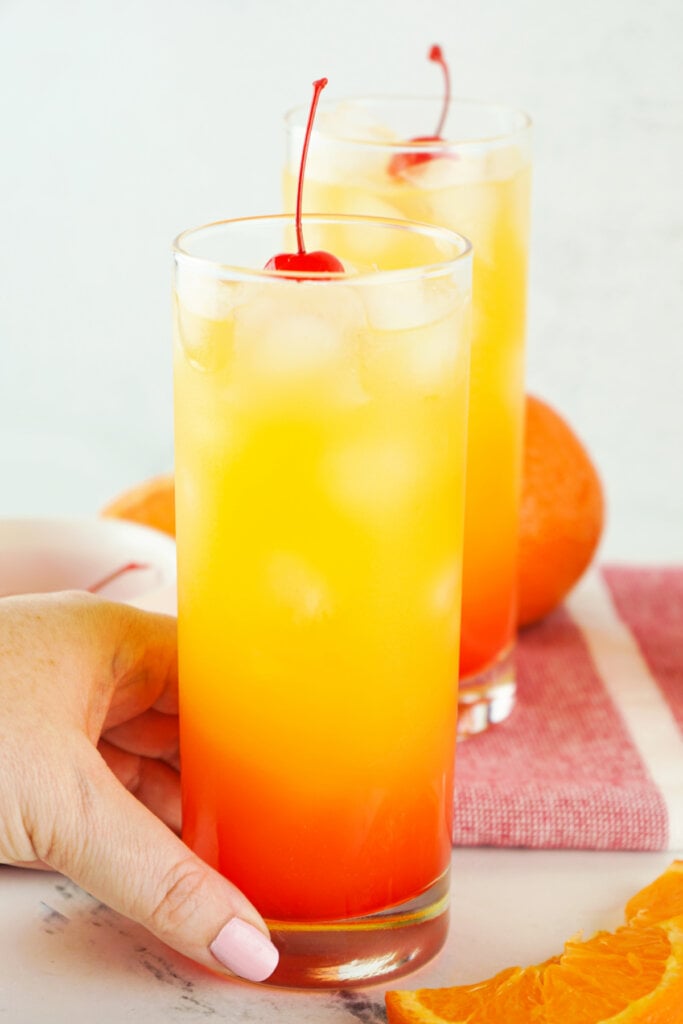 Tequila Sunrise: FAQs
How long does it take to make a tequila sunrise?
Just a few minutes! You're pouring the ingredients and letting them form into pretty layers.
How many cocktails does this recipe make?
Just one! You'll have to make a few batches for a whole party! 😉 You can also put this in a pitcher if you'd like, using cups to add the ingredients together in the same ratio. (That's two parts OJ to every one part tequila.)
Can I use freshly squeezed orange juice (rather than store-bought) in this drink?
Yes! I recommend it!! You'll taste the difference. If you're able to squeeze oranges yourself for the juice, go for it. 
What are some variations on this drink?
Some folks like to add lime juice or soda water to it, which (as far as I know) still makes it a "Tequila Sunrise." Add pineapple juice and it becomes a "Florida Sunrise." With blueberry brandy instead of grenadine, it becomes a "Tequila Sunset." Leave out the grenadine and it's a "Tequila Screwdriver." And if you prefer rum instead of tequila, you have yourself a "Caribbean Sunrise"! Whew!!
Is there a "virgin" version of this drink?
Oh yes! Leave out the tequila for a sweet dash of orange juice, perfect for early mornings!!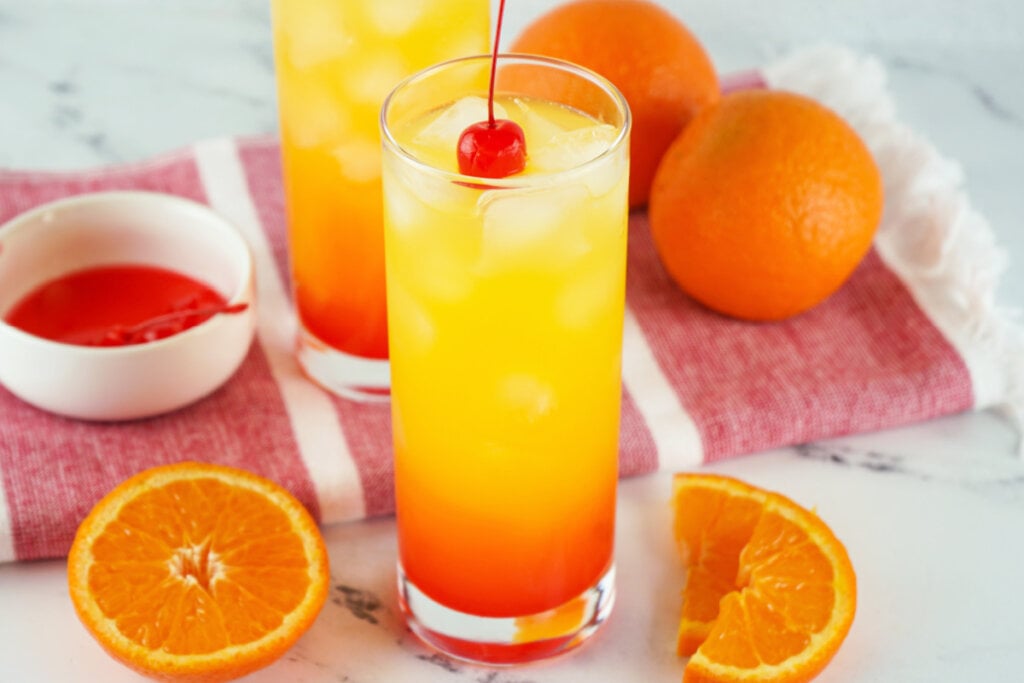 Other recipes you may enjoy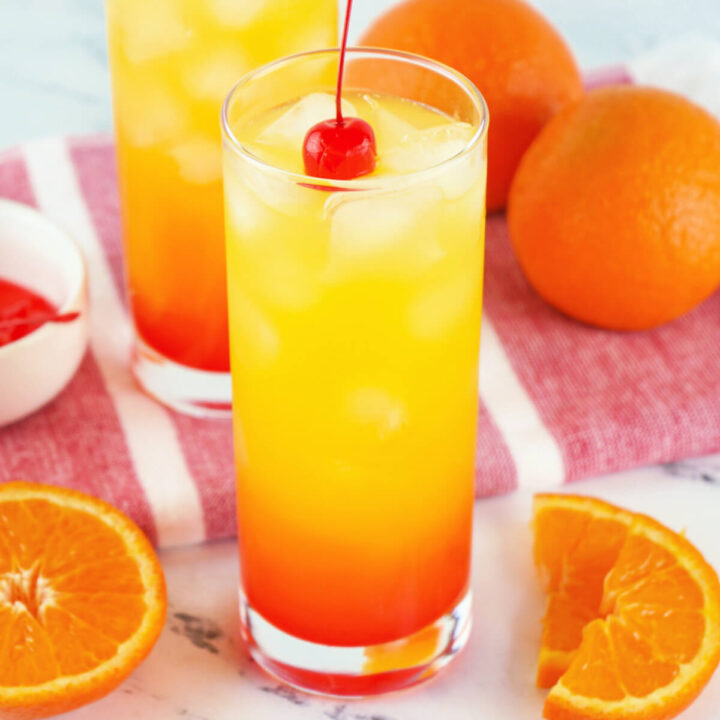 Tequila Sunrise Cocktail
All you need are three ingredients and some ice to make this delicious Tequila Sunrise Cocktail! It's the perfect drink for sitting on the beach (or hanging out in your backyard pretending you're on the beach)!
Ingredients
4 oz. orange juice
2 oz. tequila
1/4 oz. grenadine
ice
Instructions
Fill your cup three-quarters of the way with ice.
Pour the tequila and orange juice into the glass. Next, pour your grenadine gently down the side of the glass and let it settle for a few seconds. Enjoy the layered colors before stirring. It will turn into a gorgeous blood orange color.
If desired, top with a cherry, orange slice, and/or one of those umbrellas. Serve immediately.
Notes
I know the layered colors are really pretty, but you'll definitely want to give your drink a stir before enjoying your cocktail.
Recommended Products
As an Amazon Associate and member of other affiliate programs, I earn from qualifying purchases.
Nutrition Information:
Yield:

1
Serving Size:

1 drink
Amount Per Serving:
Calories:

203
Total Fat:

0g
Saturated Fat:

0g
Trans Fat:

0g
Unsaturated Fat:

0g
Cholesterol:

0mg
Sodium:

5mg
Carbohydrates:

18g
Fiber:

0g
Sugar:

14g
Protein:

1g
Please note that the nutritional information listed on this page is an estimation based on the products I used. Ingredients and nutritional information can vary significantly between brands. Always be sure to read labels. Please verify that a recipe fits your needs before using it. Nutrition info may contain errors, so please verify it independently. Likewise, recipes may contain errors, so please use your common sense when following them.