A Summer Fruit Salad makes a great-tasting snack or side dish. Try this recipe for a delicious and healthy alternative at your next party.
Summer Fruit Salad
This has been a weird "winter". At least in this area of the country, winter seems to have skipped us. Believe me, I am not complaining either! I do not get along with snow and cold, those are "bad four letter words" to me!
I always get excited about this time of year – when I start seeing the flowers returning, the birds chirping, the grass starting to grow, the springtime rain showers, I just love it! I'm reminded of Louis Armstrong's song, "What a Wonderful World", and truly, I thank God for all the beauty He has given us in the world.
I also know that means summertime is creeping up on us and all the great things that go with it – like picnics, barbecues and trips to the beach! One of my favorite side dishes is a Summer Fruit Salad. It's like summertime for your mouth. The great thing about it is, you can change up the fruits to what you have on hand or to your family's taste.
Other recipes you may enjoy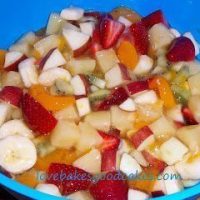 Tastes Like Summer Fruit Salad
One of my favorite side dishes is fruit salad. It's like summertime for your mouth.
Ingredients
1 (20 ounce) can of pineapple chunks, juice reserved
2 apples, cored and chopped into bite-size pieces
2 bananas, peeled and cut into bite-size pieces
1 (21 ounce) can peach pie filling
2 kiwis
1/2 cup grapes, cut in half
1 pint of strawberries, hulled
Instructions
In a small bowl, toss the chopped apples in reserved pineapple juice. Allow to sit for 5-10 minutes. (This helps prevent browning).
In a large salad bowl, combine the peach filling and pineapple chunks.
Remove apples from juice and add to pie filling and pineapple mixture. Add chopped bananas to reserved pineapple juice and let sit for 5-10 minutes.
Peel and cut kiwi and strawberries into bite-sized pieces.
Remove bananas from pineapple juice and add to pie filling mixture. Add chopped strawberries and grapes; toss together.
Chill and serve.
Nutrition Information:
Amount Per Serving:
Calories:

254
Total Fat:

1g
Saturated Fat:

0g
Cholesterol:

0mg
Sodium:

50mg
Fiber:

7g
Sugar:

41g
Protein:

2g
Originally published on March 9, 2012. Updated on April 20, 2021.