This Sweet & Spicy Steak Stir Fry recipe is quick and easy! Dinner can be done in less than half and hour! I hope you'll give it a try!
Sweet & Spicy Steak Stir Fry
This recipe is so quick and easy! While the rice is cooking, you can prep and cook the stir fry – and dinner can be done in less than half and hour! Sound like your kind of meal? I hope you'll give it a try!
Other recipes you may enjoy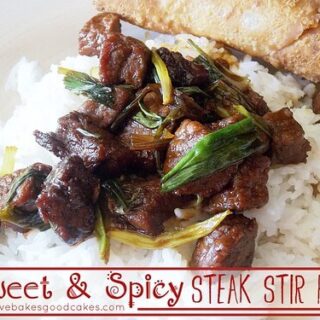 Sweet & Spicy Steak Stir Fry
Ingredients
1 to 1-1/2 pounds boneless sirloin steak, cut into thin strips
1 tablespoon vegetable oil
3 bunches green onions w/ tops, cut into 2-inch pieces, cut the white portion in half lengthwise
1/2 cup unsulphered molasses
1/2 teaspoon salt
1/4 teaspoon ground cayenne pepper
Hot cooked rice, for serving
Instructions
In a large skillet or wok, stir fry the beef in oil for 4-5 minutes. Add the green onions, molasses, salt, and cayenne.
Stir fry the mixture for 4-5 minutes or until heated through.
Serve over rice.
Notes
If you prefer, you can also cut the beef into bite-sized cubes (about 1/2-inch to 1-inch cubes).
Make this dish even easier and faster by looking for beef stir-fry meat in your grocer's meat case.
Try this recipe with fresh broccoli, bell pepper with onion, fresh snow peas, or fresh green beans in place of the green onions.
For a thinner sauce, omit the salt and add a few tablespoons of soy sauce.
Nutrition Information:
Yield:

6
Serving Size:

1
Amount Per Serving:
Calories:

506
Total Fat:

24g
Saturated Fat:

9g
Trans Fat:

0g
Unsaturated Fat:

12g
Cholesterol:

139mg
Sodium:

273mg
Carbohydrates:

29g
Fiber:

0g
Sugar:

21g
Protein:

42g
Please note that the nutritional information listed on this page is an estimation based on the products I used. Ingredients and nutritional information can vary significantly between brands. Always be sure to read labels. Please verify that a recipe fits your needs before using it. Nutrition info may contain errors, so please verify it independently. Likewise, recipes may contain errors, so please use your common sense when following them.
Originally published on June 19, 2013. Updated on April 23, 2021.